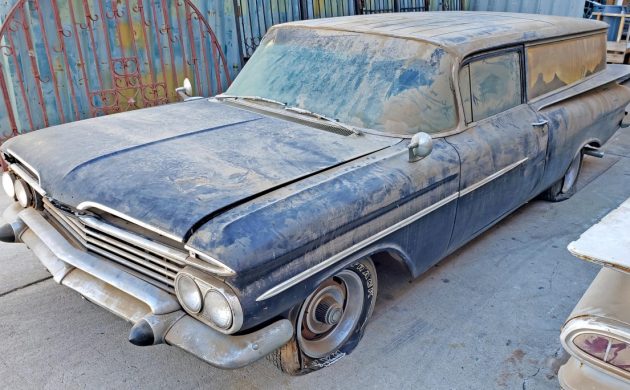 There was a time when auto designers went to great lengths to get multiple models from a single platform – a trend that is not as common today. Looking back you could find two-door hard-tops with several different roof-lines, two-door sedans, four-door sedans, four-door hard-tops, convertibles (both two and four-door), two-door station wagons, four-door station wagons, pick up truck variants (El Camino) and sedan deliveries like this 1959 Chevrolet example, located in Glendale, Arizona and available here on EJ's Auction & Appraisal with a current bid of $4,000, nine bids tendered so far.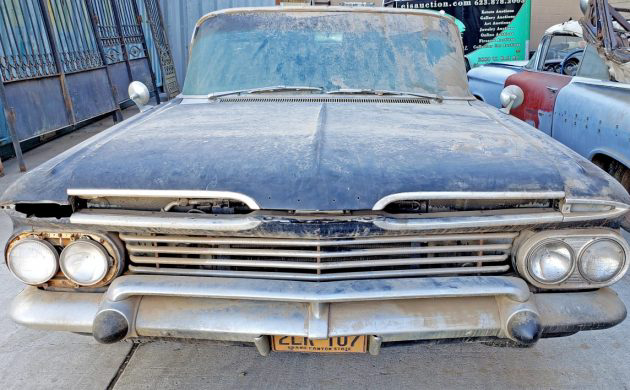 At a time when manufacturers only offered a single platform, this was a sensible approach (Chevrolet had only their "B" platform with a X frame and the separate Corvette chassis in 1959). This trend was probably most notable with the Chrysler "K" platform which was stretched, shrunk and cajoled six ways to Sunday. There is a continuing trend today with singularity of platforms, even those that can accommodate front-wheel or rear-wheel drive and accommodate multiple wheel-bases. All that said, let's take a closer look at one of the more unusual variants of the '59 Chevrolet platform.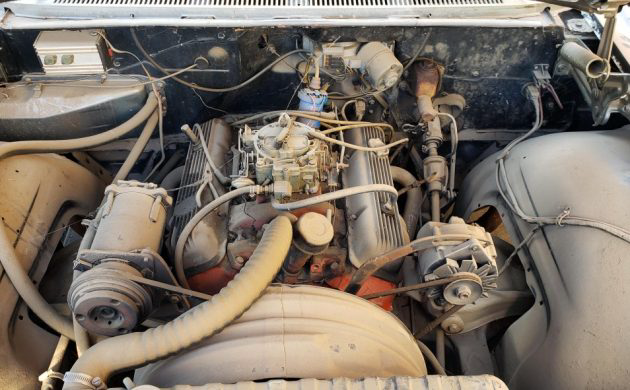 This sedan delivery has gone the route that many from the fifties have, it has been hot-rodded. There is virtually no detail surrounding this vehicle just a blurb regarding it's a "Chevrolet V8 with headers, four-speed with air conditioning and it's a rust-free barn find." If I had to take a guess regarding the engine, I'd call it a 327 CI V8 of unknown provenance. Of note are the camel-back large valve cylinder heads attached to an old-style breather-tube intake manifold featuring a Quadrajet carburetor so that helps to narrow the engine's origin's down a bit – late '60's. The motor appears to have been converted to electronic ignition but the distributor is missing. There is a pair of needle-nose pliers resting on the passenger side valve cover and judging from the dust accumulation, I'd say they have been there a long, long time. A/C-wise, there is Frigidaire A6 compressor present which appears to feed an aftermarket, under dash unit. Connected to this small-block V8 is a very desirable four-speed manual transmission. There's no word on how any of this power train may work, assuming the engine had a distributor. It's a question to ask but I wouldn't be certain that there is a definitive answer.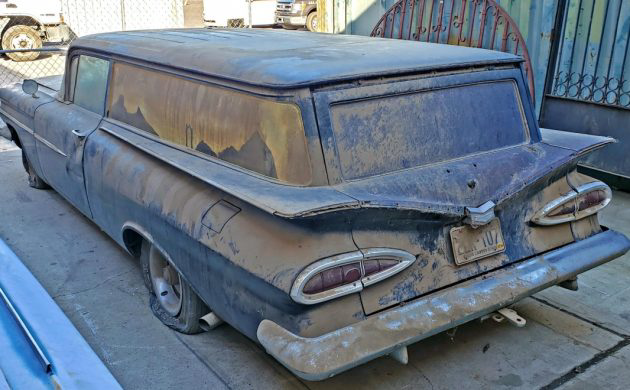 The exterior is hard to really view due to all of the dust covering the body. My thought is that the seller should give this sedan delivery a sorely needed bath but I guess that's not in the cards; you can assume for yourself what that might mean. There is some trim missing like the rear eyebrows for the fins and the hood emblem and upper grilles, just to mention a few pieces. Front end trim is shared with other '59 Chevrolet models so finding replacements shouldn't be too difficult but side and rear trim is sometimes unique to the model at hand or maybe includes the station wagon too but that is not a commonly found '59 body style either. Additionally, the main radiator grille appears to be an aftermarket or custom tubular affair. The seller claims this Chevy is rust-free and I see no evidence or corrosion or accident damage but again, a cleaned up exterior would really benefit the promotion of this Sedan Delivery just by giving potential bidders better visibility of what they are pursuing.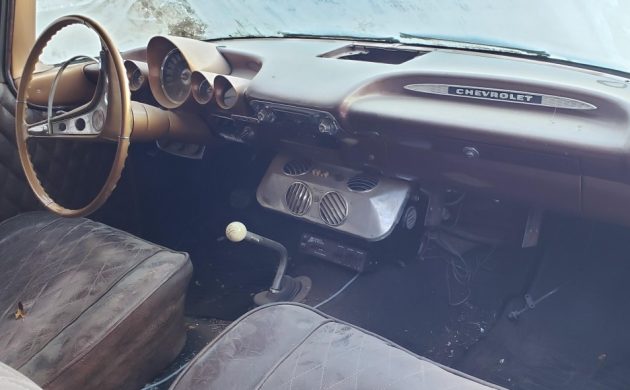 The interior is really two different spaces, a delineated front and the rear. The front, or passenger compartment, has bucket seats of some origin installed that are in need of recovering. What can be seen of the floor looks OK but even with super-zoom on the auction website, it's hard to tell the real condition. The dash is painted another color which makes me think it was probably the original exterior color too. It looks to be non-cobbled with the instruments in place. There some added gauges and loose wires visible but nothing of alarm surfaces.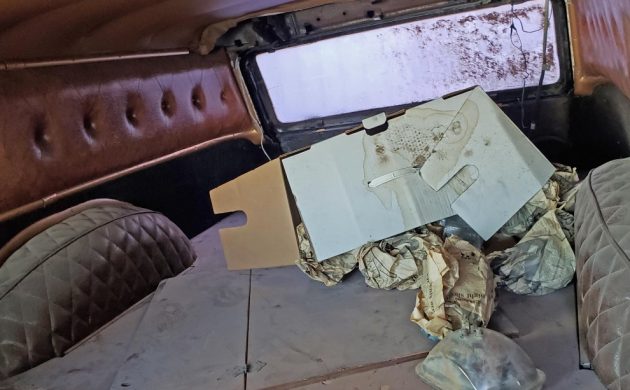 The rear or cargo transport portion of this Sedan Delivery screams the 1970's with its various vinyl and pleated textures colliding. It has a real, "If this van's a rocking, don't……", well you know the rest of the saying. Someone had big plans for this Chevy, probably back when full-sized vans with shag carpet and rolled & pleated interiors were all the rage.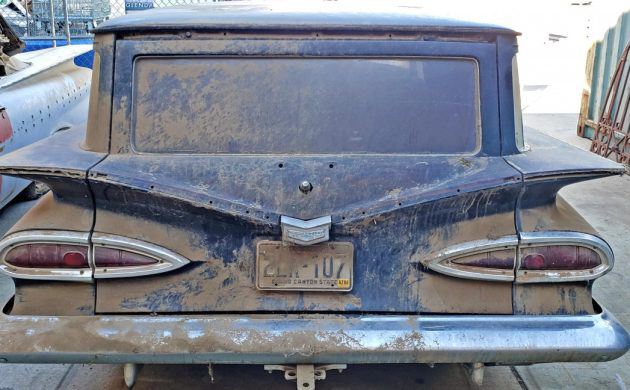 This Sedan Delivery is up for auction, with a closing date of January 18th. I have always thought these were fantastic vehicles for the hot-rod or resto-mod set; I have to admit that I never saw their true utility for hauling stuff. A small van always seemed to make more sense and that's the way things ultimately turned out. I'd like to know more about this Sedan Delivery's history, modifications and condition and an inquiry to the seller may be helpful. I see potential here, how about you?
Have something to sell? List it here on Barn Finds!