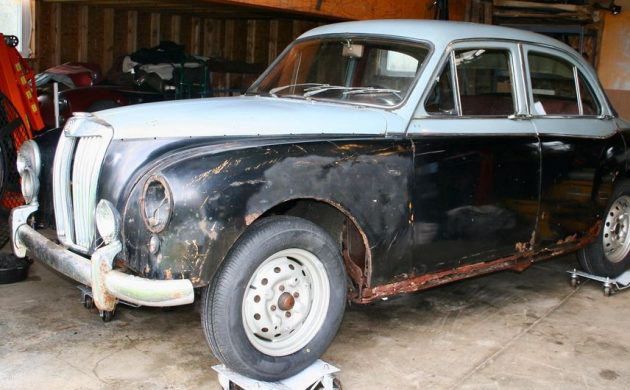 The second that I saw a listing for an MG Magnette, I locked right upon it – I actually knew what it was! A good friend has a 1958 model and the first time that he showed me his, I was so surprised as I didn't know that an MG four-door saloon existed.  This subject is looking a bit shaky, as opposed to my friend's Magnette, which is darn near perfect, but let's see what's here. This 1957 MG Magnette is located in New Hartford, New York and is available, here on Facebook Marketplace for $3,000. Thanks to Scott E. for this most uncommon discovery!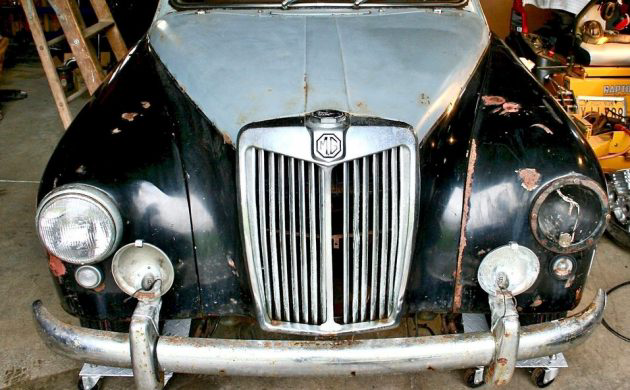 The MG Magnette was produced in three different series between the years of 1953 and 1968. Our subject car is known as a Magnette ZB, offered late in 1956 and continuing through 1958. It's actually a ZB"V" with the V standing for Varitone, a model recognizable by its larger rear window and two-tone paint scheme. About 18K Magnette ZB's were produced.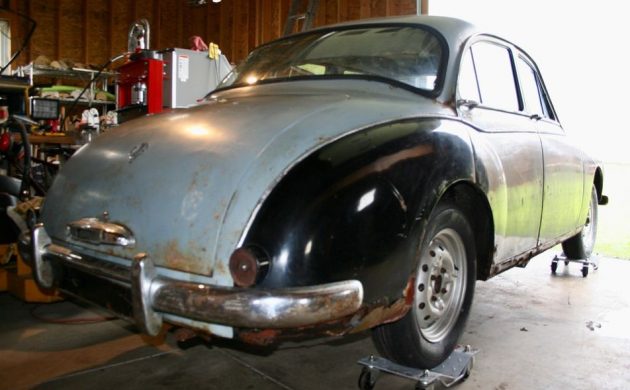 A familiar story unfolds here, the seller acquired this car seventeen years ago with visions of a beautiful restoration dancing in his head. Time flys but progress didn't and now he states that he doesn't have the energy to continue moving forward. He further suggests that this car will require a lot of bodywork. I'm afraid so. It's basically straight but there appears to be rust in the rockers and a lot of contusions, scrapes, surface corrosion, and dents. The body is together but there are images of an additional hood and fender – no reference is made of those parts. The seller mentions that he had the wheels powder-coated painted and new radial tires installed which seems like a peculiar starting point, especially since this car is an absolute non-runner – more on that to follow. Unfortunately, this Magnette's smile has been altered as it's missing a "tooth" from its prominent grille.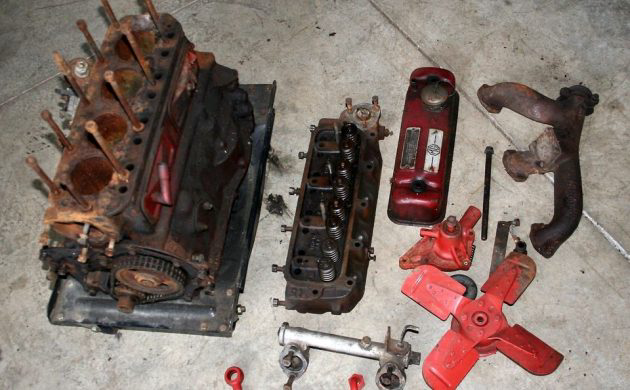 What is an absolute non-runner you ask? Well, it's not only a car that doesn't run but one whose engine has been removed. But wait, there's more! The engine in this case is in pieces but at least it's original…Research indicates that the motor is a 64 HP, BMC 1.5 liter, in-line, four-cylinder unit. It's pretty much a box o' parts project at this point. While not stated specifically, the likelihood is that the transmission is a four-speed manual unit – there is a clutch pedal visible in the interior. Apparently, there was a semi-automatic transmission available in 1957 and referred to as the "Manumatic".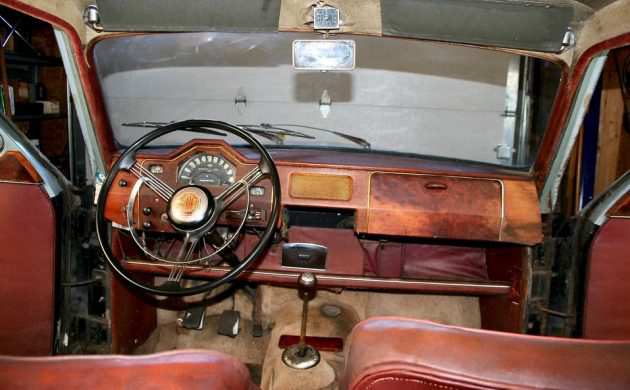 The interior is one of those good news/bad news stories as it possesses a fine British bearing about itself but it has clearly seen better days. The wood instrument panel and dash trim is delaminated, the seat upholstery is split and discolored and the headliner is starting to let go. The carpet and door cards aren't looking too hot either. The seller mentions that he thinks the 04445-mile odometer reading is indicative of the odometer having gone once around – the wear on the brake and clutch pedal pads would second that thought.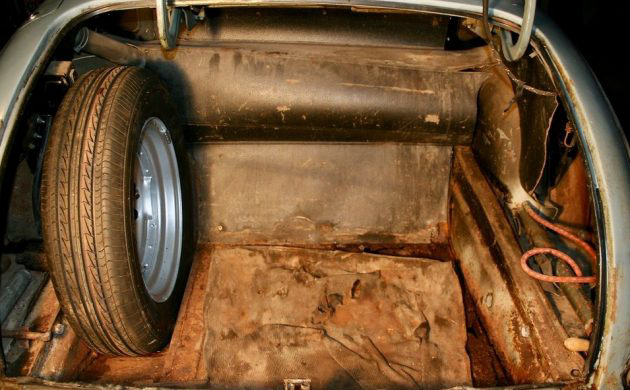 These are not common cars! While the production numbers don't spell out rarity, this is only the second one that I have encountered and I know that some of the body, glass, and trim specific parts are now hard to source. This Magnette is by no means a lost cause (assuming that the underside isn't about to fall out) but it's going to be a significant undertaking to return this car to serviceability – both mechanically and aesthetically. Anyone up for the challenge?