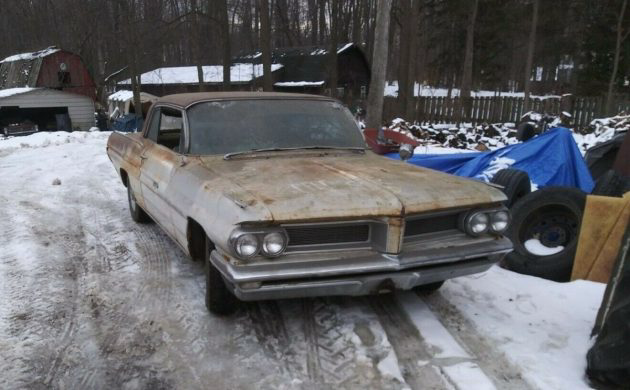 The Grand Prix represented Pontiac's gateway into the personal luxury segment, but one with some punch. It joined the Pontiac line-up in 1962 as a performance-oriented replacement for the Ventura. It was essentially a Catalina coupe with a limited use of outside trim and a sportier interior featuring bucket seats and a center console. This edition of the car found its way from Colorado to Michigan some years ago, but the seller has too many projects so this one gets the boot. Located in Clarkston, it's available here on eBay where the bidding rests at $1,500 but the reserve has not yet been met. Hats off to Larry D for finding this one for us!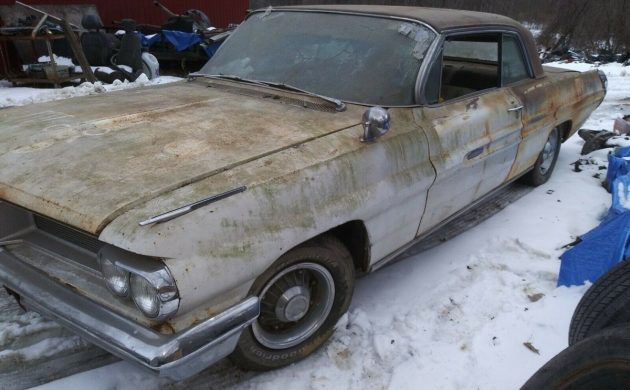 Grand Prix's would serve in several roles throughout their tenure at Pontiac. Coupes were produced from 1962-02, while sedans would be output during 1989-08. The car is said to be the brainchild of John DeLorean, who was then Head of Advanced Engineering at Pontiac, and was also behind the development of the GTO. The entry engine for the Grand Prix was a 389 cubic inch V8 that produced 303 hp. You could get adjustments to the 389 that came with Tri-Power (3×2 carburetors) which could juice it up to as much as 348 hp. There was also a 421 V8 available mid-year, but we assume the seller's car has the basic 389 if for no other reason that no mention is made of it.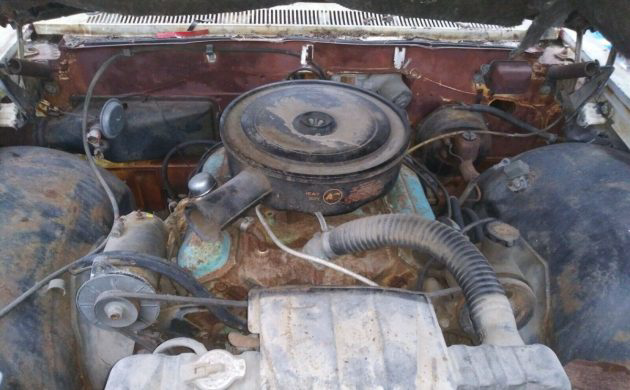 When the buyer bought this car, it was in running condition with 56,000 miles. But we don't know how long ago that may have been. At one point, the seller removed the front clip and drivetrain to begin a restoration that didn't happen. So, he put it all back together for purposes of selling. But it's not totally buttoned up and – as a result – cannot be started. It's since been sitting in his barn for an undetermined amount of time. Some of the glass ended up getting broken out and while part of it has been replaced, several pieces have not.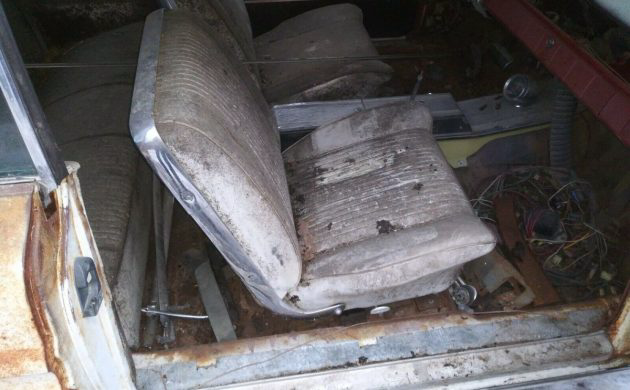 While the body is said to be solid, there is no shortage of surface rust that probably goes beyond what might be thought of as patina. The car will need repair work in the trunk as well as in the quarter panels around the rear wheels. The buyer of this car will receive some solid cut out pieces that came from a 1962 Pontiac parts car. There is also some hail damage in the roof that will need correction. We're told that the interior is in better shape than it looks and that a good cleaning will do wonders. But the carpeting is shot, and the dashboard will need to be re-done (the instrument cluster is in the trunk). One savings grace is that the unique 8-lug wheels are said to have held up well.
Some 30,000 of these cars were produced for 1962 and Hagerty tags one in Fair condition to be worth $10,000. This car is far from that right now, but top dollar on these machines could exceed $40,000. If the seller's reserve isn't too high, perhaps there's enough stretch to warrant restoring this car. Or maybe not. Depends on how much rust is really there.