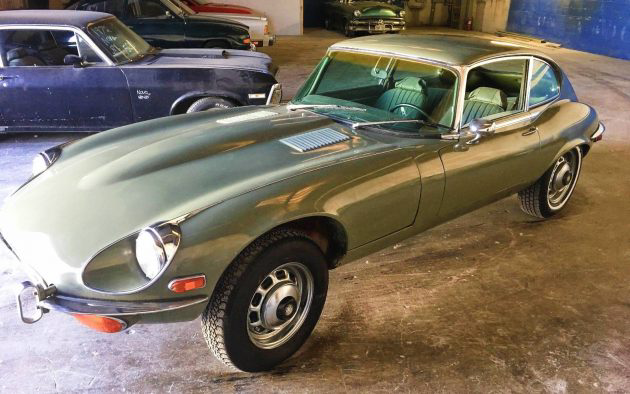 I know Series 3 Jaguar E-Types aren't nearly as desirable as Series 1, but given how valuable early cars have become, I would be happy to settle for a Series 3. The V12 doesn't provide the same kind of experience as the inline 6 and the visual changes aren't necessarily appealing, but they are still nice cars to drive and the looks aren't bad. This 1973 2+2 looks to be solid, with decent paint and a worn but complete interior. A previous owner pulled the engine out to restore it, but never got any further than that. The engine and transmission are thankfully still with the car and come with it. You can find this one here on eBay in Corona, California with a current bid of $10,100.
The final generation of E-Types was a product of the times. As emission regulations strangled the inline six, Jaguar started looking for ways to bring horsepower numbers and top speed back up. They had recently developed a V12 for racing and it was capable of producing 254 horsepower, which was 9 more than the emission controlled six in the Series 2, so they decided to modify the E-Type to make it fit. They widened and lengthened the car enough to give the 5.3-liter engine enough space. While it did allow for a 0-60 time of 6.8 seconds, it increased weight by almost 300 pounds. It didn't help that they softened the ride, added options like A/C and shipped most cars with an automatic.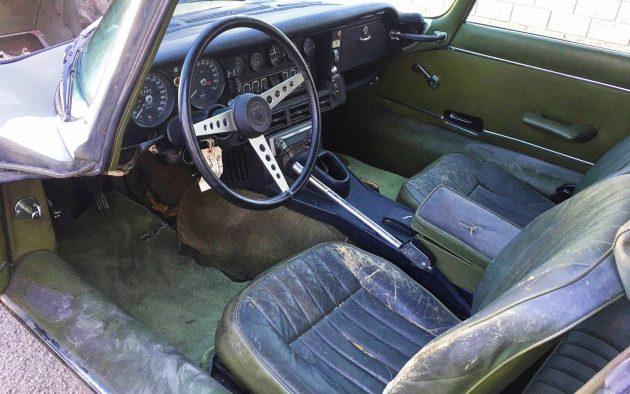 The V12 actually produces quite a bit of power, so it isn't all bad. Change out the shocks, install the engine, sort out the manual transmission and you would have a very enjoyable car to drive (one that can cruise comfortable at highway speeds). The real travesty isn't the engine or even how much they civilized the car, it's those darn federally mandated rubber bumpers! Get rid of those, install a Series 1 grill and you would have a much nicer looking car. A set of headlight covers would also improve the looks, but that's just my opinion.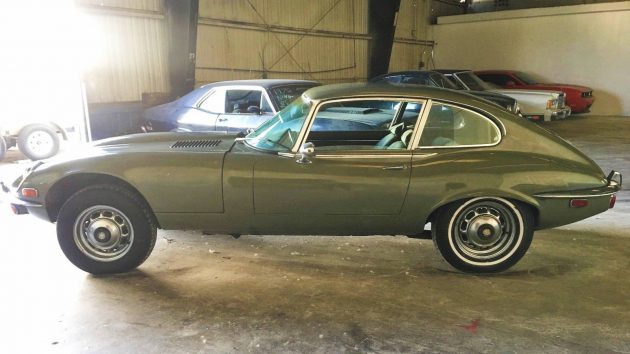 We've watched values for early Jaguars steadily climb over the past few years. With early E-Type fetching big money, I think these later cars are a great option for those that want to actually drive their E-Type. Hopefully, this one goes for well under $20k, which would make it a decent buy. Getting the engine rebuilt and back in the car won't be cheap, but once it's finished it will be a car you can truly enjoy and still get your money back out of if you need to. Now does anyone know where this garage is? I want to see what else is hiding in there!