With unique styling, two big fins, and 4 doors, this Fireflite restoration has stalled, but you can be the one to finish it up! With fresh paint, and a pile of parts, this Desoto looks like a great opportunity to get into a cool car on the cheap. Bidding is currently at $115.50 with the reserve not met. Check out this stylish sedan here on ebay out of Melbourne, Florida.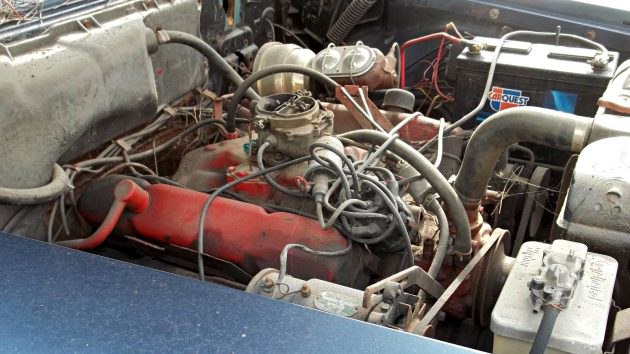 The 361 cubic inch V8 is described as a runner, and the car apparently is a driver based on the sellers description. In the image above the brake booster is unbolted from the fire wall inhibiting any stopping action. The engine bay itself appears in nice condition, but dusty and dirty. This is a power steering and power brake car, so it will be an easy driver. I imagine some good old fashioned compressed air would clean a lot of the surfaces enough to give a decent appearance in the bay.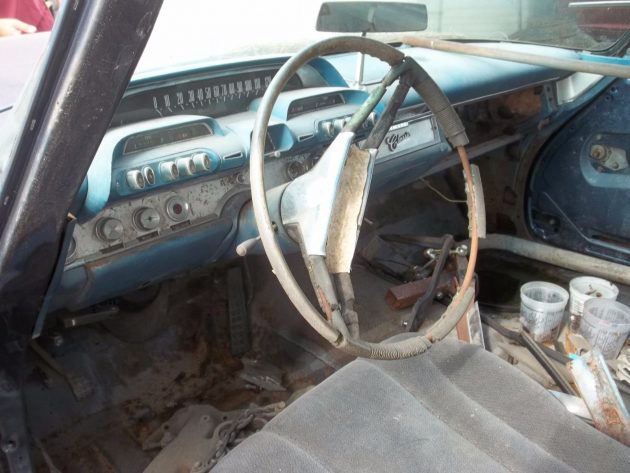 Dry, cracked, and discolored, the interior of this Desoto is a bit hard to swallow compared to the exterior and engine bay. This must have been a desert car as the interior is crisp to say the least. Out of "all of the parts" the seller has, I would be interested in knowing the condition of the interior parts he has. It would appear that the interior is the major hurdle with this classic sedan.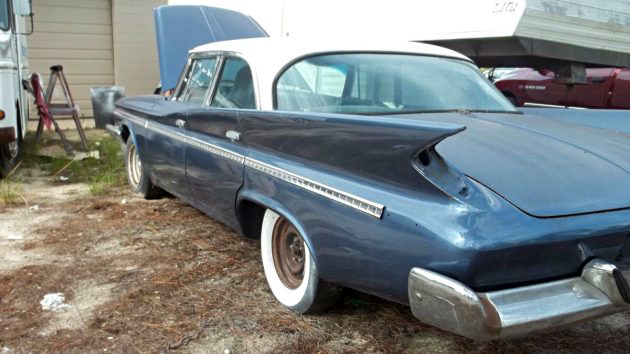 From the outside the paint shows wonderfully, and even some of the trim has been reinstalled. The chrome bumpers could stand to be chromed, but the grill is really very nice. The body work looks nice, but seeing it in person will tell the real story. The paint is quite shiny, and there doesn't appear to be any problem areas or any heavy "orange peel" either. There is no evidence of rust or rot, and the body panel gaps appear even. The glass is all installed, and there is no evidence of paint tape over-spray on the glass, or the seals, so we know it's not an Earl Shibe job.  The seller sounds confident in having all of the parts and trim to complete the restoration of this great looking classic. The biggest issue will be the interior, but the car seems more than worthwhile. What do you think this project will sell for?