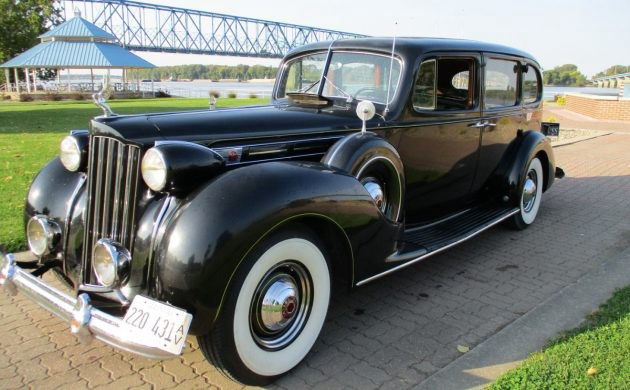 At the searing height of the Great Depression, America's wealthy class and its statesmen were driven in some very stately cars, particularly cars like this 1939 Packard Twelve, Seventeenth Series.  Governor and President Roosevelt were often found in the back seat of a smooth-running Packard–these cars positively exude a quiet seriousness bordering on regal. A total of 16 different Packards were the chosen cars of Presidents Hoover, Roosevelt, and Truman; a Packard was in use from 1928 through at least 1951.  FDR loved the Packard Twelve automobile so much that he sent a 1935 armored Packard limousine as a gift to none other than Joseph Stalin who became quite enamored with it as his official car.  This beautiful Packard Twelve Model 1708 is located in Quincy, IL, and is currently for sale here on BarnFinds Classifieds with an asking price of $125,000.  The posting says this car is in original condition.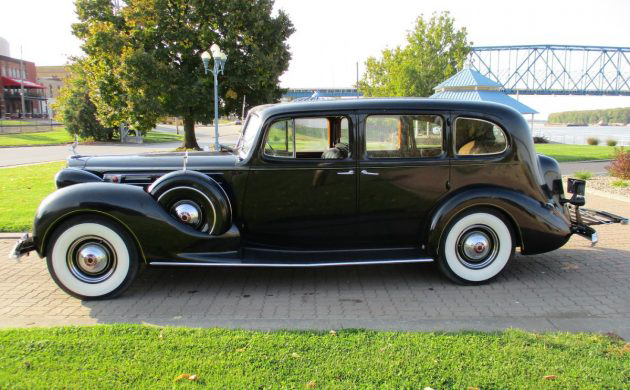 Look at the wonderful half-acre of the front hood, the full and billowy rounded fenders that perfectly mimic the lines of the 8.25 x 17 wide whitewall tires, the spare tire on each side, the delicate cormorant hood ornament, and the chauffeur's door dead n the middle of the 230.8″ length with the special person's head framed by the small window over the rear tire.  It's the true archetypical land yacht that when you see it, something serious is going on and as it effortlessly and smoothly goes by barely making a whisper, it's not something you soon forget the rest of the day or ever.  You will likely dream of being the one in the back who gets the door opened for you.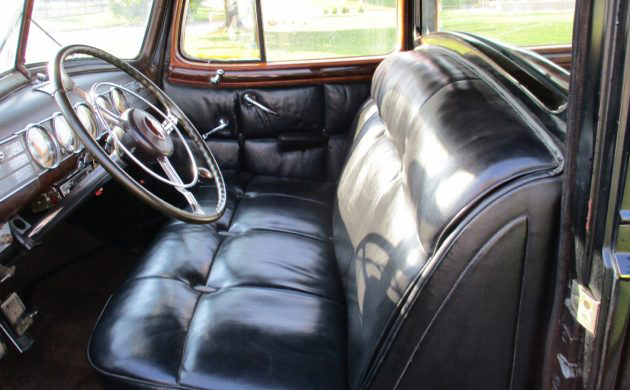 Even in 1939, there was a lot of wood used in making cars; in the Packard 1708, the chauffer's seat and side panels were one of the wooden on-board features, here covered with padding and black leather. The space between the driver and the passenger were separated by a window that operated with a crank so that conversation between the front and back parts of the car were kept private, if necessary: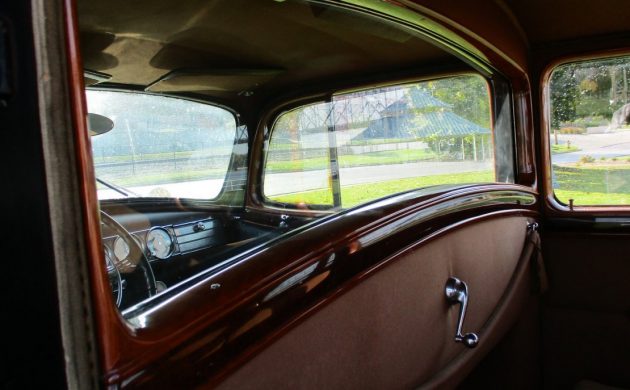 The curved woodwork is as lovely and well-varnished as any mansion trim or that found on a classic yacht.  Beneath the crank that raised and lowered the chauffeur's window there are two "opera seats" or jump seats that fold out for use by the children or the mother-in-law: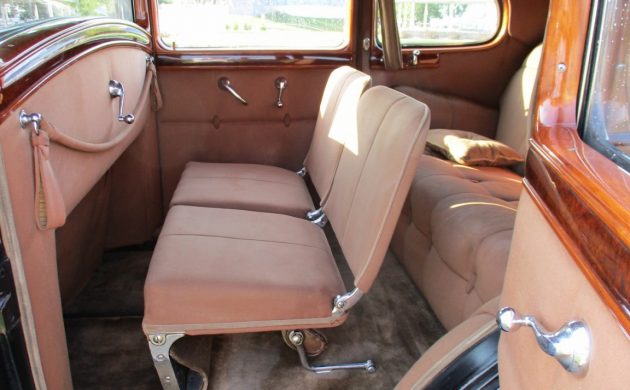 My, how dreadfully crowded this arrangement must have been for the back seat occupants. Especially with a lack of air conditioning in 1939.  Heavens.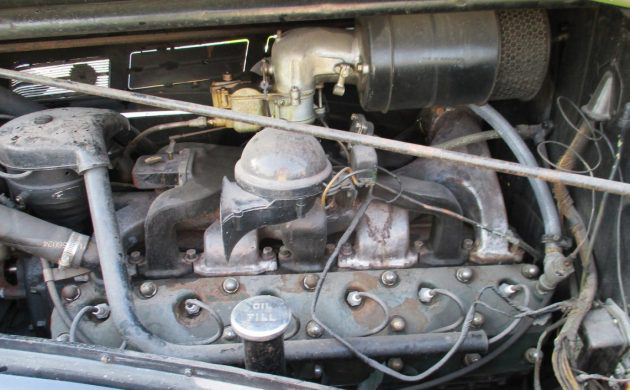 We can't convey the mileage on Seller's car, but the engine shows signs that quite possibly this car is in its original undisturbed condition.  Interestingly, at a time when soup lines were long and bread hard to find in the 30s, carmakers were embroiled in a product war as to what massive number of cylinders they could cram under their hoods.  Not only Packard with its Twin Six and later the Twelve engines, but Lincoln, Auburn, Pierce-Arrow, and Franklin all produced twelve-cylinder cars in their 30s luxury car models.  Maybach was cylinder crazy in Europe also joined by Rolls-Royce and Hispano-Suizo in making 12-cylinder offerings.  Astonishingly, GM's Cadillac division and Marmon outdid the lot by introducing V-16 engines.  The firing order requires a course in advanced mathematics. The Packard Twelve in our subject car is a 67 degree 7.8L "V" engine configuration that makes 175 horsepower.  Only 446 Twelves were made in 1939 and Seller indicates that of that number of chassis and engines produced, only 120 1708 limousines were built that year (cannot confirm this claimed statistic).  Our subject limo pushes the horsepower through a three-speed manual transmission.  Not only did one need to be adept in the manners necessary to be a chauffeur driving this limo for high society passengers, but it was equally necessary to avoid grinding a few pounds of gears in a day's worth of shifting the Packard's transmission. Not a chance this would be a fun job in San Francisco's hilly city streets.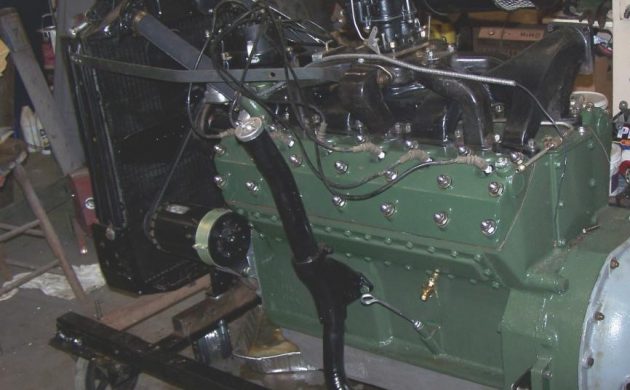 This is a picture of a just-freshened Packard Twelve on an engine stand but is NOT the engine from the Seller's car.  This picture is interesting because it shows the massiveness of the castings and the sheer number of bolts that hold it all together.  At the lower right part of the photo, there is a piece of square greenish steel where the engine is mounted to the test stand.  If that steel is less than 5/8″ thick, that would be a shock.  For a car that weighs in at one human short of 6,000 pounds, this beast of a powerplant is one giant feat of engineering.  It has been rumored (but not verified) that a glass of water sitting on the flat spot between the engine and transmission would barely show signs of vibration or rippling when the Twelve was running at cruise rpm–if true, that is some kind of smooth for the sheer mass of metal in motion. Our subject car appears to be an incredibly preserved survivor as an example of unabashed wealth, superior engineering, and the highest level of automotive craftsmanship.  For perspective (and completely tongue-in-cheek), if the Packard sold in 1939 for $5,395 (at a time when a new Ford sold for about $850), today it would cost just a tad shy of $100,000.  Giving or taking a few dollars, this beautiful piece of automotive excellence and sophisticated luxury has completely held its value–you just gotta find a really, really long garage to drop anchor at night.