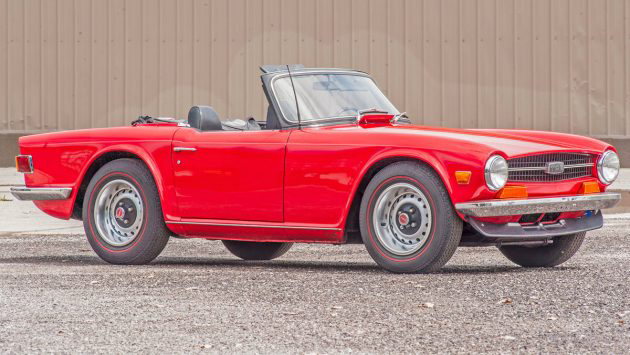 This 1970 Triumph TR6 is represented as "nearly mint" and "never been redone," which certainly implies originality. Some might disagree with that assessment, although the car certainly seems "nice". It's listed for sale here on eBay after having been stored for 20 years on a lift (presumably before being refreshed). There's a buy it now of $11,900 which might not be out of line for a car this nice (assuming the claims are true) and has bidding considerably less than that right now. The car is located in Essexville, Michigan, which given the lack of rust makes it even more attractive to locals!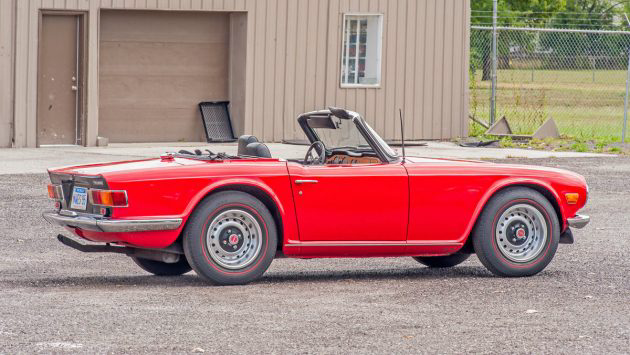 Although the car is a 1970, the nitpicks among us will not the post-1973 front spoiler, blacked out windshield frame and the black antenna. It does have the unique to 1970 rear reflectors and some other nice features, and the stance may mean that the 42,026 miles could be real–most TR6s on original springs are sagging much worse in the rear.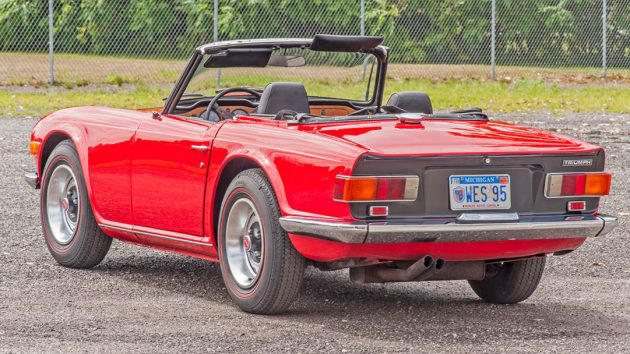 No luggage rack, red line tires and the top down. Yay! A great way to spend an afternoon. As the owner of two TR6s I can tell you that if you like this kind of car, there are few experiences better.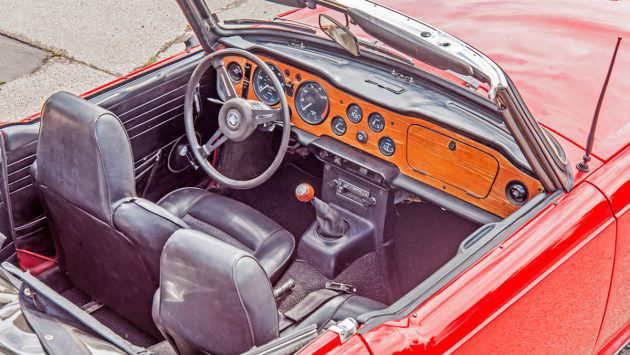 Like most TR6's, the veneered dashboard has deteriorated, in this case from both sun and water. The good thing is that both the dash pad and dash itself are straightforward to replace and can be done by anyone. And the dashes available now are much better than the originals in appearance.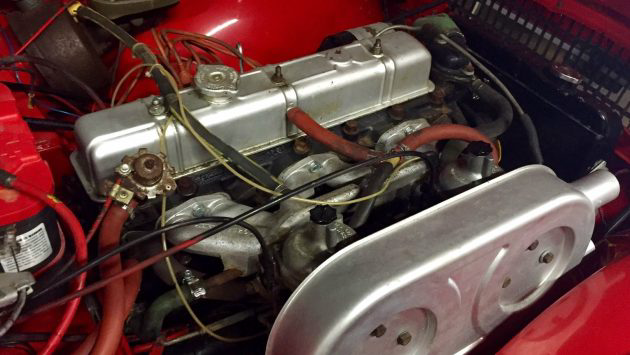 Although the under hood appearance is used by the seller to claim that it hasn't been cosmetically redone, unless the camera is playing tricks, both the air cleaner and valve cover have been repainted, and you can see the red overspray on some components under there. I suppose that's good considering this is a rebuilt engine. What's that you say? Yes, the engine has been rebuilt (so it's definitely been out) and that's not a bad thing! We're also told the carpet and top are new and that brakes and steering are like new. So overall, I think this looks like a pretty nice car that could be improved with a little bit of detail work. What do you think?