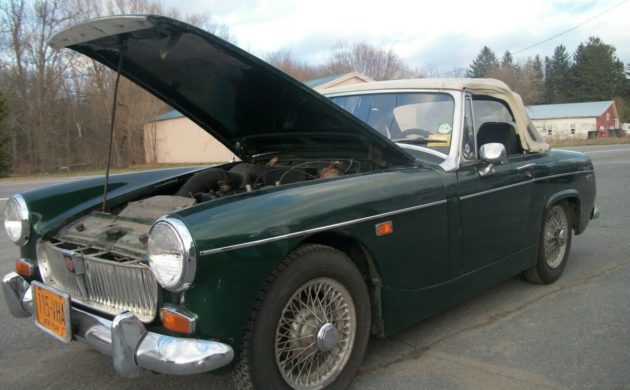 As my first car was this car's twin ('69 Sprite) when I saw this beauty come up in our finds I knew I wanted to be the one to write it up. The little MG has just been reawakened from a 33-year slumber in a garage and is being sold after having been purchased from its second owner. The car is located in Carthage, New York and is being offered for sale here on eBay, where 50 bids have only taken it up to $1,525 as I write. It seems like there will be a bargain to be had unless bidding skyrockets at the end of the auction, as there's no reserve.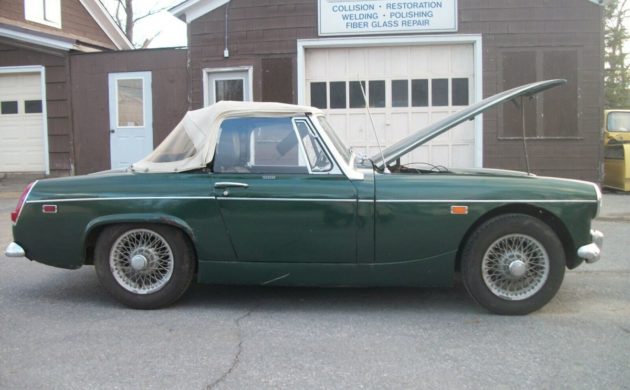 So let's look this little car over. There's scant information provided by the seller, but they do point out the rust around the rear wheel openings. This is a common spot for rust on Midgets and, to be honest, is not that difficult to repair. The rest of the car looks solid and apart from missing one tiny piece of the waistline trim on the driver's side door post seems complete. And the British Racing Green paint is so iconic!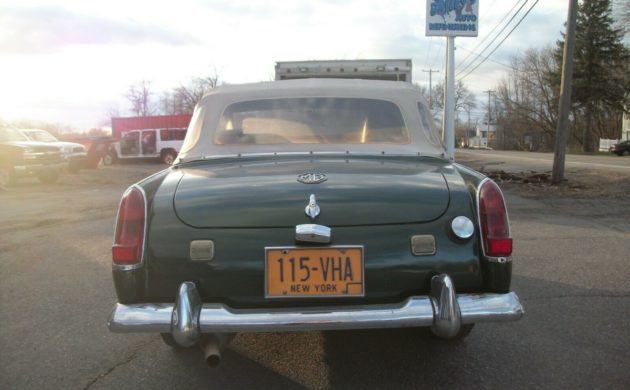 Although the top has shrunk somewhat, the rear window is clear enough to use, especially after using some Novus polish on it (unsolicited, uncompensated endorsement, the stuff really does work on the soft windows). You can get some here on eBay. The 1969 Midgets still featured the low bumpers, which while stylish, are almost useless against a typical American car of the time (or any current vehicle). There's a reason those tailights were readily available at the time through JC Whitney; I replaced several. Trivia time: that licence plate light assembly was used on AC Cobras!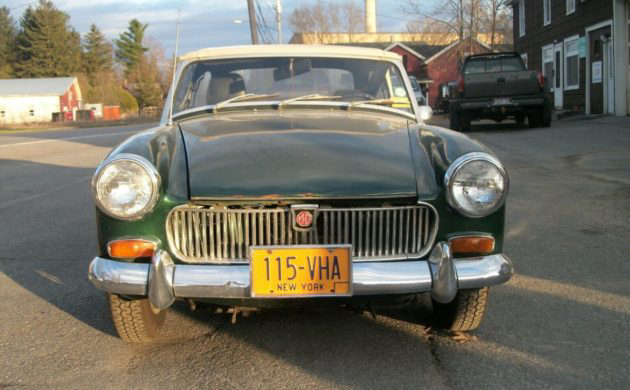 Another spot for rust common on these cars is the very front of the hood, and it looks like that may be a minor issue with this car. Again, it's repairable, but a bit of a pain as it's boxed in underneath. There used to be patch panels available for that front hood lip, but a quick search found suppliers don't list it any more or are out of stock at the moment. However, a complete reproduction hood is available for less than $650 here if you don't want to take a crack at repairing it yourself.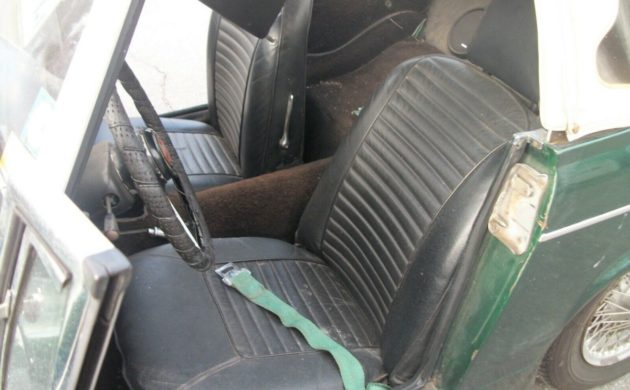 What's it like to drive one of these very basic sports cars? Imagine a go-kart with good looks. It's about as difficult to get into as any car I've ever owned, especially pulling your legs around that A-pillar to get in and out. But once you are there, everything falls to hand easily. The 1275 cc A-Series engine this one should have is a very willing partner in whatever racing fantasies you want to have as you nip around the block. Brakes are good for the day and handling is also. Of course, there are plenty of "hop up" parts available where you can turn a Midget into a real corner carver, but I think you lose the charm somewhat that way. Another thing to consider is the limitations if you keep the original wire wheels; while specialists still exist (and I highly recommend these folks for those of you on the East coast) you can only put so much tire under there without making modifications. Besides, would you rather drift through a corner at 45 miles per hour feeling like you're doing 80, or really try to do 80 and risk the wrath of the local police?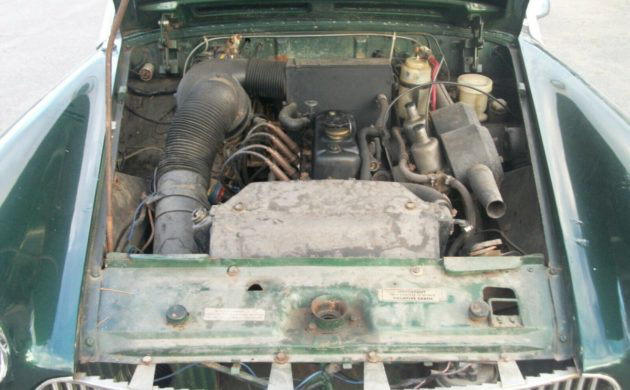 We're told the engine turns over freely and that it was stored with ample antifreeze to keep anything from cracking. If I didn't have so many projects already I'd be contemplating heading up to tow it home behind our new Roadmaster. Instead, I'll have to live vicariously through one of you. Just make sure you try the fit on before purchase!
Have something to sell? List it here on Barn Finds!