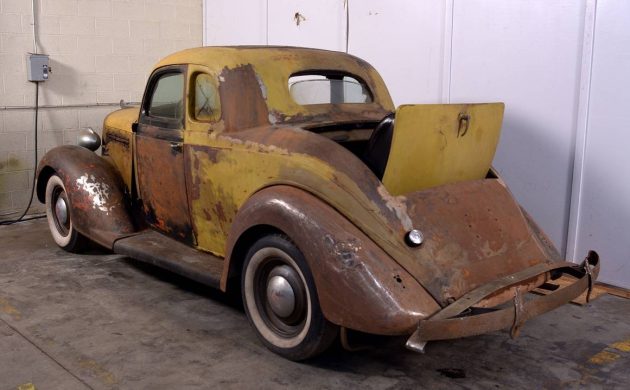 Nobody is better at perusing classified ads for cars and dreaming up ways to squander what little money I have to purchase them.  To justify the (usually) imaginary purchase, I assign a certain role for each car to play.  For a car like this, I have always dreamed of restoring a moderately priced prewar coupe and driving it across the country.  I call this Peter Egan syndrome, but with an American car focus.  Thank goodness that prewar coupes have, until now, been slightly out of financial reach.  Fortunately, or unfortunately as my wife would surely say, prices for solid prewar coupes have been trending downward.  To give you an example, reader Ikey H. has found this well proportioned 1935 Plymouth coupe for sale on craigslist in White House, Tennessee.  While needing work, the $12,000 asking price for this stored since the seventies coupe might be reasonable enough to fulfil my cross country dreams.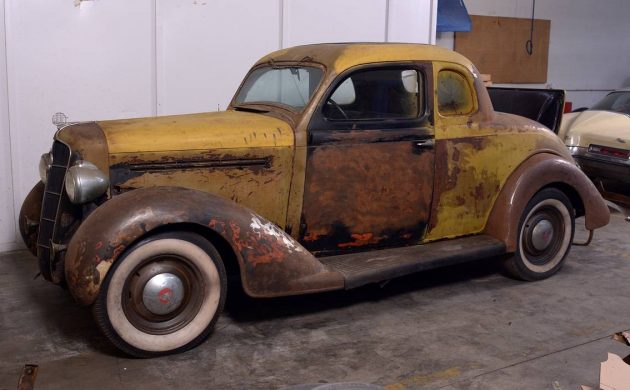 To expound on my idea, my goal would be to produce a car that was nearly all stock, reliable, comfortable, and capable of keeping up with traffic using period correct speed parts and modifications.  While I love Fords of this era, Plymouths seem to sell for much lower amounts.  The flathead six that they were equipped with is also a highly underrated engine.  Produced until the 1970s as an engine for such things as airplane tugs and grove pumps, it is not hard to find a 230 cubic inch example to bolt into an early Plymouth such as this one.  With tuning and some speed parts, 150 horsepower is possible.  Paired with a later overdrive transmission, you could really motor on down the road in one of these 2,750 lb. coupes.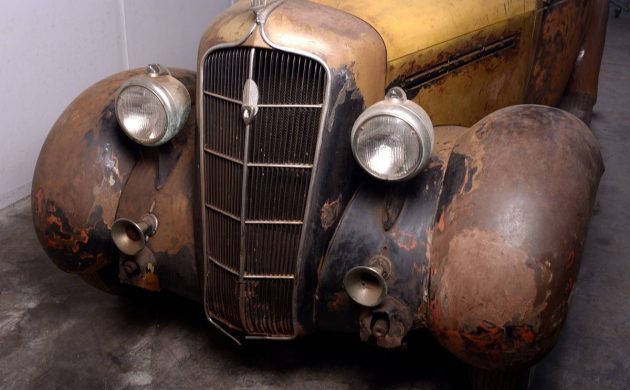 So, is this Plymouth a good candidate for such modifications and plans?  First of all, this was a very good styling year for Chrysler's low priced brand.  The windshield was laid back a bit for this year, and the fenders became fuller in comparison to 1934 models.  Deluxe models had chrome rings along the horizontal bars in the hood and a circular Mayflower hood ornament.  This car curiously doesn't seem to have rings, but does have the neat hood ornament.  It also doesn't have the steel artillery style wheels that were standard for both models.  The car currently rides on steel rims common to later model Plymouths.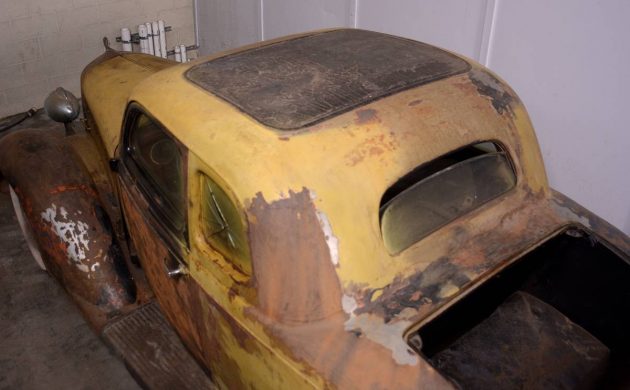 The elevated view in the picture above gives us a good look at the roof insert and rumble seat.  It also gives us a better look at the bodywork that was started on this car.  It appears that the car was headed for a simple re-paint at one time, but it likely ended up like most car projects once the owner lost interest.  Despite the surface rust, the body and fenders appear to be free of rust through and quite useable.  The lip on the body where the rumble seat closes looks as sharp as a tack.  When you compare a car that was stored indoors to one less fortunate, details like this stand out.  It is also surprising to see a roll down rear window in this coupe.  I knew 1935 and 1936 Ford coupes offered this option, but was unaware that Plymouth did as well.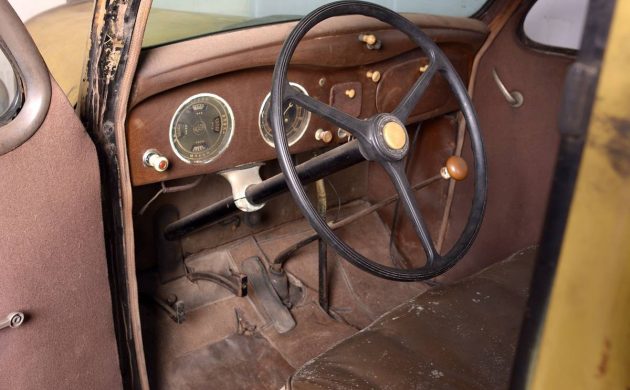 Peering inside, the car looks very presentable.  The dash is complete, the gauges seem to be very useable, and even the steering wheel is free from cracks.   The pedals need some help though.  The clutch and brake pedal pads are missing, and the accelerator is flat to the floor.  Otherwise, the dash and floor area look fresh from the factory.  The door panels appear to be replacements, and the seta has the look of old vinyl.  Some cleaning up would likely make the interior an area you didn't need to spend money on right away.  Not bad for a car of this age.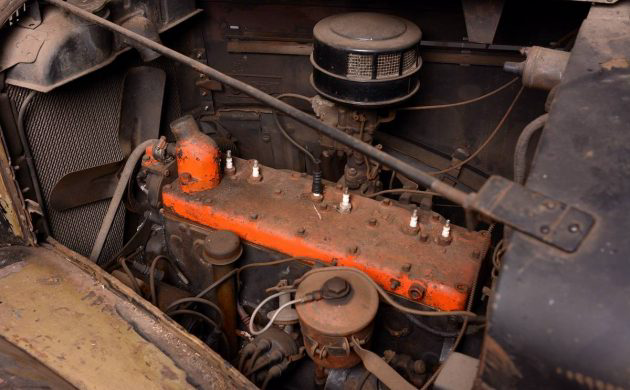 A glimpse of the engine compartment reveals why the accelerator pedal is on the floor.  The car is missing its carburetor linkage.  The good news is that this linkage system is easy to find, as the assembly changed little over the years.  I am curious about the red painted head.  Other Chrysler Corporation makes had higher compression heads, which were painted red, as an option.  However, I have never heard of Plymouth offering such an option.  At any rate, 1935 was the first year that Plymouth enclosed the water jackets on this engine.  This car has that change, but I am unsure of this being the original engine.  Many Plymouths got a block swap later in life to a more powerful later engine, so a closer look at the numbers stamped on the block would be the only way to verify originality.
Not that originality would matter if I somehow ended up with the car.  The aforementioned plan is to swap it out to a later block with more cubic inches anyway.  As for the rest of the car, I couldn't live with the paint as it sits.  Of course, that would mean I'd strip the car down and re-paint it.  Then, I'd stuff an overdrive transmission from a 1950s Plymouth in, refresh the rest of the moving parts, re-cover the seats, insulate the interior…  You get the idea.  Once I got done I'd be a decade older, a lot poorer, and probably on to something else.  It is nice to dream, and this car could be a real dream boat if given the proper care.
What would you do with it?  Ever been on a cross country trip with an old car?