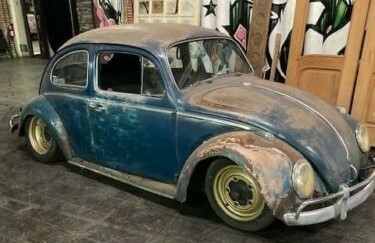 Few cars still bring a smile so many years after their final production model was built as the Volkswagen Beetle. From bone stock survivors that wear their simple duds with pride to heavily customized coupes that epitomize the "Cal Look", there's any number of ways to build one, with every result almost guaranteed to draw a crowd in your garage or at the gas station. This 1960 model Beetle is already capable of dragging you into a conversatin with a stranger thanks to its heavily patina'd exterior, courtesy of years' worth of relentless Arizona sunshine. Find it here on eBay with bidding at $6,100 and no reserve.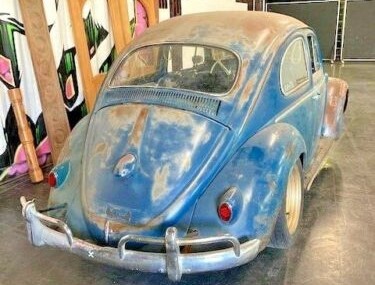 Oh, how I love the early model Beetles. The small taillights and huge bumper overriders are a dichotomy like only the Germans could come up with, and it's one of the few times I will speak glowingly about big bumpers. The Beetle here has seemingly already been lowered a bit, as the rear end squats over the back tires more aggressively than I remember in the dealer brochure. The seller notes that it's not an illusion; the Beetle has been dumped, courtesy of the adjustable beam in the front and torsion plates in the rear, which were rotated to give it the low, mean stance you see here. The engine bay contains a partially complete 1300 that does not run.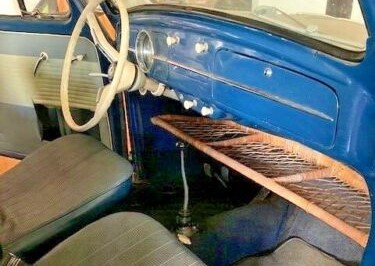 The interior is actually surprisingly nice, as the outside might suggest it was completely neglected and forgotten. Not so, as the interior paint is near as vibrant as it likely was when it left the factory, and gives a clue as to what the outside would look like if the paint wasn't burnt off. It's a great color, but I'm still not sure I'd be rushing to repaint the exterior any time soon. The parcel shelf beneath the dash looks too good to be true, as these are usually damaged or missing entirely in non-restored cars. The floor pan is supposedly quite solid, so you won't be Fred Flinstoning it in this example; there's just one hole noted by the battery tray.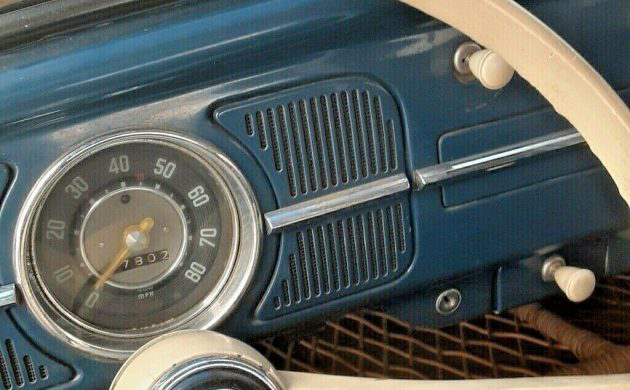 What a gorgeous, simple dash. It's amazing this was an economy car when new, because the painted dash, ivory switchgear, and handsome speedometer all look like they'd reside in a far more expensive car if recreated today. The seller notes that despite the engine not running, a 16oocc long block will be included with the sale. Issues worth nothing include evidence of prior accident damage under the trunk lid, right where the fender attaches to the tub. The running boards should be replaced due to some crustiness where they attach to the body (I think they all do this), and the brake pedal presently sinks to the floor. Overall, this Bug has the kind of appearance that's impossible to fake, and without the penalty of being a rust bucket.