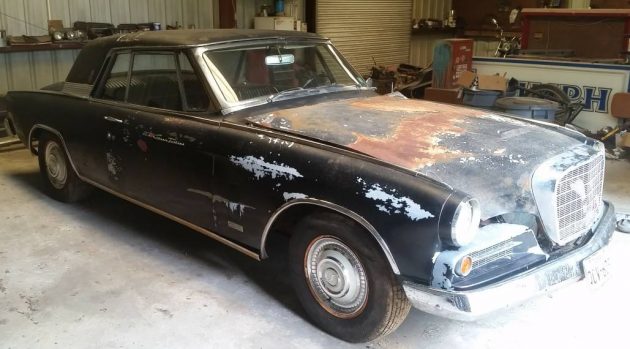 This is a "Jet Thrust" Gran Turismo with a supercharged R2 289 hp engine and a 4 speed transmission. Studebaker took its V-8 and added big-chamber low-compression truck cylinder heads and a Paxton SN-60 centrifugal supercharger giving the engine at up to 6 psi boost. The R2 Hawks also had several suspension and brake upgrades including front disc brakes, anti-roll bars and heavy-duty springs . This Hawk has been sitting since 1989 after the hood blew open while driving. It was originally silver, so perhaps that's a little original paint showing through in places where it's not rusty. This Hawk is listed on craigslist in College Station, Texas for $7,500. The engine turns, but does not run.
This blurry picture of the interior is all the seller has provided but it looks promising from what we can see.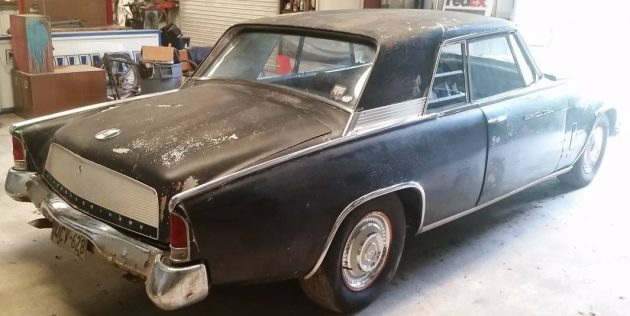 There are less than 1,000 Hawks of all model left today and the R2 Superhawks are much more rare. For Studebaker fans this hard to find Stude is promising. There are no pictures of the engine, but it turns and hopefully it is the original engine. If there are no serious issues with the car, this could be a great find but even minimal restoration might well run beyond beyond its value. Unlike the Big 3, there are very few of these that are available for sale so this might be a treasure to a Studebaker devotee.