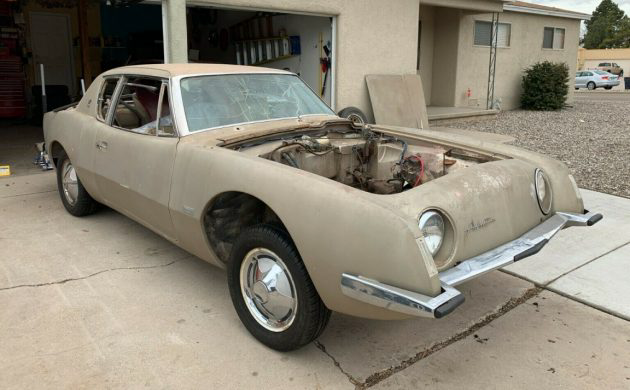 This 1963 Studebaker Avanti R2 is a case of appearing far worse than it actually is, as despite its roughshod looks and evidence of vandalism, the car is actually quite solid underneath and comes with numerous spare parts needed for an effective restoration. The R2 is the supercharged model built by Studebaker, which is perhaps the most desirable of the Avanti lineup. This one did sit for a number of years, but fortunately, it was stuck in New Mexico, where it was sold new, and the desert climate has protected it from the typical rust issues that plague these luxurious muscle cars. Find the Avanti here on eBay with a suggested opening bid of $6,000 and no action yet.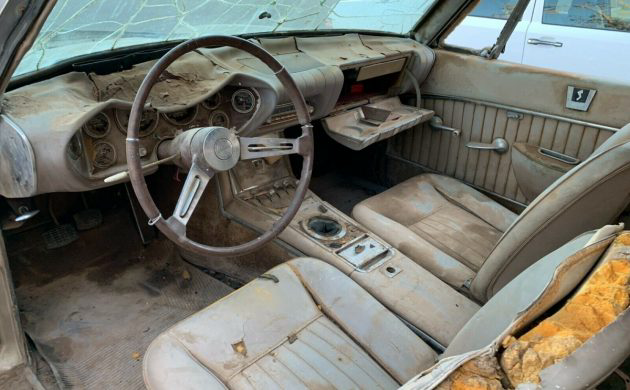 Thanks to Barn Finds reader Russ D. for the find. The worst of the Avanti is clearly the interior. My Lord, someone was cruel to that dashboard and instrument binnacle. If I had to guess, a boulder was heaved through the windshield, and if the car had been standing in the blistering sun for years, it wouldn't take much for the material to flatten like it did. Fortunately, the seller is including an original "fawn" dash pad with some moderate cracking visible in the sale. Of course, the rest of the interior will need attention as well, primarily the seats that have given up the ghost. Perhaps the console and door panels can be brought back to life. The original four-speed is removed but included.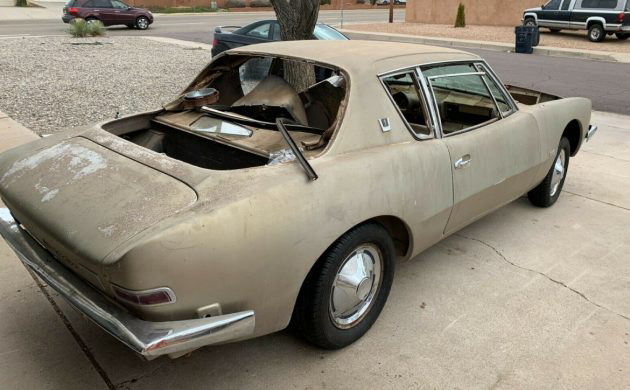 The glass is all shattered – thanks, vandals – but again, the seller saves the day and confirms a complete set of OE glass is included in the sale. This is the kind of buyer you want to pick up a project from – they're like me, in the sense that even before they decide whether they want to go all the way with the restoration, they snatch up every possible spare part needed. I do this left and right, and then when I decide not to pursue a particular project, I have to turn around and sell it. Fortunately, for a car like this, it's hard to go wrong as there will always be another Avanti enthusiast hungry for original equipment parts.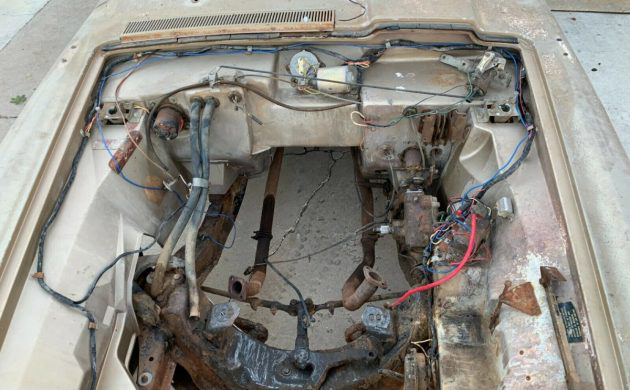 The engine bay may be bear, but the seller confirms the numbers matching short block is included with the sale. The cylinder head, valvetrain, and exhaust manifolds are not. Fortunately, the complete blower set up with blow thru carb, R2 fuel pump, carb hat, supercharger, water manifold, and other related parts are included, but those components are not original to the car. Still, a lot of the hard work as it relates to parts hunting is done, and given the typically-troublesome frame and hog troughs are solid and rust-free, the next owner is in good shape to bring this desirable Avanti across the finish line. Would you take it on with a starting bid of $6K?