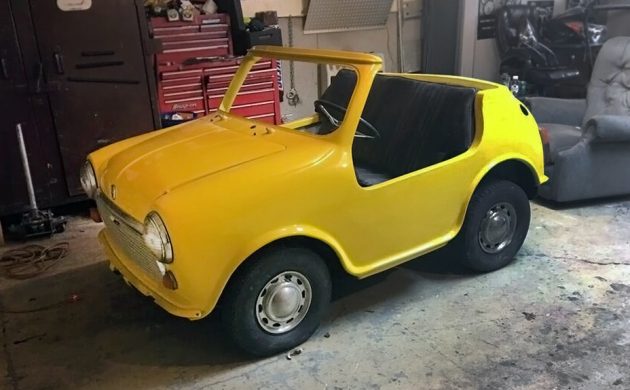 A Mini mini? Shorty Mini? Short Stuff Mini Shorty? This one is a head-scratcher but it looks like a fun little car to drive around a car show if you can fit in it – or a pit car or maybe a campground car? Whatever the next owner will use it for, it's listed here on Kijiji in Oshawa, Ontario, Canada. They're asking, I think, $10,600 which I'm assuming is in Canadian dollars which would be $7,930 in US dollars. Thanks to Peter R. for sending in this little tip!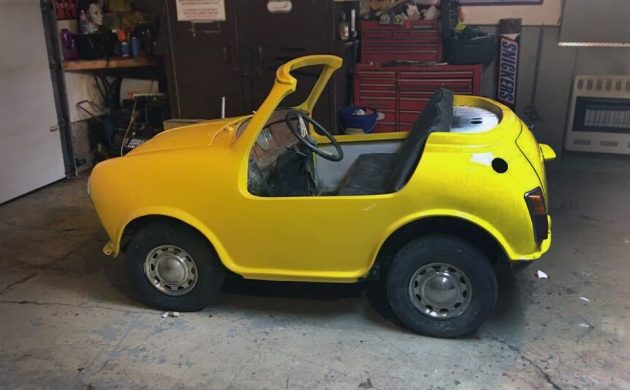 It's hard to tell how short this car really is and there is almost zero information in the listing. Here is the whole ad: "Selling a shorty mini body and paint finished last week these cars are a riot the car was purchased six months ago for 5600 and I have spent 5000 on it since doing body paint and customizing I don't want to lose money so add up cost if it does not sell I will finish it". This should be a Mark III Mini so it would have originally been 10-feet long, about the size of a Subaru 360! So, this car is even shorter than a Subaru 360. Wait, I have to grab a kleenex. Ok, I'm back. I love small cars! Although, again, at 6′-5″ tall this would end up on a velvet turntable in our living room.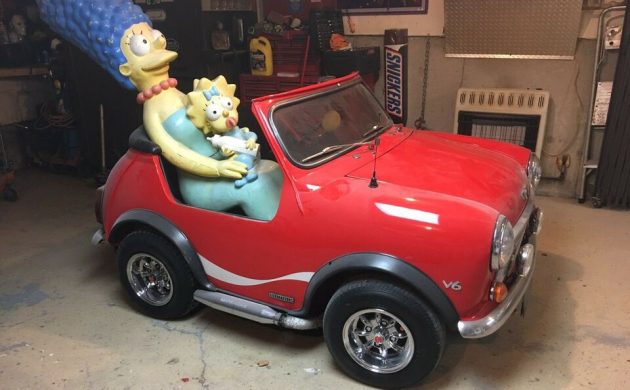 I'm not quite sure what this red car with the Coke stripe on the side it is, another one that the seller fabricated maybe? It's clearly in the same space as the yellow car is, or was. There is no mention of it in the listing but it looks done whereas the yellow car is still a work in progress. V6? I'm not sure what engine is in this red car or in the yellow car, is it the original 1,275 cc four? Again, there is no mention of much of anything in the listing. The wheels almost look like they're wider in the front on the red car which is the opposite of the yellow car but it could be a trick of the camera? Speaking of cameras, it sure would have been nice if the seller would have made with the snappity-snap a few more times. Showing just two exterior photos, both of the same side, on a car that you're asking a decent amount of money for may make for a hard sell. Would any of you need a mini Mini?