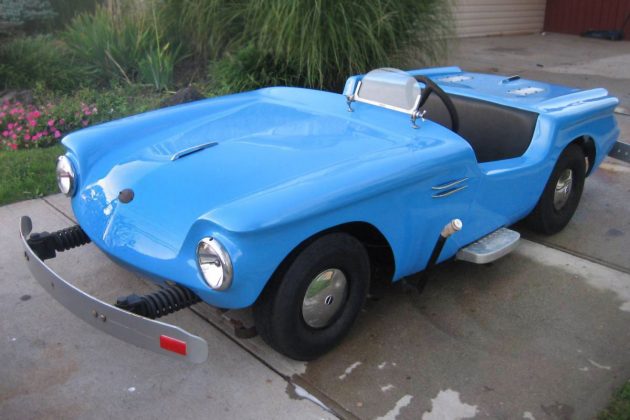 Did anyone watch The Wonderful World of Disney that was on Sunday nights.. ohhhhhhh.. a few years (decades) ago? I did, it was a must-see, especially when we got a color tv. This 1960 Autopia Car is possibly from the famous Midget Autopia ride at Disneyland, maybe.. or from some theme park. It's posted on Craigslist with an asking price of $3,500. It's located on beautiful Long Island in Merrick, New York. You probably shouldn't drive this one home. Thanks to Bill Walters for sending this one in!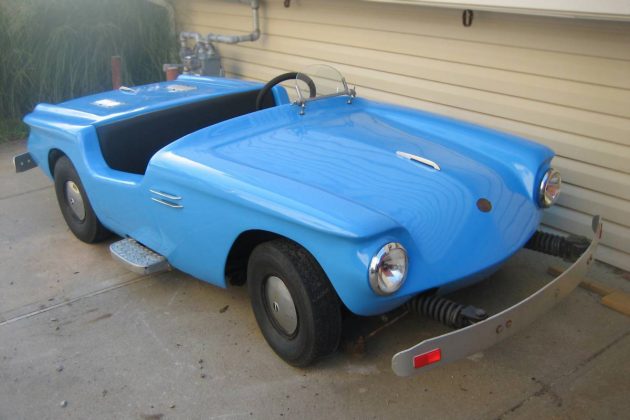 It seems like such a rare vehicle in such nice condition would be priced much higher and collectors would be clawing at each other to grab this one. There were several generations of cars used in the Autopia rides, from the first Autotopia in Tomorrowland which was there for the opening of the park in 1955. Junior Autopia was at Fantasyland in 1956, and from what I can tell, this car would have been part of the Midget Autopia in 1957. These cars were built by Arrow Development, a company that designed and manufactured amusement park and roller coaster equipment since 1945. Arrow built these cars for all sorts of parks, so for this one to be actually from a Disney ride is pretty unlikely. It's fun to think about, though. To be a kid again, ahh…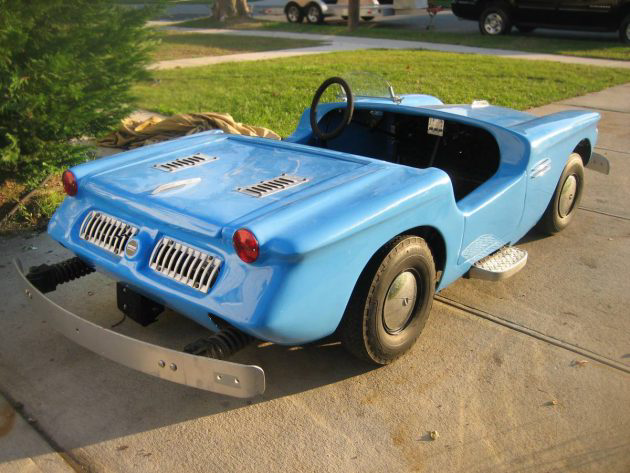 This is, I believe, a Mark V car which came out in 1959. The Midget Autopia ride was shut down in 1966 and instead of scrapping the cars, Walt Disney gave them to his hometown of Marceline, Missouri which then opened the Missouri Midget Autopia. It was the first and only time that a Disney ride has left a Disney-owned park and continued to operate. The first cars didn't have bumpers and they were almost totally destroyed by the early testers of the ride. The cars evolved to them having huge, shock-absorbing bumpers. This car is still riding on its original wheels and tires!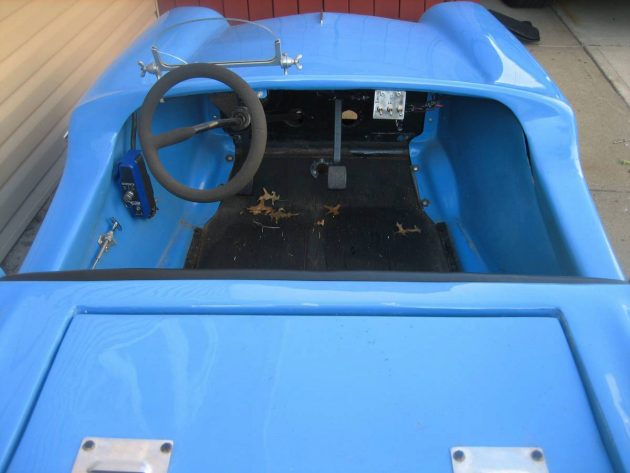 I believe that these cars would have had two steering wheels, or at least some of them would have. The seller says that they got this one for his kid and he never got into it. What a shame, what kid wouldn't want this thing? What adult wouldn't want this thing?! I know I would, for what purpose I have no clue, but since when has that ever stopped me. It's obviously been restored at some point and it sure looks nice, with a somewhat comfy interior.
This is a modern-looking engine but there's no mention what it is. A lot of the later cars, well into the 2000s, had Honda engines which produced enough pollution that ride employees were paid an extra $0.20 for hazardous duty because of the fumes. Crazy. The seller mentions that a lot of engineering went into this car, whether they mean before or after they got it I'm not sure but they do have a lot of money invested in it. They mention that the engine is "gas powered and has been modified with electronic ignition, manual choke, brake lights, working headlamps, electronic fuel pump, brake pedal, etc." Have any of you ridden a Disney car like this, or in another park?