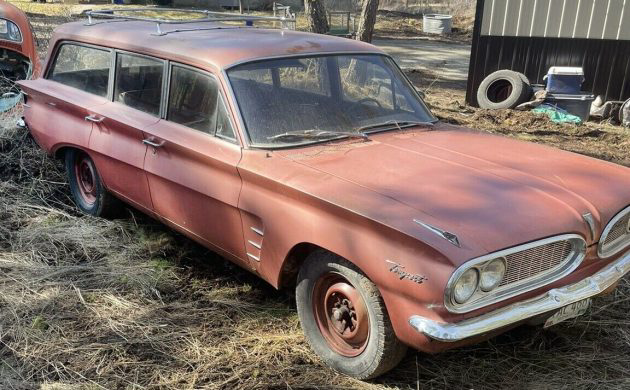 This 1961 Pontiac Tempest Wagon has been off of the road since 1996 and it's rarely good for humans or machines to be inactive for that long. For sure, it's bad for humans, and also for cars if they've been stored outside which hopefully this one hasn't been. The seller has it listed here on eBay in Cheney, Washington and the current bid price is $1,225 but the reserve isn't met yet.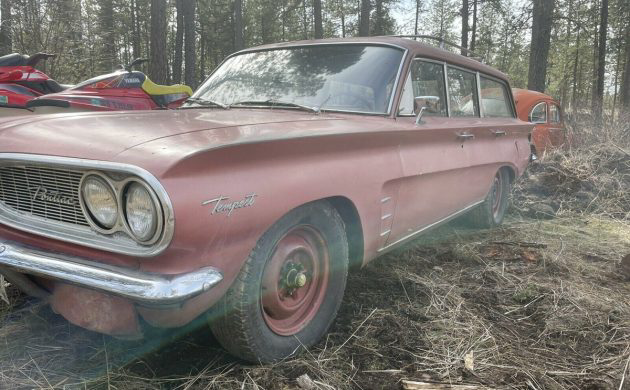 Pontiac made the Tempest beginning in 1960 for the 1961 model year and not that anyone is interested in my questionable car collecting tips, but I always like a first or last-year vehicle as far as collectibility goes. A first-year wagon, even better. A wagon that looks this good and one with a manual transmission? No-brainer. The body of this car looks great from what I can see in the photos.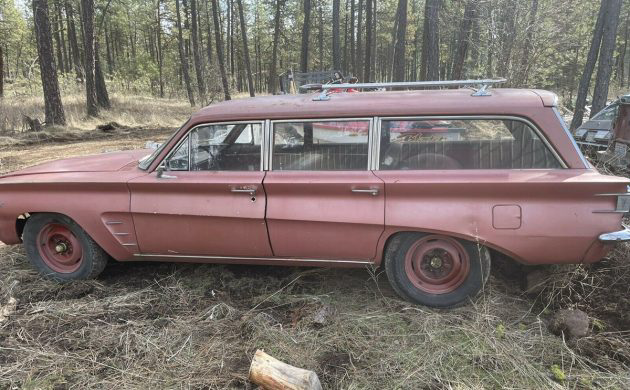 The first-generation Tempest was made for only three years, 1961 through 1963, and they were considered compact cars, at least for that era – this wagon is less than 16-feet long. They were Y-body cars and they shared DNA with the Oldsmobile F-85 and Buick's Special. They were unibody or unit-body cars and they were the brainchild of John DeLorean, then the head of Pontiac's engineering department.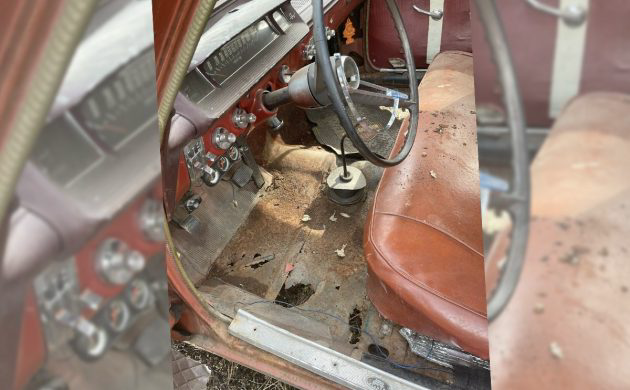 Here's where you start your plan of attack as far as welding goes. The seats look good both in the front and in the back and the back seat appears to be original. Is there anything cooler than a manual transmission with a floor shifter in a Pontiac wagon? Not in my world, there isn't. The interior and floors seem to be the place that the next owner will spend the bulk of their time, but it looks better inside than I thought it would after seeing this car sitting in a field. Even the rear cargo compartment looks solid. It's just those floors.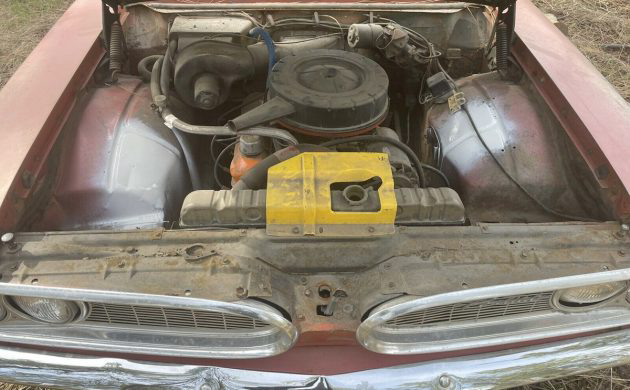 Many of you know about the rear-mounted transaxle in the Tempest with a flexible driveshaft that became known as a "rope drive", even though it wasn't that flexible. It was very unique and just as unique is the engine in this car. This is Pontiac's 194.55 cubic-inch slant-four known as the Trophy 4, which is basically half of a 389 V8. It would have had 120 horsepower. This one hasn't run in at least 2.5 decades now so plan on some work here, too. Any thoughts on this Tempest wagon? I won't ask if it's worth saving because it's 100% worth saving!