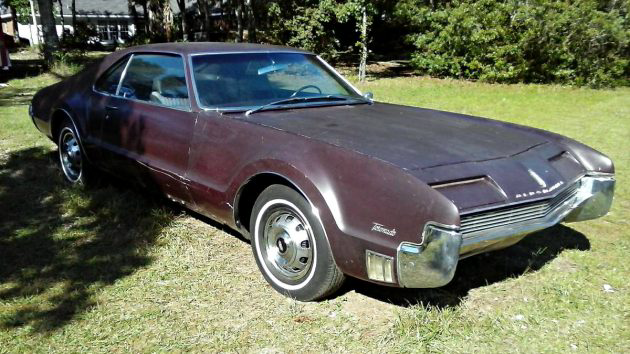 The 1960's brought about many cultural changes, innovations, and designs. The 1966 Toronado was definitely an interesting car with its styling and humongous front wheel drive V8 heart. This first year car is a relatively solid example that runs and drives but needs a good looking over before hitting the road once more. Owned by the seller for more than 20 years, this Olds has spent some time stored, but unfortunately it would appear the seller can no longer store this classic indoors. Having dropped his price to $2,800, this Toronado seems like a deal as a rusty parts car is included in the sale! Check them out here on craigslist out of Biloxi, Mississippi. Thanks to Barn Finds reader Mark for the great submission!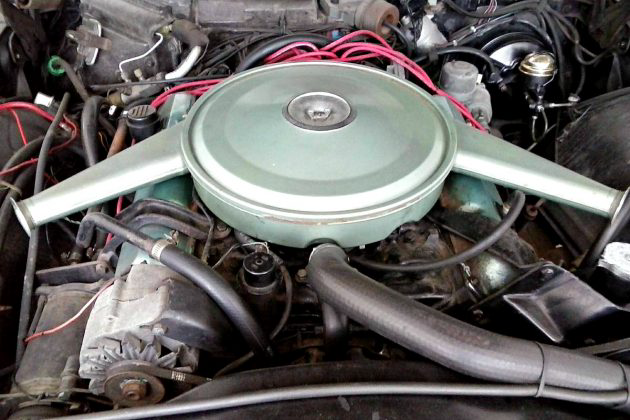 Rather tidy and clean under the hood, this 425 cubic inch V8 is ready to do business. The seller mentions this car has spent an undisclosed amount of time in storage to which it promptly started after its hibernation. The seller stresses that the car cannot be driven, even after performing maintenance on the brake system. I would assume he means that standard mechanical system checks, fresh gas and oil, and some other general checking should be performed before driving out on the open road.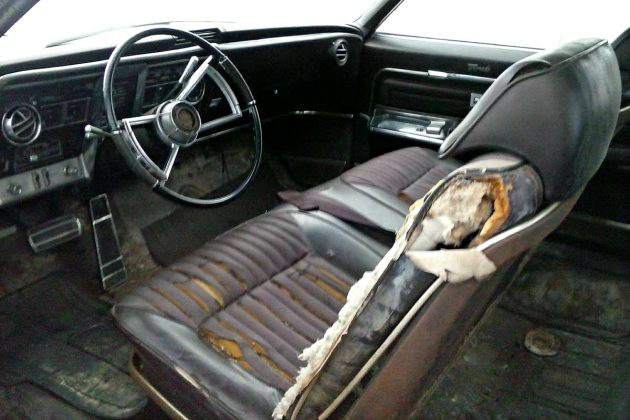 In the cockpit, the interior does appear aged, but the worst of it appears to be the heavily worn seat bolster and seat bottom. The dash, steering wheel, and door panels look very nice. Adding a carpet kit, and reupholstering the seats would do wonders for this interior.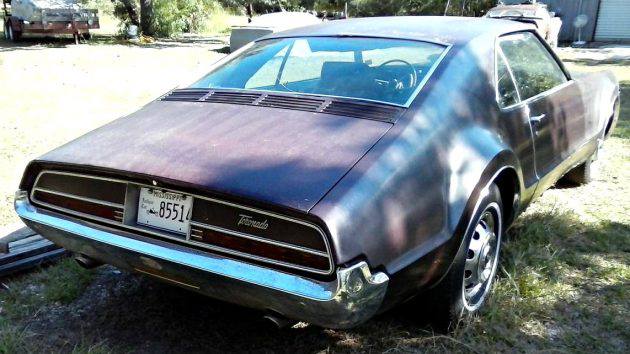 Although the paint is a bit oxidized, it does appear to be original, or at least a very old repaint. There is some minor rust in this car that should be pointed out. The worst of the exterior rust is contained the lower section of the rear quarters. The driver side has a small rot area, while the passenger simply has surface rust. Beyond the quarters, the trunk floor has a few holes, that are again, small, but the trunk floor is definitely going to need some help in the near future. Looking over the body reveals little in the way of dents or dings, but there are a few heavy scratch type gouges on the lower portion of the passenger side door. Aside from that issue the only other item to make note of is some various paint chipping around the driver headlight, and on the body line of the passenger fender. The chrome and trim work has a nice shine with no real evidence of rust. With a small dent on the passenger side, the rear bumper is in nice shape as well. Included with the sale, the parts car looks complete, and could very well be a source of parts to keep this main car kicking. Stylish and cool, this Toronado combo seems like a no brainer for the price. Would you jump on this big block duo?