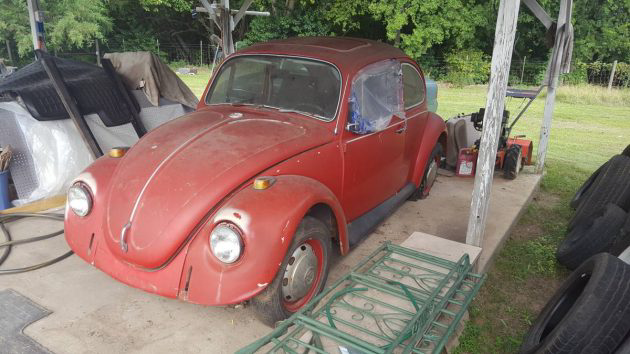 If there were ever an unlikely best selling car, the Volkswagen Beetle was it.  Born in Nazi Germany, the Volkswagen Beetle was one of the first signs that Germany was getting back on its feet after having its industrial capabilities bombed into dust during World War II.  Designed by Dr. Ferdinand Porsche, the Type One, which was the Beetle's official name, was designed to be a "people's car."  The emphasis was on making it simple enough to build in volume, and cheap enough that almost everyone could afford it.  Meeting those goals, the Beetle went on to become the most produced car ever, and also the car with the longest production life. While not the best looking, they were built exceptionally well for an economy car, Volkswagens like this 1968 Beetle found on craigslist in Dothan, Alabama used to be a common sight in the United States. While it is rare to see one on the road now, you can change that by purchasing this one for just $1,800.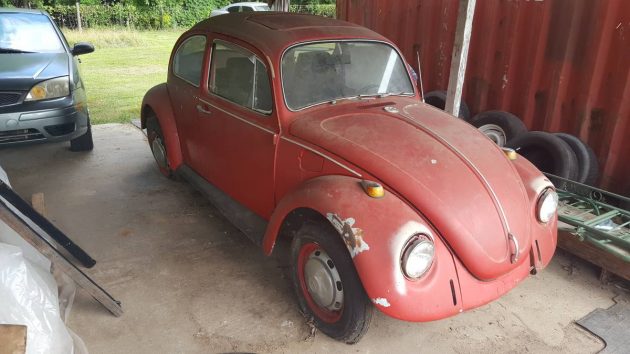 Nearly as revolutionary as the car itself, Volkswagen's advertising at the time was phenomenal.  With ad lines such as "Last one to conk out is a Volkswagen!" and "Its ugly, but it gets you there.", the company had some of the best ads in the history of the automobile industry.  Between the ads, the fuel economy, the build quality, and the word of mouth promotion from a legion of happy owners, Volkswagen managed to sell over twenty one million of the cars by the time production concluded in Mexico on July 30, 2003.  When you think of that stunning number, you would expect to find air cooled Beetles behind every house in America.  Sadly, bust was the undoing of many a Beetle, and they are all but gone from the highways today.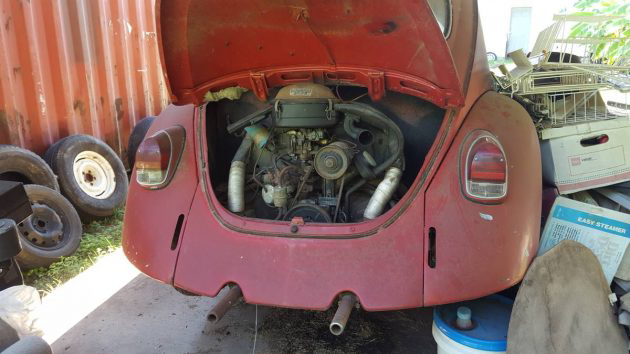 As a kid, nothing was better than playing "Punch Buggy."  In this game, you got to hit your seat mate every time you saw a VW Beetle, or Bug as we called them, after you called out "Punch Buggy (insert color here)!"  I hear this is how Chuck Norris got to be so tough, because playing the game either made you impervious to pain over time or the beating killed you.  Another part of the VW experience was the sound.  The rear engine, air cooled cars sounded like nothing else before or since, and you could tell one was coming or going without looking up.  Stories abounded about how they would float if driven into a lake, and drunks around my hometown tested the theory a time or two.  People also hot rodded them to ridiculous horsepower numbers, and there was an astounding aftermarket parts business dedicated to these cars.  Finally, the dune buggy and kit car industry would never have happened if not for the plethora of junkyard VW chassis found everywhere.  Volkswagen Beetles went beyond being merely transportation, and were more like a movement in history.  You had to be there to appreciate it.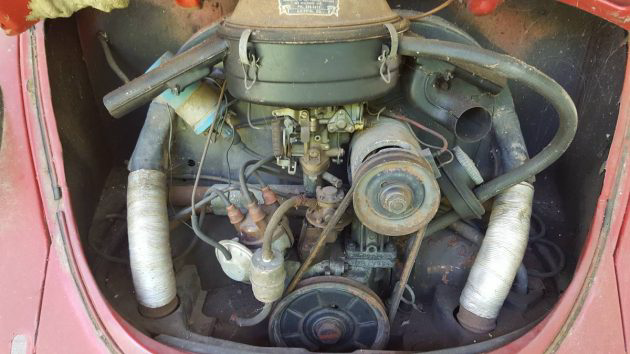 Under the hood, or trunk if you please, sits the ubiquitous Volkswagen flat four cylinder engine.  Displacing only 91 cubic inches, the engine only produced 53 horsepower.  The owner says that the car ran when it was parked, but the hose to supply fuel to the engine seems to go nowhere.  Perhaps there was trouble with bad or dirty gas after the car sat idle for a while.  Everything else looks to be there and in fair condition.  The motor on these is easy to remove with the help of some jack stands for the body and a floor jack to lower the unbolted engine and transmission to the floor.  From there, rebuilds are straightforward, and many an amateur has rebuilt one in their garage.  Sometimes, you hear stories of them being rebuilt in alleys and parking lots too!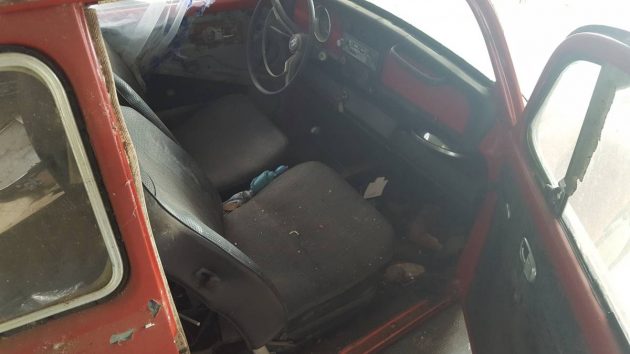 Inside, the car looks a little rough.  From what we can see, the seats look to be in pretty good condition.  The dash is cracked, and the driver's side is missing the door panel altogether.  The car will certainly need all new weather stripping, a windshield and back glass gasket, and any other rubber parts I have forgotten.  All of this is available, but this stuff does cost a bit and requires a patient hand for installation.  A set of carpets is likely in order, and a thorough inspection of the floor pans is a must before purchasing one of these cars.  Floor pans are a weak link in Beetles, and the factory sunroof in this one may mean more water found its way in if the gasket wasn't maintained.  Considering that the body on this car is pretty straight and rust free, at least from the pictures, the interior is where you are going to spend a lot of money.  Even more money will be spent if the bumpers are no longer with the car.  Of course, that depends on how deep into a restoration you want to go.
When people talk about restoring a car, but they are scared to take the leap for fear that it is too big a project for them, this is the kind of car they should be looking at.  Like early Mustangs, and nearly any pre-1970 pick up truck made by Ford or General Motors, these cars make fantastic first restoration projects.  They are plentiful and cheap, parts are easy to come by, and the internet is loaded down with how to articles and helpful information to get you through the rough spots.  Once finished, Beetles are a lot of fun to drive, and can provide decades of reliable service once again.
When you consider the Volkswagen Beetle was built by our former enemy, had an underpowered air cooled engine during a time of ever increasing horsepower (at least until the dawn of the seventies), and was a rather primitive design from the 1930s, the car really had a tremendous impact on the world.  Like the Model T Ford, Beetles are a milestone car that everyone should at least drive once in their lifetimes.  With the low cost of entry on this one, you can make driving one an everyday thing.  Just like it used to be for millions of proud Beetle owners.