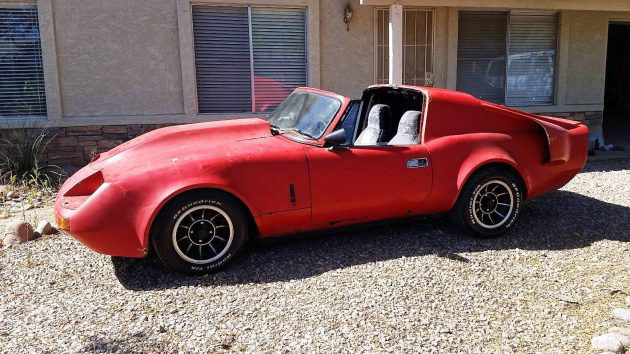 What do you get when you take a Spitfire, stuff in a V8 connected to a Corvair transaxle and apply some chicken wire and fiberglass? Well, you get something like this. Whatever it is, it's listed on eBay in Tempe, Arizona where bidding is over $1,000 with no mention of a reserve. It's been hidden away for 25 years and this one time I think we can understand why. The body uses some metal, like the hood and trunk lid and doors but much of the rest of the car is fiberglass over chicken wire. That sounds more like a parade float than a car, doesn't it? There are big cracks showing in the hood but the seller says the chicken wire is holding up well. There is a custom 2 piece Targa top included as pictured in the last photo. This thing runs and drives although the owner has not driven it over 40 mph. It must be an interesting experience.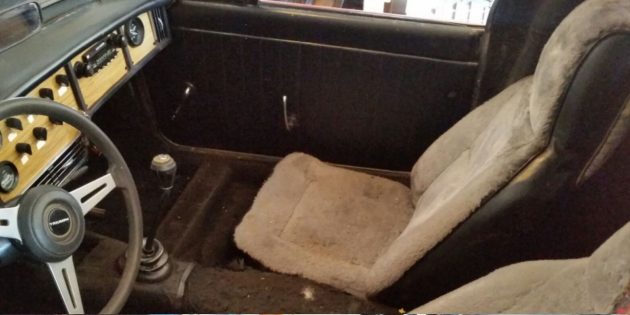 The seats are from a later model Spitfire covered in something shaggy. The custom gauges work.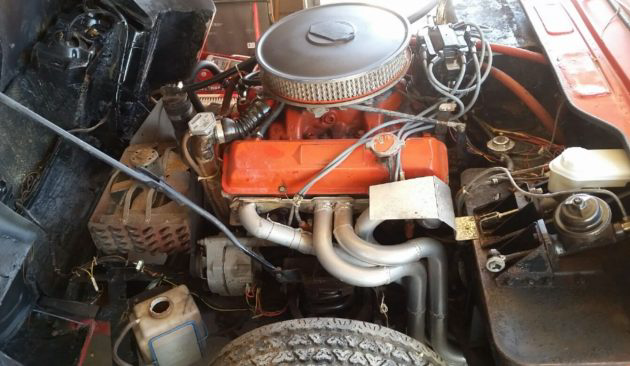 Here's the Chevy 327. It runs but needs a little starting fluid to get it going sometimes. The electric fuel pump is noisy, but when the engine starts you can't hear it or anything anymore anyway. The thing in front of the engine looks like the coil and fan from a refrigeration unit so perhaps this thing has AC. The radiator is in the trunk.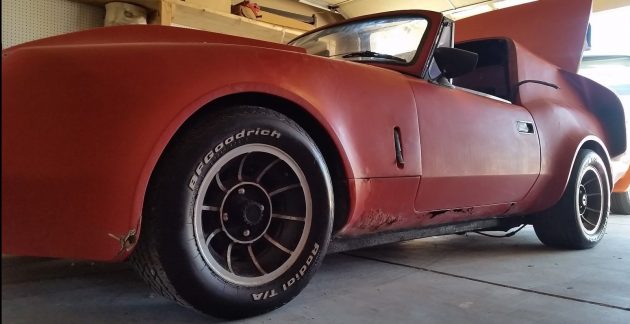 The rocker panels are mostly rust. Where the rust ends is likely fiberglass.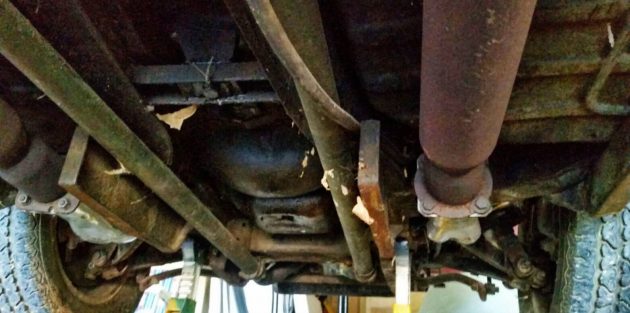 The underside is as scary as the top side. The engine is connected by a driveshaft to a Corvair 4-speed transaxle in the rear.  It would be interesting to see the results of the full might of that 327 in front was unleashed, twisting the transaxle on the other end with only this structure in the middle.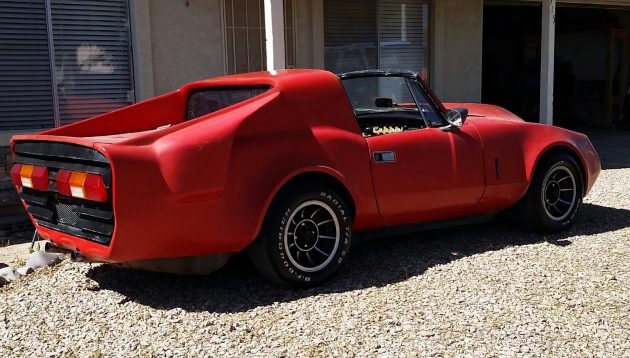 Were you hoping it might look better from this end? Those Mustang II tail lights don't help the appearance. With the V8 neatly stuffed in the nose, why did the builder need such a huge tail? A Chevy truck radiator is mounted at the very rear. Ahead of the radiator is just a small trunk. There was some clever engineering and a lot of work that went into this car. Imagine what it must be like with that V8 in the nose on Spitfire suspension, top heavy with layers of chicken wire and fiberglass. I'm guessing this is scary to drive and the builder was disappointed in the results. What do you think the new owner will do with this? Perhaps it will appear on eBay again in a couple of decades.