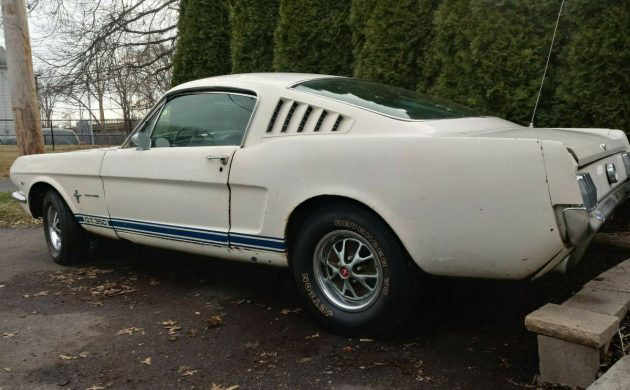 First generation Mustangs are a staple of Barn Finds because even after all of these years, they are still very popular, they were made in various iterations and there were hundreds of thousands built between mid-1964 and the conclusion of the 1966 model year. That said, here's one we can take a gander at, located in Stratford, Connecticut and available here on eBay for a current bid of $13,000, three bids tendered as of this writing.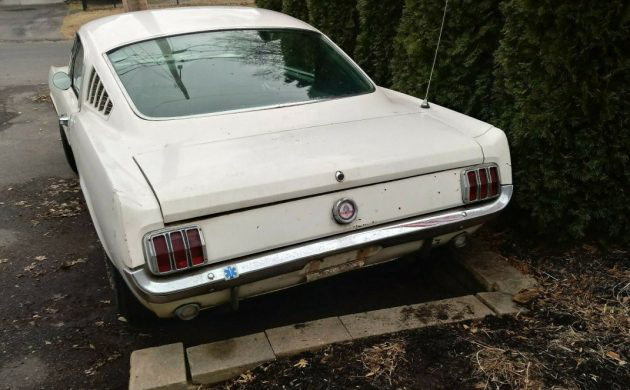 The 1965 Mustang came in three body styles, coupe, convertible and fastback like this example. Truth be told, I never cared for the coupe and only marginally accepted the convertible because the top went up and down. The fastback, however, is another matter; I like them! The extended roof-line just gives this car a more serious, purposeful appearance – perhaps what Carroll Shelby thought or maybe needed? Anyway, it's the Shelby association, that for me, sets the fastback apart from the coupe and convertible.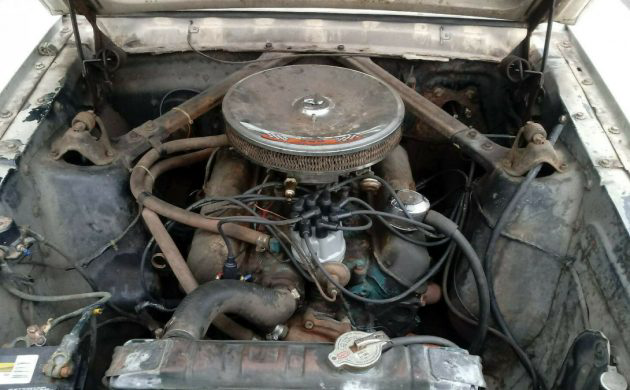 Our subject car is equipped with a 289 CI V8 engine though I don't know which one. There were three, 200, 225 and 271 HP. Based on the air cleaner I'd say it's the 225 version but I'm sure one of our sharp-eyed Mustang enthusiasts will be able to help out here. The seller gives very little information other than to state "matching numbers" and "runs". Unless my eyes are fooling me, I doubt it runs very well as the fuel line looks like it is disconnected. Gears-wise, this fastback is equipped with a three-speed automatic C4 transmission.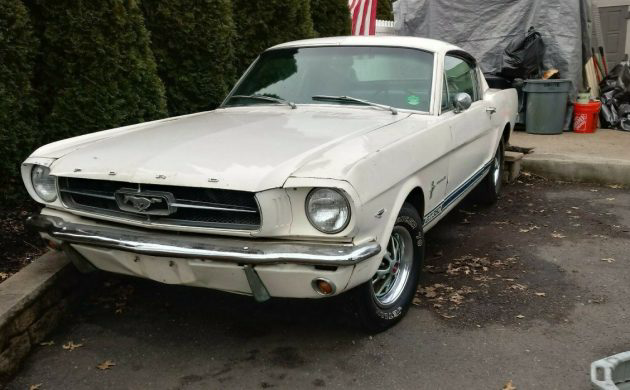 The seller tells us that this Mustang is on its second white paint-job and it comes with lots of NOS parts (bumper, emblems, rear view mirror, etc.). The seller also tells us that this Ford will need floors. There are no images available, so I can't tell you how extensive the floor damage is, as in, can they be patched or are talking the whole ball of wax? There is silence regarding structural members but if there is floor trouble, I'd want to look the entire underside over pretty closely. There are very few images but from what's available the body looks to be in decent shape. The blue GT 350 stripe is exactly that, a stripe; this is not a Shelby Mustang or a derivative.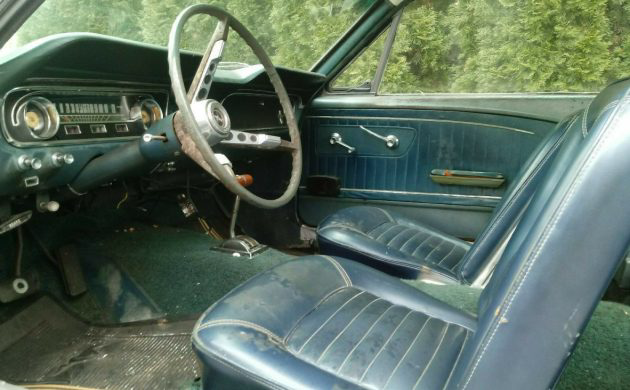 The interior looks about how you would expect it to look considering this Mustang's age; there is only one image and no detail. I imagine at the least it will need a good cleaning and beyond that there are probably other matters that will need attention. And that's about it for details on this fastback. It doesn't look like there is a reserve on this auction lot and there are a few days to go before the bidding is concluded; no telling where it will top out. If you're interested in a first generation Mustang, this may be a good candidate with its fastback body and 289 V8 engine. As usual, the devil will be in the details. What do you think, good start in the right bid range or too many unknowns? Happy New Year to all of our Barn Finds readers, Members and contributors!