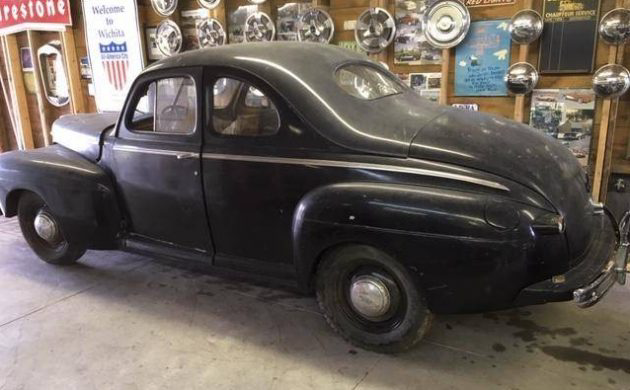 The year that almost wasn't. For Ford, and every other domestic auto manufacturer, 1942 production ended in January or February of that year due to U.S. involvement in World War II. While 1941 was a big production year, things slowed to a trickle in early '42 and did not resume any semblance of normalcy until late '45. But here we have an example of that truncated year, a 1942 Ford Deluxe Coupe, located in Franktown, Colorado and available here on craigslist for $4,950. Thanks to Ikey H. for the tip!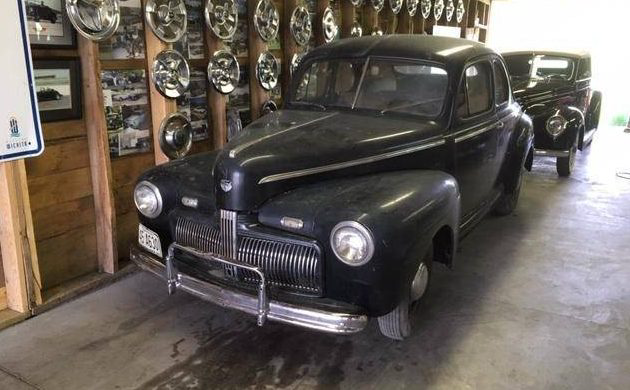 This 1942 Coupe was one of several body styles offered by Ford in '42. Others included a four-door sedan, two-door sedan, two-door convertible, two-door sedan coupe, a station wagon and a "Deluxe" coupe-like this example. Among the three different two-door models, the differences are the rear roof-line and rear quarter windows.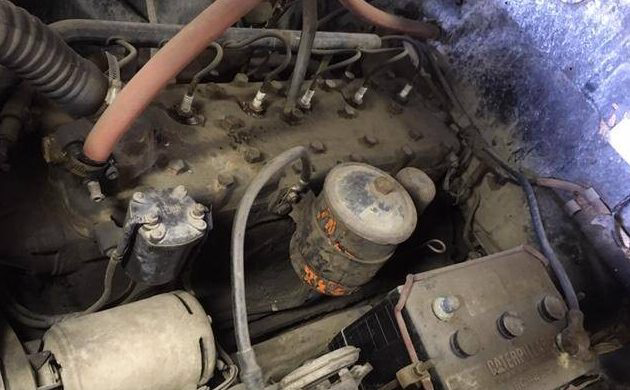 Prior to 1941, Ford offered a four-cylinder in-line engine as well as their famous flathead V8. The '42 Ford sales brochure advertises Ford's new for '42, 226 CI inline, flathead six-cylinder engine, good for 90 HP. Some sources reference this engine being introduced in '41 but research indicates that it was in fact introduced in '41 but for the '42 model year. Any clarity on that item from our readership would be appreciated. Regardless, it doesn't run. But wait, there's more! Included in the sale is a Chevrolet 283 CI small-block V8 of undisclosed nature. This listing, like so many, is very light on detail and tells us next to nothing about either motor. The seller does state that he has all of the necessary adapters to install the small-block and a rebuilt '40 vintage manual transmission too.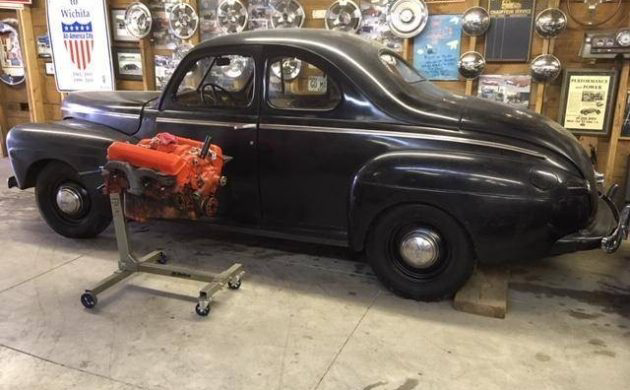 There is nothing disclosed regarding the body of this coupe and few accompanying images but what there is reveals a body that looks pretty good; there is no obvious rust, misaligned body panels, physical damage, etc. The black enamel finish still looks reasonably strong. The seller states that this Ford was a barn find that enjoyed a 50 year slumber. It must have rested well and away from any destructive environmental elements.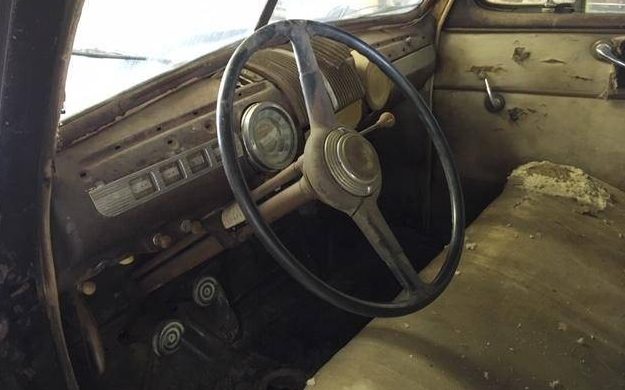 The interior is not referenced but the single image included shows a passenger compartment that is a bit beyond its prime. The seat looks like it is decomposing, the door card that is visible is coming apart and the dash appears to be missing some trim – no reference made to the operability of the gauges, etc. Also, no discussion around floor integrity. There is no reason to suspect trouble based on the observable condition of the body but still something to consider.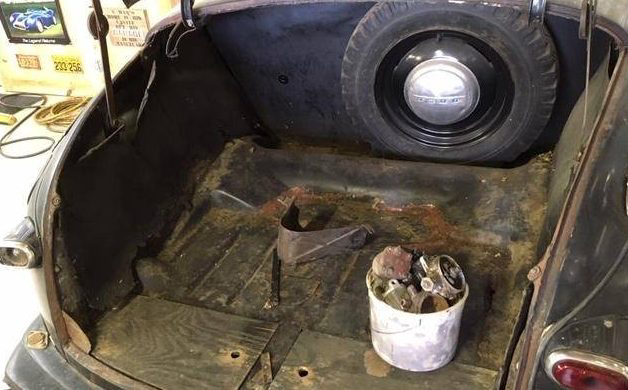 I think this is a great body style Ford and believe it would be a good starting project for…….what? It seems almost too original to hot-rod it with the Chevy engine and a reasonable restoration doesn't seem that far off. You don't come across this vintage Ford with its original six-cylinder engine that often and again, it is from that shortened '42 model year which gives this coupe some measure of uniqueness. If you were interested in this Ford, what would you do?