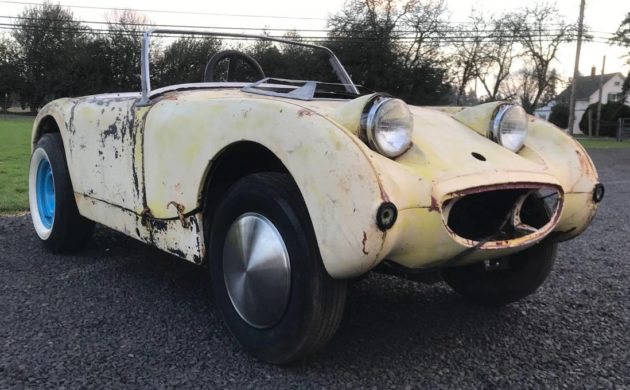 Austin Healey MK1 Sprites, affectionately known as "frogeye" or "bugeye" are very popular among collectors. Introduced for the 1959 model year, according to Hagerty.com, there were about 50,000 sold "…Bugeyes are the most collectible by a considerable margin." Although there were 50,000 sold, I'm sure that not too many of them were turned into drag racers! This 1960 can be found for sale here on Craigslist with an asking price of $3,500. It was a former drag racer on the west coast and is ready for a new owner to bring it back to its former glory! Currently located in McMinnville, Oregon it is set up for a V8 and would probably be a blast to drive. Let's check out more of this ride and thanks to Ikey H. for the tip on this cool old racer!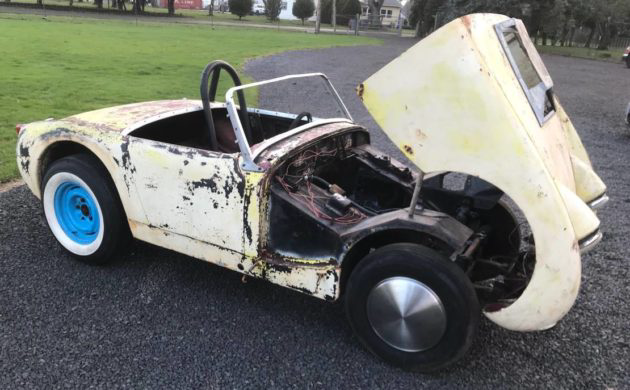 In drag racing, the power-to-weight ratio is the key and as long as you can get your tires to hook up, you generally want the most horsepower in the lightest package. Well, cars don't get much lighter than a Sprite, so that's a good start. Unfortunately, the 1960 Sprite would have come from the factory with a 948cc A-series overhead-valve engine mated to a manual transmission, which doesn't make for a good drag racing setup. How about a big American V8? The engine compartment is set up for a small-block Chevy! You can see the bell housing is still in the car and the seller says it is from a mid-50s Chevrolet so that's probably the vintage of the engine it used to have. Unfortunately, the engine is gone, but that gives the new owner a blank slate. It is currently set up for a SBC, so that would probably be the way to go.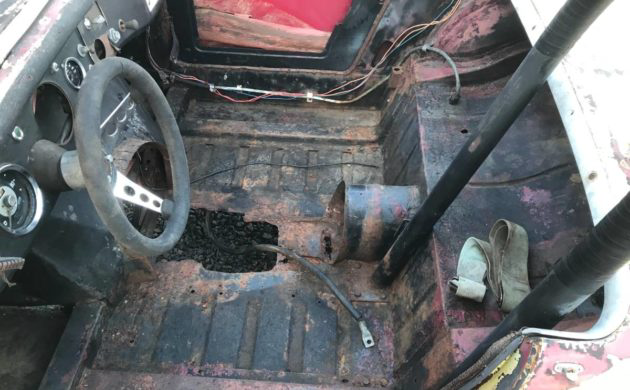 If you were asked to imagine the stripped interior of a vintage drag racer, you'd probably see the image above. Looking closely you can see the modified driveshaft tunnel, remnants of a racing harness, and classic undersized three-spoke steering wheel. The battery cable likely means the battery was relocated to the trunk for weight distribution and/or to make room under the hood.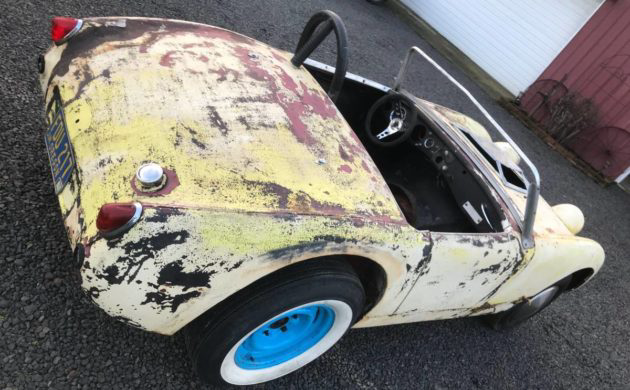 These can actually make really cool looking drag cars. Check out this one named "FRRITE" found on-line. I can't imagine what this car feels like punching the accelerator with five or six hundred horsepower on tap, a handful for sure! What about you?
Have something to sell? List it here on Barn Finds!