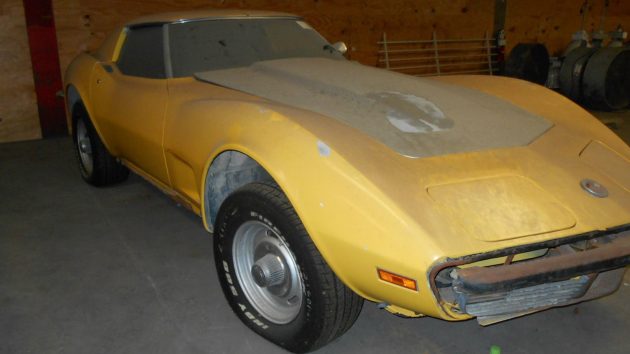 Well, it is a Corvette. However, let's just say it's not the nicest one I've ever seen. Still, it could be rebuilt–and right now it's being auctioned at $510 here on eBay without a reserve! This piece of yellow fantastic plastic is waiting for you in a warehouse in Houston, Texas, along with several other cars (look closely at the pictures).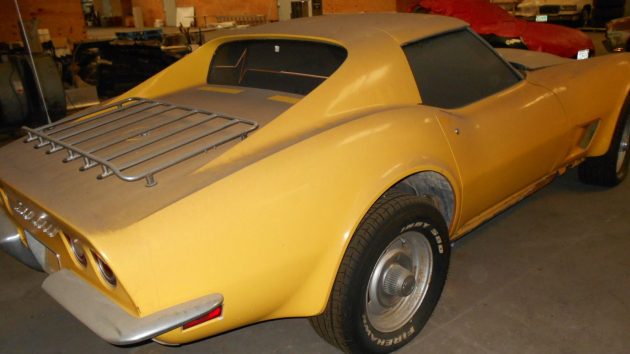 This is probably the most flattering view of the car in the auction listing. This is one of the last of the early, chrome bumper C3s, even if that bumper (and the nose) is missing from the front of the car. We've debated the whole luggage rack on a 'Vette issue here before, and most commenters seem to be against them in general. I share that point of view, but it least it looks like it's in nice shape.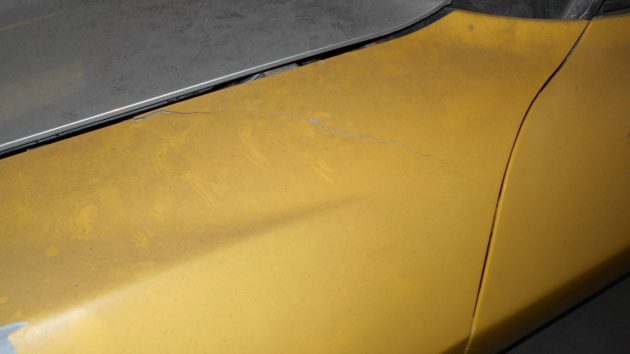 While metal rusts, fiberglass cracks or breaks, as you can see from this closeup of the left front fender. I'm glad the seller included so many good pictures of the body, but I wish there were some of the underside or the visible parts of the "bird cage." I wonder about the silver hood as well.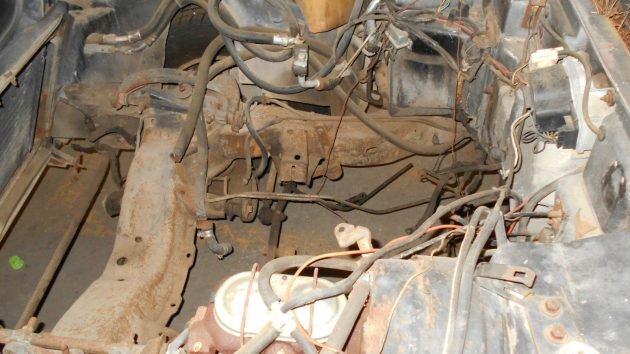 Whoops! Something missing here! Now for all you concours loving folks, this is the time to stop reading. There's no way it makes any kind of economical sense to restore a car like this to original specification; there are plenty of nicer cars to start with out there. So let's hear it: "LS SWAP!" There, I said it for you. No reason not to. And you might want to modernize a few more things while you are at it.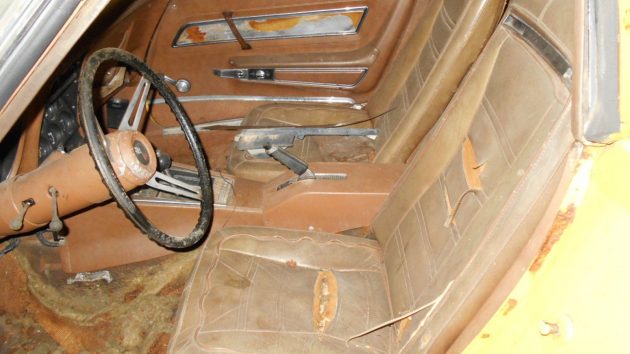 Like the interior. Oh yes. I'd tear everything out (after putting on a haz mat suit) and start over. There are plenty of other C3 alternatives out there, from later stock cars to all kinds of customs. So what would you do to this C3 that's almost being given away. Just for fun, let's assume the birdcage and other metal parts just have surface rust. What modifications if any would you make?