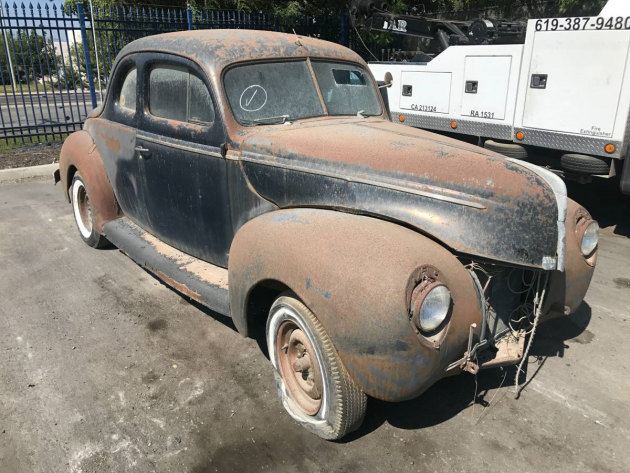 George Jones sang a great country song called "Who's Gonna Fill Their Shoes?"  It was about who was going to replace the legends of country music when they passed.  As we can now see, it was a good question considering country music now is pretty much what used to be called light rock.  In the automotive world, we should be asking the same question.  Who is going to step up to restore, hot rod, or even serve as caretaker for cars of the past?  Take for example this 1940 Ford Coupe for sale on Craigslist and located in Chula Vista, California.  Between being priced at $8500, and being in the condition that it is in, who is going to step up to save a rough, but beautiful, car like this?  Maybe we can convince Larry S., who found this car for us, to adopt it…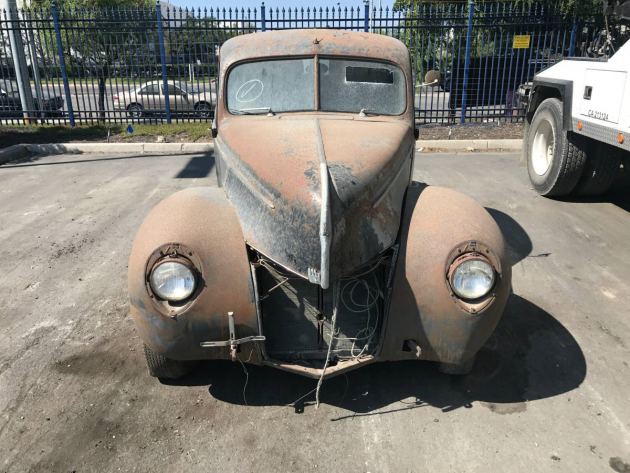 It is sad to see a car this beautiful descend into such a condition.  A 1940 Ford coupe is a very desirable car with a lot of admirers because it represented a real change for Ford. Ford was pretty slow to make improvements, and they often made changes only when drops in sales forced their hand.  In 1939, Ford had finally switched to hydraulic brakes, and that particular brake design would remain unchanged until 1948.  In 1940, styling was freshened up, sealed beam headlights were added, and sales took off.  Everyone loved the coupes and convertibles most of all, and these body styles were the basis of many a hot rod after the war.  Under the hood, the insanely popular flathead V-8 was the foundation of hot rodding until the Chevrolet small block V-8 came along.  On the restoration side of the equation, 1940 Fords are some of the most popular early Fords to restore.  By 1940, they were making a pretty modern car, and restorers favor them because of their great styling and comfortable driving characteristics.  They are, in short an easy car to live with, by prewar Ford standards.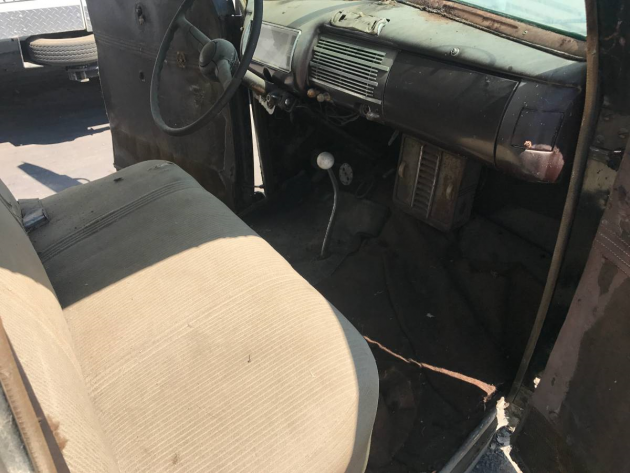 This particular 1940 Ford coupe appears to be a hot rodding experiment that somehow never made it very far.  The body, thankfully, hasn't been chopped or cut on in any way.  The panels look to be very useable, although the surface rust seems to be pretty advanced.  The steel on these old Fords is pretty thick, so you should have enough to work with after you apply multiple layers of high build primer to them.  Just start doing the Mr. Miyagi exercises now, substituting the words "sand down."  I would like to get a good look at the area where the body panels meet, as they can hide rust where they are separated with fender welting.  Looking at the pictures, I am not too concerned about any of the panels being unrestorable.  However, pictures are a leaky vessel to put your faith in when it comes to old cars.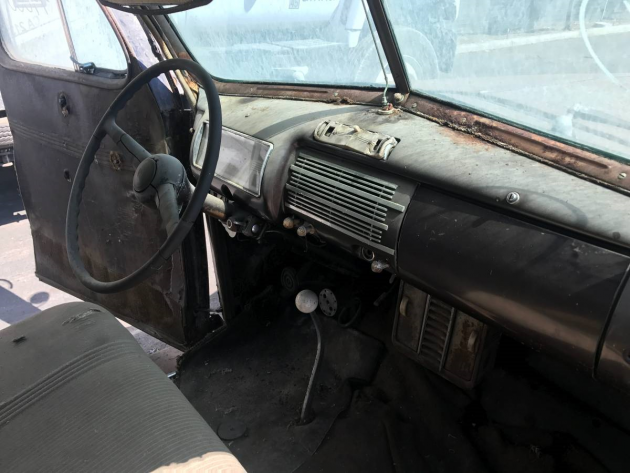 Speaking of leaks, the interior does have me a little worried.  The metal panels that hold the windshields in seem to be in an advanced state of rust, and that is bad news for the area below where the dash attaches to the cowl.  Likely it wouldn't be anything you couldn't fix, and it would be in a covered area, but it is a pain in the rear to repair perfectly.  The rest of the dash looks restorable, but everything that isn't metal would have to be replaced.  The upholstery and floor mat are useful for patterns only at this point.  Restoring the interior of a prewar Ford to factory correct condition is a very pricey undertaking.  A company called Le Baron Bonney is the undisputed 1,000 pound gorilla of the Ford interior industry, and their products, while beautiful, don't come cheap.  If you were going to make it a driver, then the costs will go down considerably if you chose lesser materials and did the work yourself.  Either way, adding insulating material throughout the cabin would be a good idea.  These Fords can get very warm inside on a summer day, and every little bit of heat reduction will be a blessing.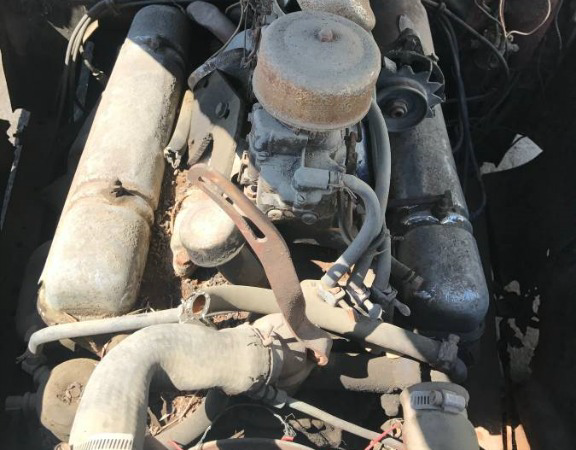 Under the hood is the most visible clue of the car's hot rod past.  The "Nailhead" Buick engine was a popular power plant to put in early hot rods.  Built from 1953 to 1966, these engines could pack up to 425 cubic inches of displacement from the factory.  Conversions such as this were made popular by a cottage industry of companies that made bell housing conversions to mate these engines up with almost any transmission you can dream of.  These companies also made custom motor mounts that made an engine swap easier for the average joe working out of his one car garage.  When I look at the picture of this engine, I don't think the conversion ever got totally off the ground.  It looks like the stock radiator is still in the car, and one of the hoses is just hanging in the air.  The generator is lying on the valve cover, and some sort of cobbled up bracket is laying next to one of the carburetors.  These engines are not as cheap to rebuild as a flathead Ford or a small block Chevrolet, conditions being equal, and it could probably be sold to another hot rodder if it isn't frozen up.
The owner also states that it is missing the front bumper and the grill.  In looking at the picture above, the rear bumper doesn't look like a stock Ford item, so it would need replacement if you were to restore the car.  Fortunately, there are a lot of parts available for 1940 Fords.  The restoration industry makes nearly everything you need, and there is a healthy used parts market for them on EBay, the HAMB message board, and the Early Ford V-8 Club forum.  Dennis Carpenter Ford Restoration Parts even makes whole reproduction bodies for these coupes, so body parts shouldn't be any issue at all.  I just hope your checkbook can handle the strain.
The costs required and the skills needed are the big issue here.  Twenty years ago, this car wouldn't be on the market for long, especially in California.  The people who coveted these cars were in their prime earning years, and a lot of them were very skilled mechanically.  Now, the number of people who lust after prewar Fords grows smaller by the day, and working with your hands has been shamed for years now by people who shall not be properly named on a family website.  The costs for the tools and materials needed to perform a restoration have skyrocketed as well.  All of this leaves us in a quandary.  This car is worth saving, but the owner will have to come down in price to attract a buyer who can bring this car back to life.  By the looks of the bias ply tires and the rust, the car has been sitting around for a log time, waiting for its return to the road.  If prices on cars such as this don't become more realistic, and the rest of us don't start mentoring the next generation, then we may be seeing a lot of one way trips to the crusher.
We are running out of people to fill our shoes, because our passion isn't hereditary.