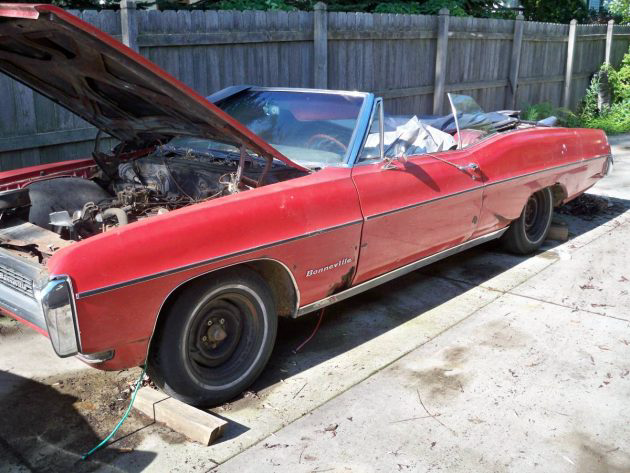 Ever since I was a little kid, I have always been looking for rare and unique automobiles anywhere and everywhere. I remember taking Collector Car Trader magazines with me to elementary school and perusing through them before class started. Over the years, I found that full-size cars are the most unique and affordable way to experience the joy of owning and driving a big-block equipped car (I own a 1965 Dodge Custom 880 six-window sedan with a big-block 383). Though a little rough, this 1968 Pontiac Bonneville is not only unique because it is a convertible, it is also a factory big-bore motor and four speed transmission! Find it here on craigslist outside of Chicago, Illinois, with an asking price of $6,800. Thanks to Dave Culhane for the submission!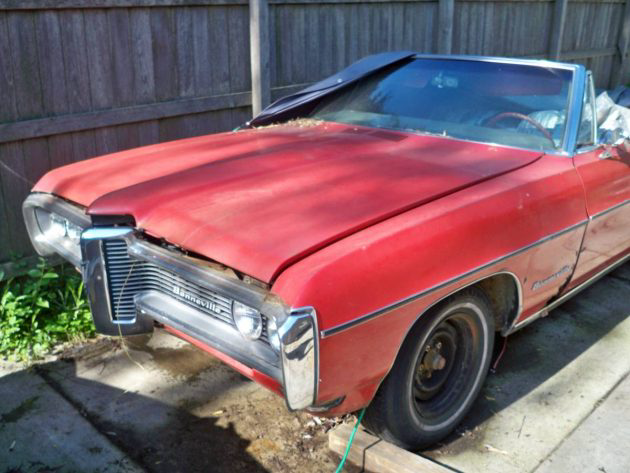 Though I usually prefer the 1959-1966 full-size Pontiacs, there is something unique about this prominent Edsel-like grille that you either love or hate (personally, I like it). For 1968, all of Pontiac's full-size cars (the Bonneville included) gained a prominent grille with a wrap-around bumper; unfortunately for Pontiac, the car's appearance was compared to the 1958-1959 Edsel, and was deemed a face only a mother could love. This Bonneville is a convertible, and though rough, does feature some spare parts: an extra pair of doors and a spare front bumper. The front fenders, trunklid, and quarter panels will need replacing, and the frame is an area I would inspect closely. The back bumper looks to be in good condition, and the car comes with 15 inch Heavy Duty wheels; I would source some 8-lug wheels to mount on the steel wheels. Additionally, I would source a hood tachometer for a visual upgrade (this car was not ordered with a hood tachometer from the factory). I like the color red that this car is painted, and with a black top should look sharp restored.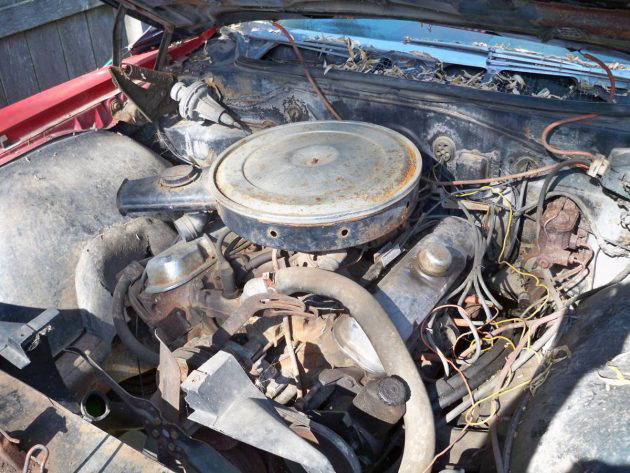 The desirable part of this rusty car is its drivetrain: a big-inch 428 backed by a four-speed transmission. Rated anywhere from 360 to 390 horsepower (I'm thinking this car has the 360-horsepower motor), the 428 featured four-bolt mains for 1968, and has a ton of torque. One of just 208 convertibles built with the 428 and four speed, the drivetrain is unusual for a Bonneville, and when you factor in the convertible body style, you have yourself here a rare and potentially fun car. The four speed is a Muncie (either a M20 or M21, maybe an M22? If you know, let me know in the comments section), and it, along with the engine, is numbers matching. The car was also ordered with a heavy-duty fan and heavy-duty battery (all of the options are PHS-documented, which is included with the purchase of the car). The engine looks a little weathered, and it, along with the rest of the drivetrain, will most likely need to be restored mechanically and cosmetically. Considering the rarity of the car, though, I personally would take the risk of restoring the drivetrain, along with the rest of the car.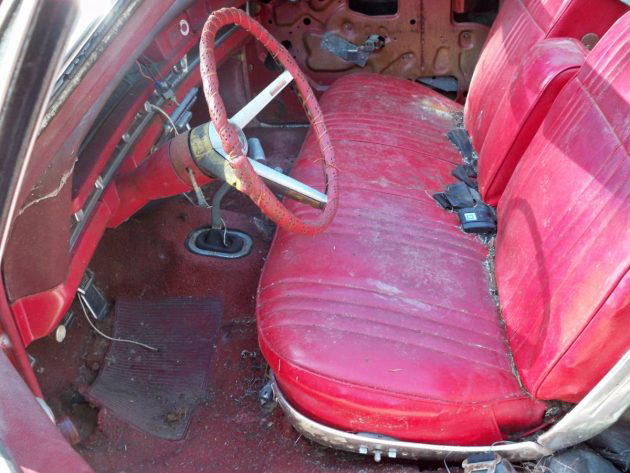 Much like the rest of the car, the interior is rough and is going to need a total restoration. The shifter is an aftermarket Hurst T-handle, and the steering wheel appears to have been wrapped at some point. Aftermarket gauges underneath the dash were also installed during this car's life. I'm a little worried about all of those exposed wires too. On the plus side, this car is loaded with factory options: custom gauge cluster, power windows, power front bench seat, AM/FM radio with stereo tape player, and power steering. Overall, this car is very rough and is going to need a full-blown concours restoration, but once restored will be a rare and valuable car; this car would be a great alternative to GM's pony and mid-size muscle cars, as well as the more well-known full-size Chevrolet muscle cars. Would you take a risk on this rough but rare 1968 Bonneville convertible?