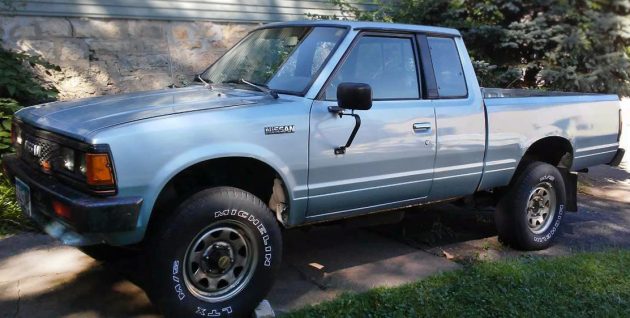 Winter's a'comin', unfortunately, if a person lives in a region that gets cold and snow for 5+ months out of every year and they don't like it and never have. 1986 was the last year for Datsun's, I mean, Nissan's 720 series pickups. I really like them, they're almost from another era, a simpler time before vehicles became highly-designed and when pickups were meant to haul things and not necessarily look fancy in the process. You can't haul as much in a small truck such as this 1986 Nissan 720 4X4 King Cab as you can in a full-sized truck, but this would be a really fun little hauler to own. It's on Craigslist in Stillwater, Minnesota (if the link goes away, the photos and info can be found here) with an asking price of $2,500 or offer, pretty much dead-on NADA's average value number.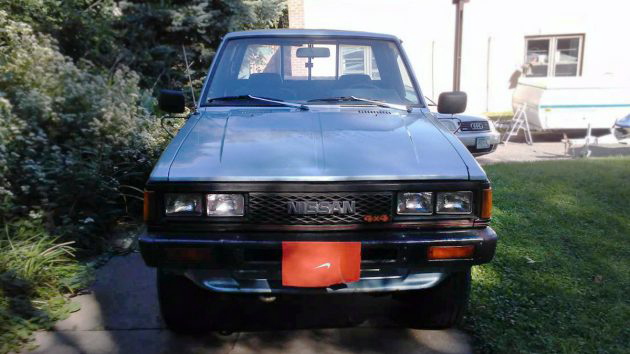 I thought long and hard about this one, I was almost positive that I would be driving it home. But, when the seller confirmed that it had rust, I changed my mind. I don't need another rusty winter vehicle and I know that living in the upper-Midwest pretty much guarantees that if you drive your vehicles on public streets in the winter, they will get rusty. Period. That is such a huge drawback to those of us who live and breathe cars and trucks and hate to see them deteriorate before our eyes. Not to mention the part where it dips to 20 degrees below zero for days on end. Yeah, fun stuff! With a nice 4X4 pickup like this one, you want to drive it in the snow, that's why all four wheels put down power to the road, for added traction. It's a classic conundrum: drive your classic (yes, 30+ years old is classic in my world) vehicle in the snow to enjoy its 4-wheel drive, or keep it locked up and away from salty roads until spring? This truck is cheap enough that if the underside and other important mechanical bits aren't rusty and unsafe; just drive it. If a person needed a cheap winter vehicle, this could be a nice find, especially with the King Cab feature. And, you could always put those plastic fender flares on it to hide the rust for a couple of years. Hmm.. maybe I should go and look at it anyway..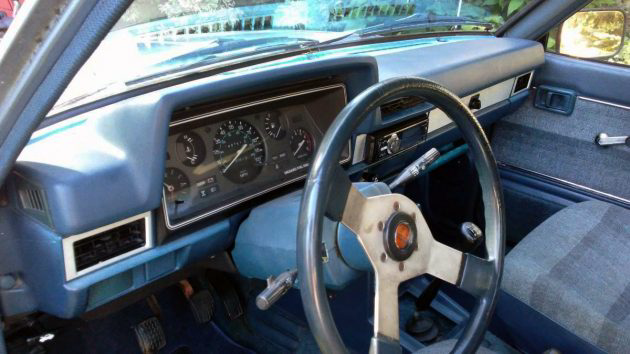 This is it for photos, just three. I'm sure that the seller would send you some, even though he didn't send any to me when I asked, but he did confirm that "it does have rust, it is a 31-year-old truck." This graduated interior pattern is yet another killer feature, I wish that we could see more of it. There should be a couple of folding seats in the King Cab portion behind the front seats which are probably not enough for a comfortable cross-country ride for adults, but maybe enough for kids. Not that anyone would actually put a human back there anyway, but it is a great place to store your stuff, especially your winter survival gear (boots, shovel, 14 bags of M&Ms, etc..)..
There are no photos of the other side of the truck and also no engine photos, but this one has Nissan's Z24, 2.4L inline-four with around 103 hp and 134 ft-lb of torque. "The former owner said the engine was replaced in the past", according to the seller. This truck shows 280,000 miles now, and that's getting up there, even for me! This truck has "new rear brakes, battery and head valve cover gasket." What are your thoughts on this Nissan 720? It looks like it would be a great winter vehicle – or would you rather pay more for a rust-free example and then never drive it on salt-ridden roads in the winter?