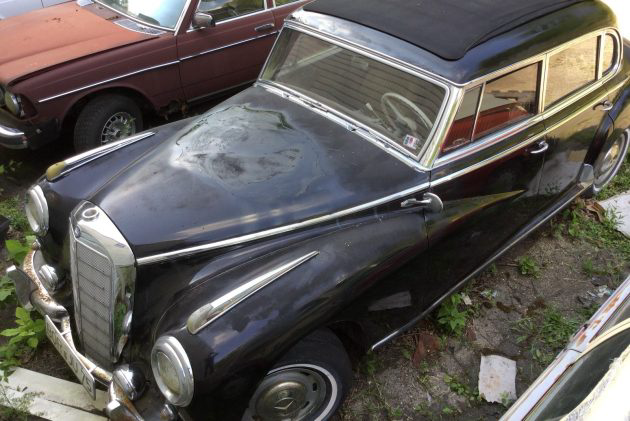 Sometimes, when you're a prominent player in entertainment, finance, or government, the top of the line Mercedes-Benz is not quite enough. If that happened in 1955 you ordered this car, the 1955 Mercedes-Benz W186 model 300. The W186 is also known as the "Adenauer," after German Chancellor Konrad Adenauer, who used six of these special models during his tenure. You know you've made the big time when you're driving the same car as a Chancellor. This particular Adenauer resides in Charleroi, Pennsylvania in the Monongahela river valley south of Pittsburgh. No word on whether the Chancellor of Charleroi once owned this car, but perhaps you could be elected Chancellor of your town after placing the high be here on eBay.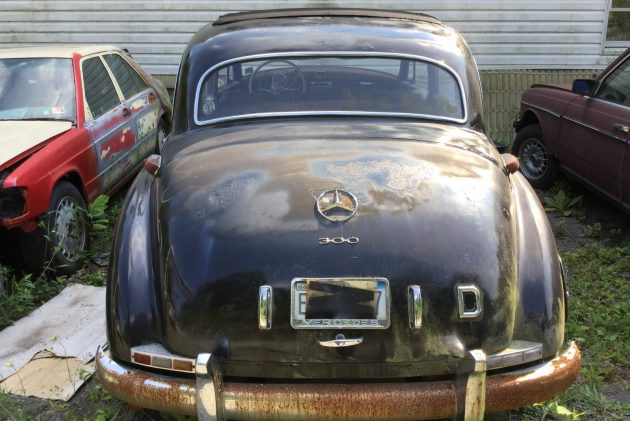 Said to have underwent a $40,000 restoration five years ago, the car's condition today triggers the question "Really?" That rough patch on the hood seemed to suggest "engine fire," but perhaps not. Several similar patches appear to have been touched up with black Rustoleum. The original rectangular rear light pods look decidedly more modern than 1955. Some other Adenauers also sport the large "D" script right of the license plate lights, but without explanation. It may simply represent the International Vehicle Code for Germany (Deutschland). These cars were sold in America and other countries besides Germany.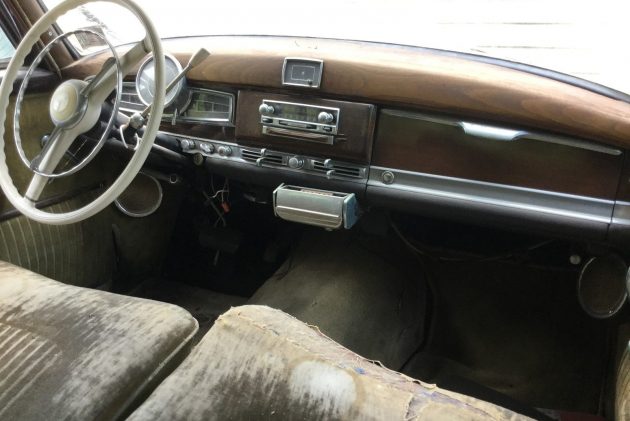 The elegant dashboard looks original and well-preserved. Other parts of the original interior beg for proper restoration. Though not extremely powerful, the 300's 115 HP 3.0 liter inline six has the heart of a lion. Mercedes engineered the engine to operate reliably in extreme conditions, including indefinite sustained travel at maximum speed. How many cars makers today would make that claim? (Some details courtesy of Wikipedia.)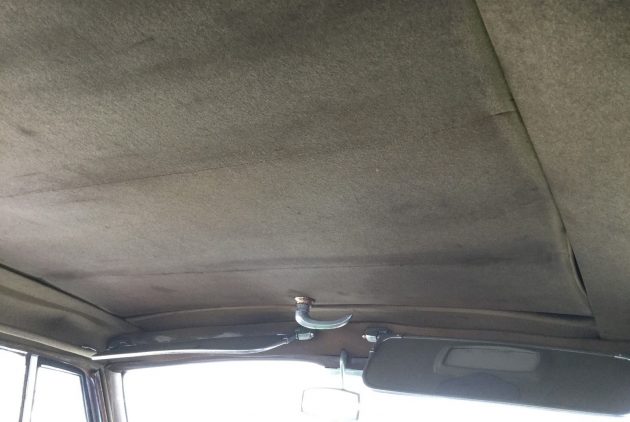 You're looking at the inside view of what might be the world's largest sunroof. While designed with parades and waving to throngs of adoring fans in mind, one could also picture a bevy of Bridesmaids and Groomsmen standing in the opening with the happy couple should this Adenauer become an interesting alternative to a Lincoln Town Car stretch. The "restoration" five years ago included replacement of this roof. Normally we show an engine compartment picture here but there are none. The seller asserts that it should fire with minimal tinkering.
Looking for a little more respect from your neighbors? Kids embarrassed when you drop them off in the Caravan? Tired of wondering which Maybach in the parking lot is yours? With this car in tip-top shape you will get the attention you deserve. Simply click "Buy It Now" and, for $41,000, it can become a cornerstone of your Dictator Starter Kit.