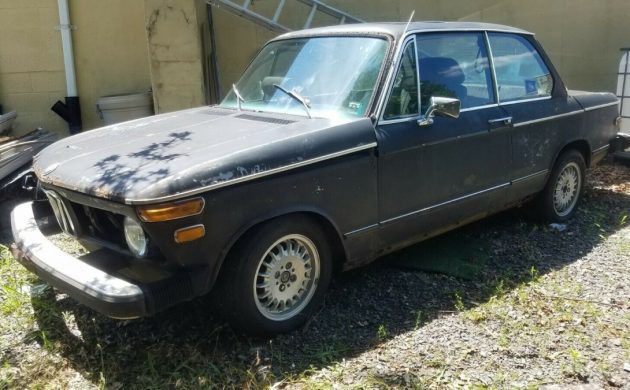 This 1974 BMW 2002 Tii is a desirable project car, but is there a chance rust has proven itself a formidable opponent and that this car is past the point of saving? Hard to say, as the Tii's have enjoyed rising prices as of late and finding a project grade example has gotten harder and harder to do. The seller notes he purchased this car to restore five years ago but has not gotten close to starting the project. It is a complete car, but the floors, lower sills, and other areas will all require rust repair. The BMW is listed here on eBay in New Jersey with bidding just over $1,800 and the reserve unmet. Thanks to Barn Finds reader sylvio for the find.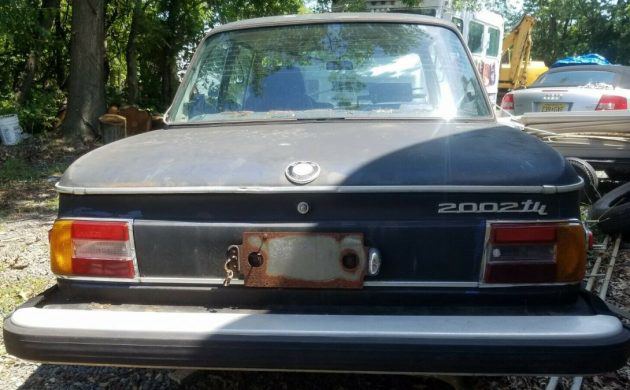 While a round taillight 2002 Tii is the most desirable of the breed, square taillight examples of the high-performance 2002 are not far behind. Of course, enthusiasts tend to get less excited overall for the square taillight models with their big, heavy U.S.-mandated safety bumpers, but you can swap those out for the prettier chrome slim bumpers without too much fuss. From the back, you might even say this 2002 looks reasonably solid, with a decent-looking trunk lid and tail panel, along with good lenses and rear bumper and its 2002 Tii badges still intact. Chrome trim looks serviceable as well, and the seller notes the spare tire well is not rotted out.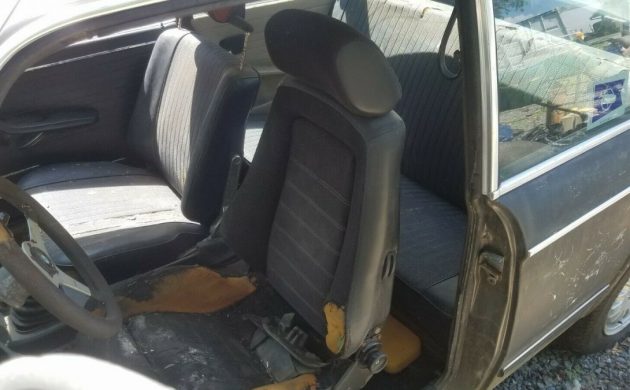 Plenty of other areas are, however. Front floors are pretty much gone, with full replacement necessary. The sills on both sides are also quite rotten, but surprisingly, the front and rear shock towers are in very good shape – these are normally just as vulnerable as those other areas. A solitary E21 Recaro seat sits in the driver's compartment, and it also in pretty sad shape. The passenger bucket is standard 2002 fare, as is the back seat. No word on the health of the rear floors, but it seems likely that there's more corrosion to sort out if you look hard enough. The three-spoke vintage sport steering wheel and Cibie headlights all point to this 2002 being someone's hobby car at one point.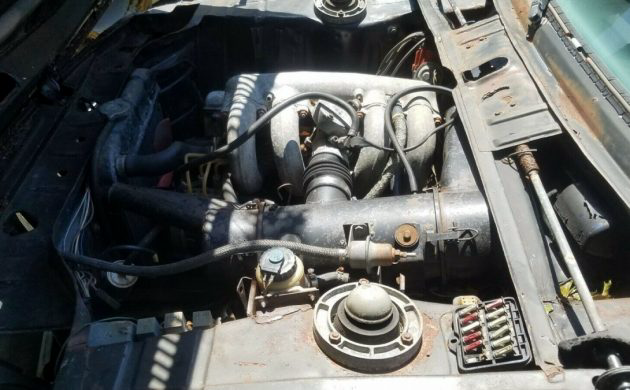 The 2002 Tii is a classic "running when parked" example, as the seller notes it was firing under its own power five years ago. The engine bay remains largely intact, it seems, and the Tii-specific bits look to be accounted for. Overall, the drivetrain is the most attractive feature here, and I'm not sure if the body warrants restoring this back to showroom spec. Numbers matching is nice to have, and all of the rotted out panels are available as replacement pieces if you're so inclined to try and save it. Is this 2002 Tii desirable enough to warrant the fabrication work necessary to restore the rotten bits?