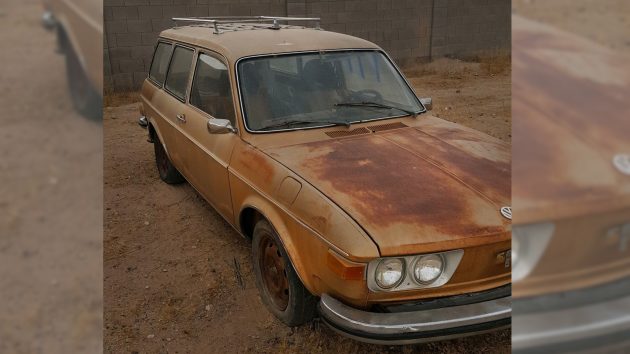 This wusty, I mean, rusty wagon isn't really that rusty, just surface rust. But, as you can see, there isn't much that isn't coated with it. Any TV reality show worth their salt would clearcoat this car just as it sits now and sell it for a healthy profit. Well, maybe after spending a few weeks (months?) on the mechanicals and interior. This 1973 Volkswagen 412 wagon is on eBay with incredibly one bid of $2,550 so far. I say incredibly because when you look at the photos, wow. It's located in bone-dry Buckeye, Arizona.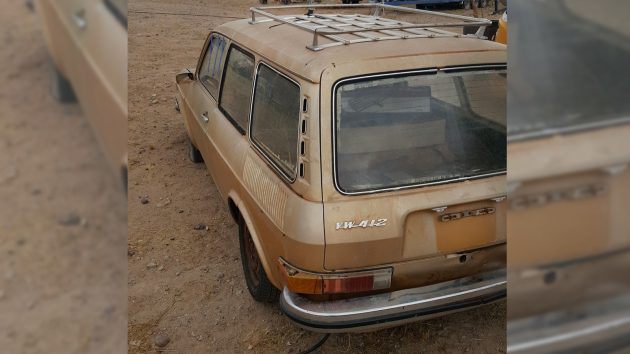 A lot of the photos were in a vertical format so I had to modify them to fit. The seller calls this one a barn find / field find, and if you know anything about most parts of the southwest, that means that a rodent convention was probably held inside this one. I could be wrong, but I doubt it, at least in this case. The body has a few dings and dents, but there really any rust-through other than "one little rust spot on the pan underneath the driver side seat where the battery is located." This is a Type 4 Volkswagen and the 412 is actually somewhat hard to find in two-door wagon form. In the spirit of nightmare should-have-gotten-one themes, a really nice version sold at Barrett-Jackson for $5,500 in 2012. I wonder what that car would have sold for today? That's basically only $3,000 more than the current bid on this car. $3,000 wouldn't get a lot done on the restoration of this one; maybe 1/3? 1/4?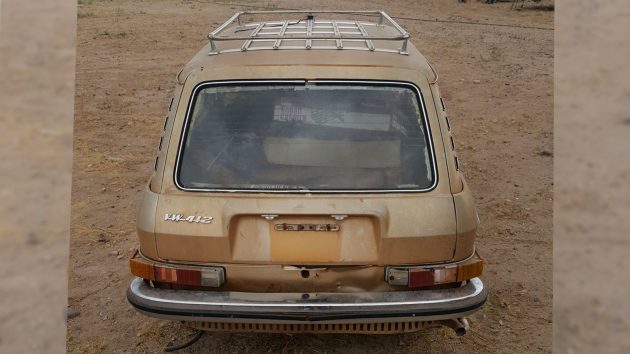 The 412 was designed by legendary designer Brooks Stevens. Or, actually he restyled the previous VW 411. I really like this car in fastback form, that would be the one that I would personally want, but it's hard to argue with the utility of a wagon, even in two-door configuration.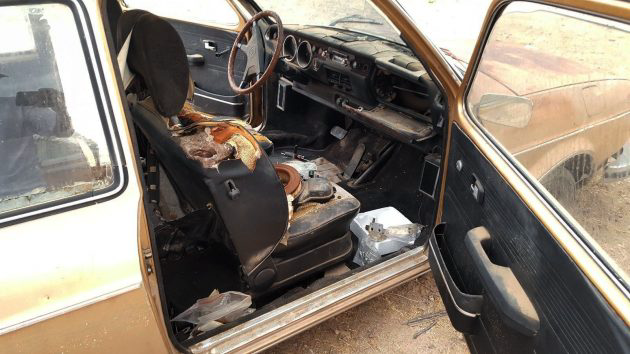 Here's where things start to get hairy, maybe literally. It looks like parts of the interior are in ok condition but parts of it are pretty rough; real rough. Between the sun and possible rodent damage it will take a lot of work inside. For anyone who has purchased a vehicle, or vehicles, recently from online ads, this line will give you goosebumps: "the interior is in fair condition". That's how the seller describes this interior, just so you can prepare yourself for what's really in store for you when it shows up at the end of your driveway. Bbbbbb.. (shivers)..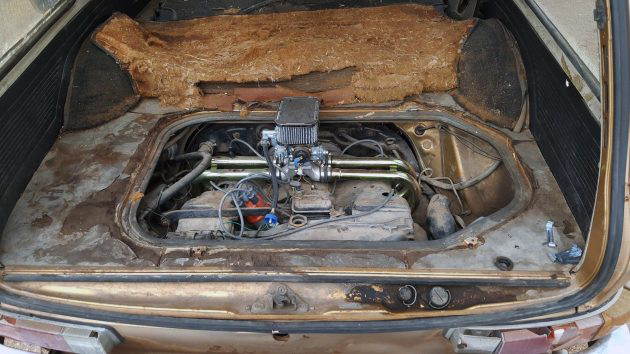 Speaking of a lot of work, I'm not quite sure what's going on with the engine. This was a fuel-injected car and someone spent $3,602.25 on various repairs, shown in a receipt in the seller's photos, including work on the AC and other things. You can see that the formerly-injected engine is now carbureted, taking up a lot of the usable space in the rear. Unless the previous owner planned on doing a highly-detailed glass-covered engine, I have no clue why this happened. It doesn't run but they say that it "fired for a quick second." Bbbbb.. (shivers, again). This would be a very unique and unusual car, but, how are your restoration skills and your patience? And, most importantly, your checkbook?