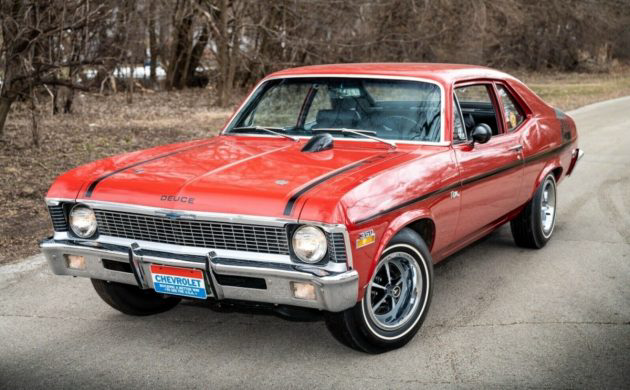 Don Yenko was an American race car driver turned dealer who become known for creating high-performance automobiles. He first had success with the Yenko Corvair and then Camaro, so he set his sights on the Chevy Nova, creating the limited-production Yenko Deuce using the Corvette LT1 engine. These cars were crazy fast, capable of doing the quarter mile in just 13 seconds. So, if you're a Nova fan, perhaps these cars are your Holy Grail. This '70 Nova Yenko Deuce is finished in Cranberry Red and is largely original, unrestored and numbers-matching. It can be found in Loves Park, Illinois and available here on eBay where the auction has reached $50,100 for this impressive car. But the reserve is still waiting to be met.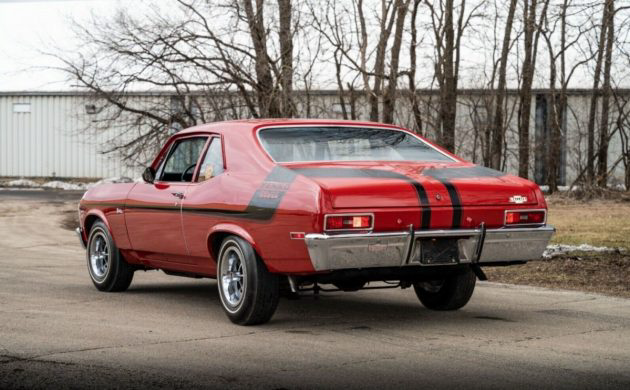 Yenko is said to have built 175 Deuces using the same basic features they came with directly from the factory. None had vinyl tops, but they all had vinyl bench seats and basic floor coverings. Each one also had COPO (Central Office Production Order) # 9010 LT1 engines which – at 350 cubic inches – put out 360 horsepower in Yenko trim, and the COPO # 9737 Sports Car Conversion Package which included 12-bolt rear ends with 4.10 gears and F-41 suspension with special shocks, springs front and rear sway bars. 122 of the special cars had a Hurst-shifted 4-speed manual, while the other 53 had the TH-400 Hurst-shifted 3-speed automatic. These cars were available in eight colors with striping and sold through several Chevy dealers, not just the famous Yenko dealership in Pennsylvania.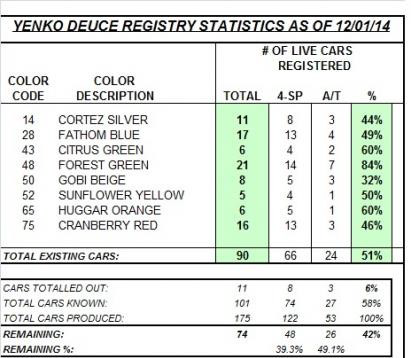 According to the Yenko Deuce Registry, only about half of these cars are known to survive, but another pops up from time to time. Based on registry numbers, the seller's Deuce may be only 1 of 3 to still be around in red with the automatic tranny. Based on those figures, it would hard to disagree with the seller that this car is one of the most original Yenko Deuces known to exist. Rather than refer to them as owners, the seller calls these lucky folk "caretakers", so this one is currently looking for its third caretaker in 50 years. It recently came out of a collection of other rare or significant super cars.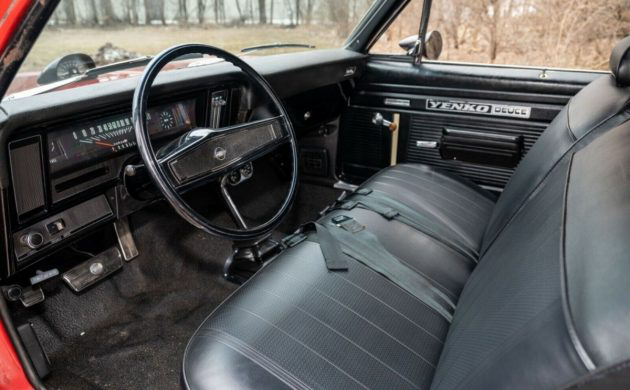 This seems to be a well-cared-for Nova that comes with loads of documentation dating back to its sale at Wallace Chevrolet in Linden, New Jersey in 1971. The paperwork trail includes the original POP, window sticker, build sheet, dealer invoice, NCRS shipping report and copies of the original titles. It was also awarded Legends Vintage Certification in 2011. The Deuce looks outstanding both inside and out, and you'd have to be picky to single out little things like the handles on the window cranks that have yellowed rather than being clear.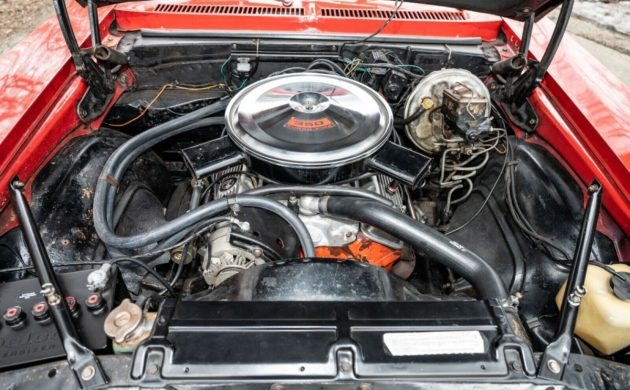 We're told the Deuce runs really well and has lots of original, working parts such as its exhaust system and smog components. It seems to be a well-mannered car that can effortlessly be put through its paces. There is no mistaking that this is no ordinary Nova, with its contrasting vinyl graphics, hood mounted Dixco tachometer, and Yenko wheels with the "Y" in the center cap. Apparently to make the cars they sold stand out even more, those purchased from Wallace Chevy also came with trim rings, bumper guards, hood locks and the deletion of the trunk lid emblem, which we're told was unique to Wallace.
The Yenko Deuce would not be the last of the unique cars that Don and his crew peddled. In the mid-1970s, Yenko began to modify the Chevrolet Vega with spoilers, turbochargers and design graphics, calling it the "Yenko Stinger II" (as a nod to his Corvairs a decade earlier). Due to difficulties with the EPA, the modified Vega was actually shipped without the turbocharger and the dealer sold and installed it separately for the buyer. So, what's a Yenko Deuce worth today? Not to sound trite, but since there were so few to begin with and they turn up infrequently, they're worth exactly what somebody is willing to pay for one. Barrett-Jackson had a Deuce a few years ago that went for $82,500.