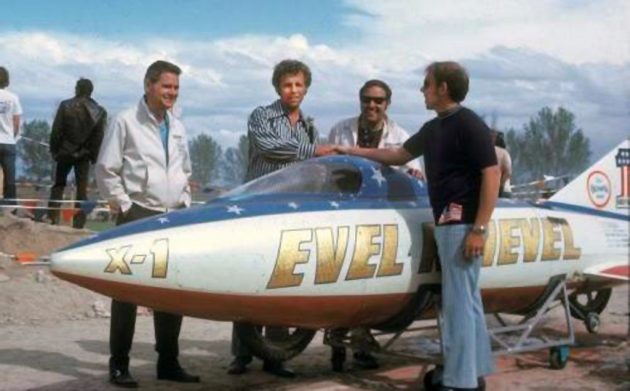 A show of hands for those of you who have $1,000,000 to spend? That many? Nice! This is the oddest vehicle-related item that I've run across in my tenure at Barn Finds. Up for auction is an artifact from Evel Knievel's ill-fated "jump" over Snake River Canyon near Twin Falls, Idaho back on September 8, 1974. Do any of you remember that? I sure do. Here is a YouTube video of the event for those of you who have never seen it. We all know who Evel Knievel is, don't we? I hope so. He was famous/infamous for jumping motorcycles over things, lots of things. And, for breaking bones, lots of bones. This artifact is on eBay with a Buy It Now price of a cool $1,000,000. Of course, for those of you who don't quite have an exact $1,000,000 to spend, you can make an offer..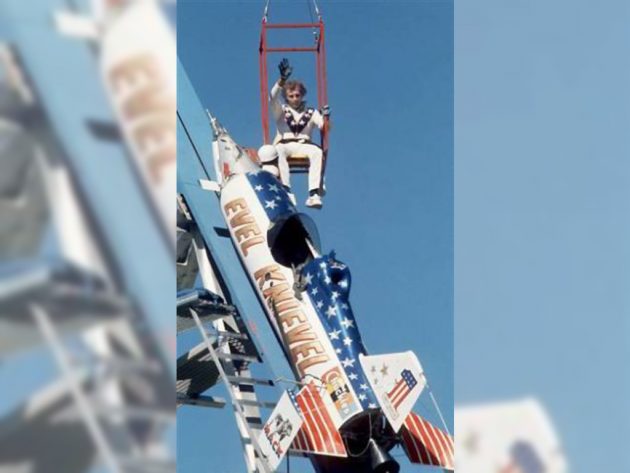 Robert Craig Knievel had a fascinating life filled with adventure. He quit high school and got a job at a copper mine, but he was fired for doing a wheelie with an earth-mover and crashing it into Butte, Montana's main power line, cutting the power for the entire city for several hours. With no job, he started to get into trouble, or, even more trouble than before. Knievel was jailed in 1956 for racing around on, and eventually crashing, his motorcycle; go figure. In the cell next to him was a gentleman named William Knofel, known as "Awful Knofel" for his misdeeds around the area. Knievel started using the first name "Evel" after that: Evel Knievel – purposely misspelled because he didn't want to be known as evil.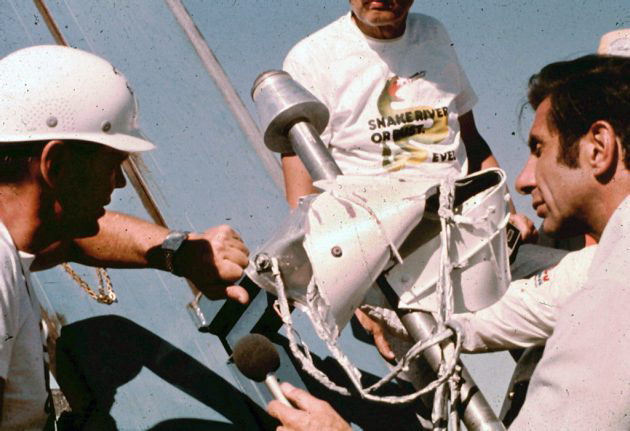 This could turn into a 1,200-page book on the unbelievable life and adventures of Evel Knievel, but what we really want to know is what the heck is that bent chunk of metal? When he was preparing for the Snake River Canyon jump, which would actually be more like a missile launch from one side to the other, he didn't use a motorcycle as he had done for years in his many amazing jumps, this time he used the X-2 SkyCycle. No really! It was a steam-powered rocket, and the twisted piece of metal in the above photo is what actually caused the jump to fail. Yes, that's what's for sale here, the mangled drogue chute retention cover that deployed right after takeoff.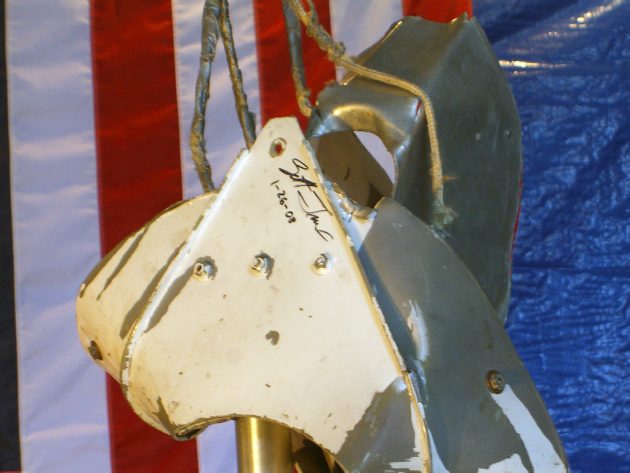 The chute retention cover is autographed by Scott Truax, the son of the designer of the rocket, retired US Navy engineer Robert Truax. That chunk of metal is actually known as the mechanical parachute retention cover, and tests showed that they didn't take into account the amount of base drag and it deployed too soon, causing the rocket to catch the wind and go back towards the launch pad, crashing on the bank of the canyon, mere feet from the river. If it would have fallen into the river Knievel would have drowned because he was strapped in. Not a good situation. He actually made it across the canyon, but when the chute deployed too soon it caught the wind and it carried him all the way back over to where he started.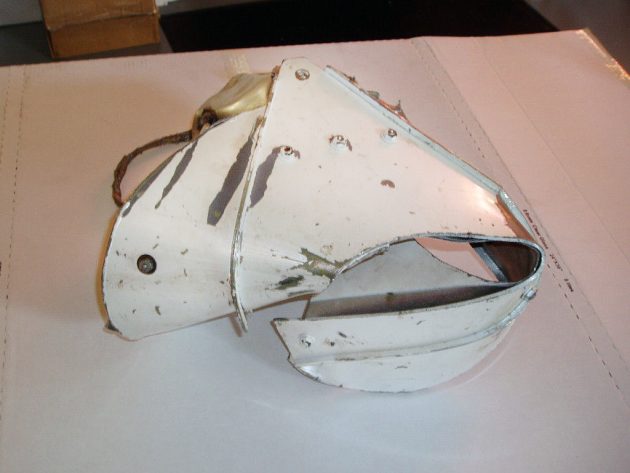 There it is, $1,000,000 worth of twisted metal. During the mass of confusion after the rocket crashed down in the canyon, spectators, who had paid $25 to watch it from a fenced-in area, rushed the chain link fence, toppling it over, and rushed to try to help Evel out of his predicament. But, the story goes that one person noticed where the drogue chute hatch cover had landed and went to retrieve it instead. Can you do that?! Come on!.. Ok, back to the story. Decades later, the son of the designer of the rocket confirmed that this is the actual chute hatch cover that malfunctioned and caused the jump to fail.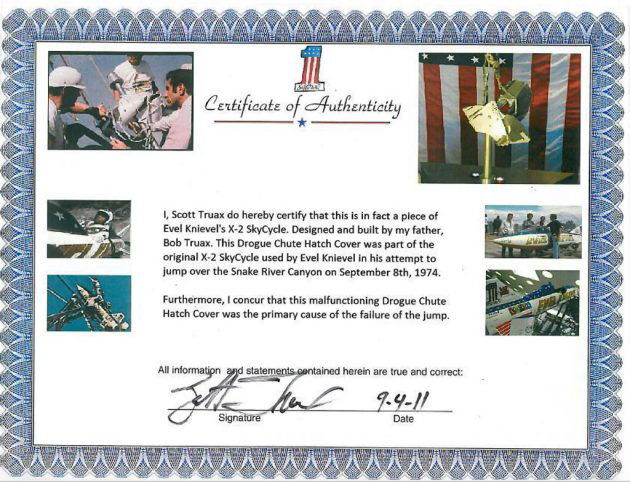 As if you needed any more information before sending $1,000,000 via PayPal to the seller, this is a "Certificate of Authenticity" from the rocket designer's son confirming that this is in fact the drogue chute hatch cover and it was what caused the jump to fail. The jump, which was rivaled only by President Ford pardoning former President Nixon in news coverage, was seen by presumably millions of people on a pay-per-view deal through a boxing promoter and was shown in movie theaters. Talk about creative marketing! So, there you go. I would think that John Parham from the National Motorcycle Museum (a must see!) in Anamosa, Iowa would want this in his collection of Evel Knievel items, or a similar museum. I know that none of you are going to buy this, I think? But, it seemed like a heck of a story, and come on, who doesn't love Evel Knievel!