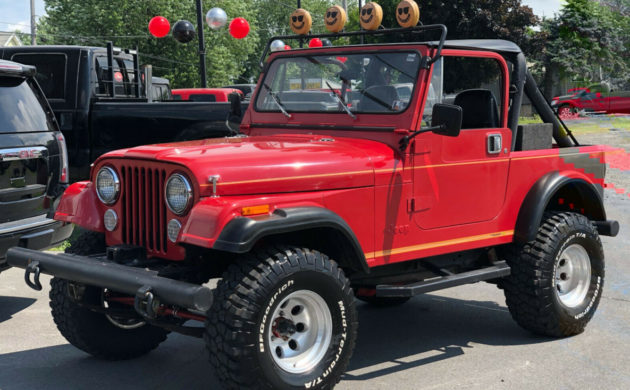 This 1986 Jeep CJ7 is described as a time capsule find, listed as having under 20,000 miles and featuring mostly original paint and interior. The Jeep has some nice tweaks as well, like the light bar with awesome KC driving lamps, and what are presumably upsized tires on aftermarket wheels. That being said, it's still not quite as perfect as you'd expect, but the fixes appear to be mostly cosmetic in nature. Find it here on eBay with a $24,999 Buy-It-Now and the option to submit a best offer. The Jeep is located in Scranton, Pennsylvania.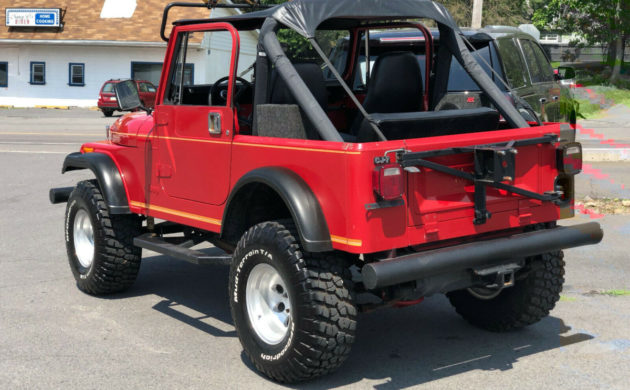 Now, the unfortunate thing is you really can't call this example a survivor. The mileage may be low and possible to verify, but there are quite a few additional modifications beyond the ones I've listed. The bumpers are aftermarket, and I don't believe the side steps are stock, either. This is just a guess, but it looks like the suspension could have a mild lift as well – but I'm not sure if that's accurate, or the larger wheel/tire package is making it look that way. Regardless, these are all easy fixes, and it will look much closer to OEM with just the proper bumpers fitted.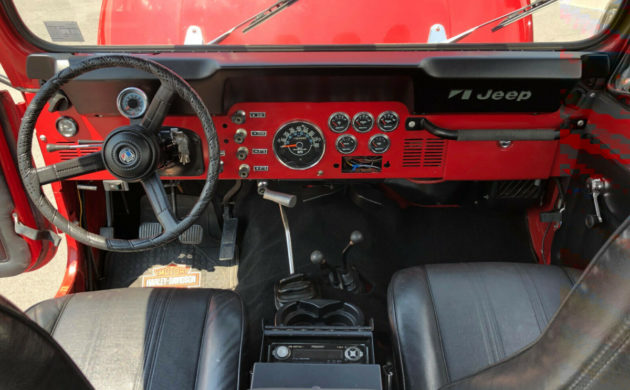 The interior has some modifications as well, but again, nothing that can't be changed. The dash looks to be in great shape, but some of the gauges appear to be aftermarket. The factory floor mats have gone missing, replaced with some incorrect, Pep Boys-style mats. The back seat photo shows two big MTX subwoofers mounted on either side of the rear bench, and while there's inherently nothing wrong with this, it just further emphasizes that the Jeep wasn't necessarily kept under wraps as a time-capsule grade survivor. Still – these are easily reversible mods for the next owner to sort out.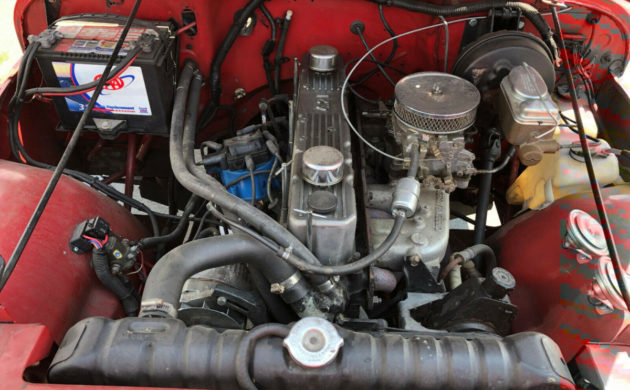 Close-up pictures of the frame do show some surface rust and aftermarket suspension components. The engine bay is nicely preserved, with that looks like an aftermarket air filter/cleaner installed. The seller notes the truck runs well, and does feel like an 18K mile example when it's going down the road. While some scratches and other cosmetic faults are noted, the Jeep overall is likely a smart investment that can be sold for more down the road once the cosmetic tweaks are reversed back to stock configuration. Would you go this route or keep it as-is?
Have something to sell? List it here on Barn Finds!