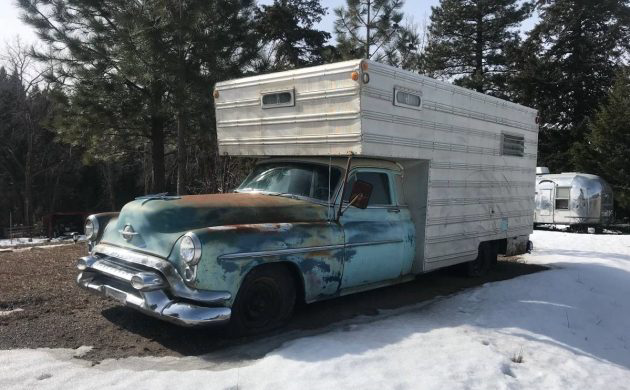 Back in the mid-20th Century, more cars were converted into campers than you might think. And there were several outfits around the country that pulled these transformations off, some better than others. We're not told who did this one and when, only that the seller thinks it was done well. The Super 88 that was used as the donor hasn't run in nearly 40 years, so both it and the camper or going to need restoring. It's available near Kalispell, Montana and here on craigslist for $7,500. Thanks to our Barn Finds cohort Montana Danford for submitting this tip!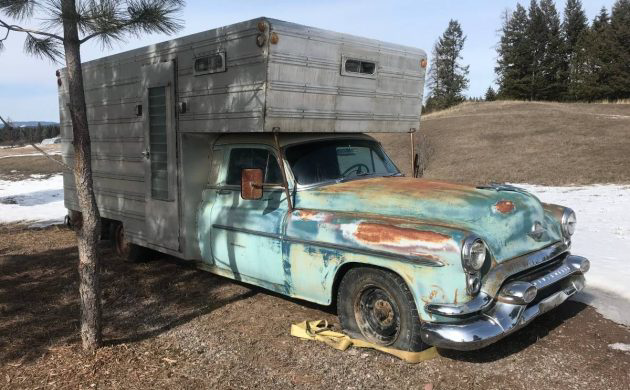 This is pure speculation, but there was a guy named Dale Wasinger who started making these things from wrecked cars, ones where the front half was fine, but the back half could be turned into a camper. It's estimated that he built 52 to 56 of these things based largely on GM products, which could include a car like this '53 Oldsmobile. Out of this work the Great Dale House Car was born. We understand they typically rode and handled like a car, and the camper part was equipped with a stove, oven, ice box, three-way lights, furnace, stereo, sink, water heater, twin tanks with pressure pump with hot and cold water and would typically sleep six. Now, whether or not the seller's car was a Great Dale is just a guess, but it could have followed a similar path to get here. Here's a pic of old Dale's handiwork.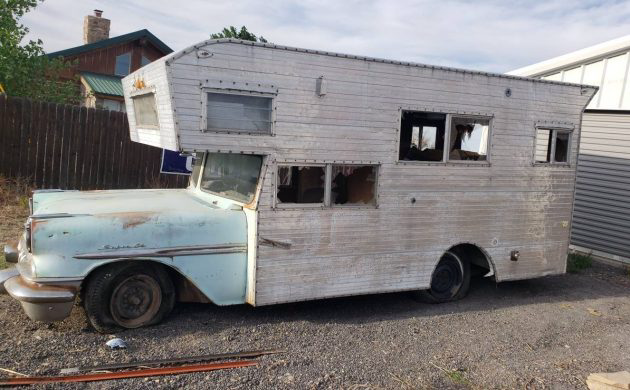 Various incarnations of the Oldsmobile 88 series of cars were built between 1949-99. The first generation covered the 1949-53 models, including this one. The likely powerplant here is Oldsmobile's 303 cubic inch Rocket V8, capable of 135 horsepower (not bad for those days). The Super 88 was the upscale edition of these cars, with a few more creature comforts than the standard 88. The seller says this car/camper hasn't run in ages, but the motor turns, which is a positive sign. The engine is paired to a 4-speed Hydra-Matic automatic transmission, condition unknown.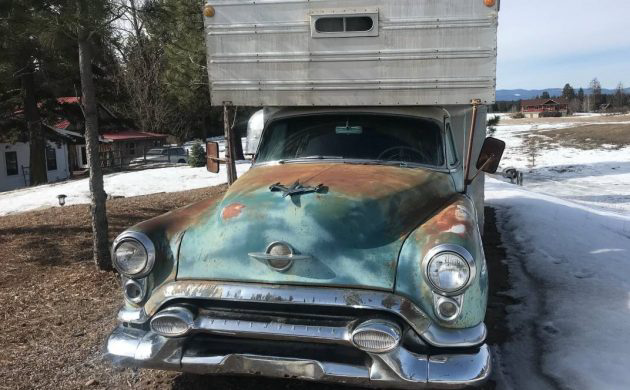 This car has loads of patina for those into that, but a repaint would likely be better. We're told the interior of the Olds is in fairly good shape, but the camper part has fallen into decline over the years, yet is said to be complete. The seller's plan was to retore the car/camper and use it as a tiny home rental on Airbnb, but a lack of time doesn't make that a practical goal now. So perhaps someone else with a similar vision can make this thing remarkable (or close to it) once again. Oh, BTW, the title is missing, so dealing with get the ownership change legally will fall on the buyer.