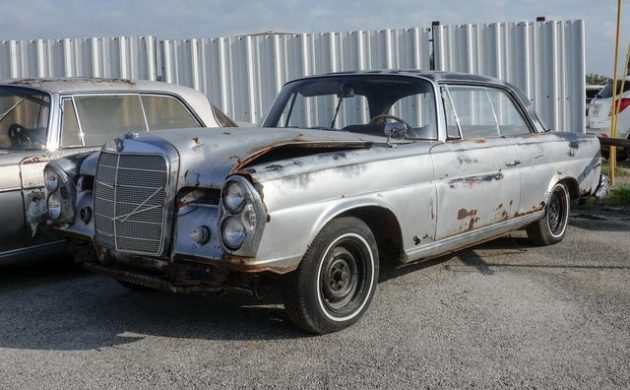 There has been a movement for some time that involves photographers taking pictures of completely dilapidated industrial buildings and putting them up for viewership on their own websites or perhaps on an image sharing web app. Some photographers will go to great, trespassing lengths to capture the perfect image. Some of those intriguing images are of former auto assembly plants and they will really grab your attention as you think about all of the activity and jobs that used to occur within the confines. It's a sad view but the images will just keep drawing you in. It's the same thing with this '62 Mercedes 220 SE coupe, a once-proud example of German engineering, workmanship, and quality. The car is very rough and the images are extensive. But wait, there's more! There are two parts cars included in the sale and it becomes confusing as to which one is which, they are all that deleterious. It's a real exercise in "What happened here?" The subject and its parts collaborators are located in Wylie, Texas and available, here on eBay for a BIN price of $7,500.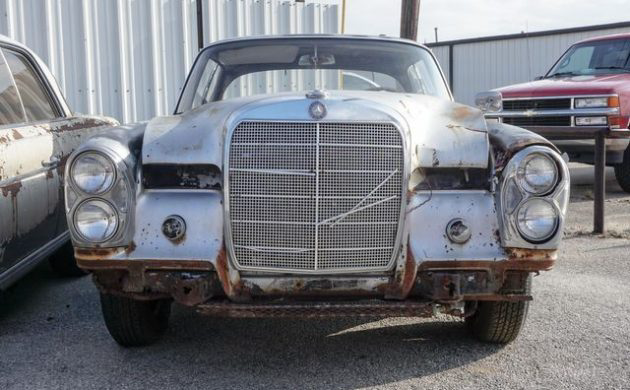 The 220 SE couple, IMHO, is one of the finest looking designs to roll out of Stuttgart. The C-pillar treatment with the wrap-around backlight, perched on a two-door hardtop body, is just perfect. M-B was going for subtle refinement with this model and not necessarily luxury. If you compare it to the standard domestic fare that was offered in '62, it probably had no real direct competitor. Purchasers bought a Benz like this 220 SE because of what it was more so than as a result of comparison so some other available model.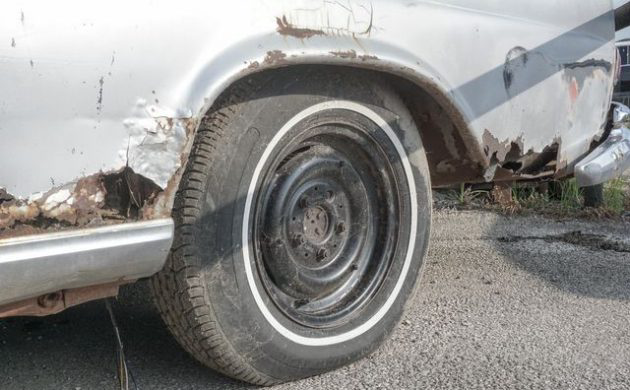 This 220 SE is probably not a lost cause, but then I'm no expert on metalwork either. The next owner, assuming one surfaces, will have their work cut out for them, emphasis on the "cut out" part. The peculiar thing is that the two parts cars (silver and white) seem to have better sheet metal than that subject which is a silver repaint over the original black finish. The second car (silver) is also a 250SE so it may have more value. But the seller states, "Chassis number are on all 3 cars, ID tags present on all 3 cars. Selling as a package only with 1 clear transferable registration (same as a title) for 1962 220 SE coupe. No parts sold you must take all 3 cars".  The transferable registration may be the issue with why the initial car is the actual "sale" example and the other two are for parts only.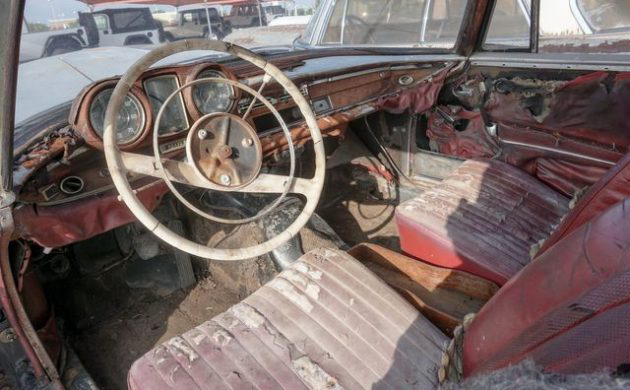 I would be hardpressed to find or describe three worse interiors. They have not only been exposed to the elements for what appears to be a very long time but picked over for parts as well. Throw in the collapsed floors, and there remains little of value. The most interesting feature is probably the deteriorating wood trim used on the instrument panel. The wood panels/trim, were at one time, beautifully crafted.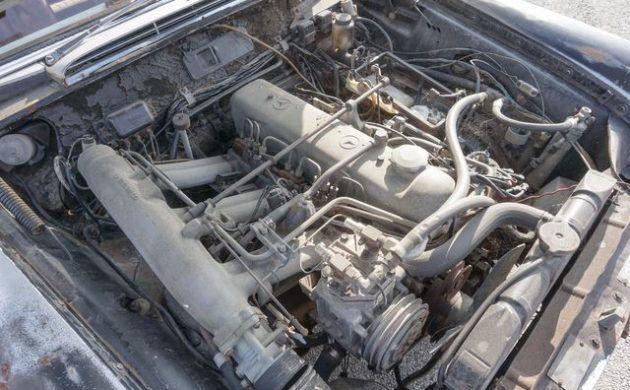 The subject car's engine looks to be complete, there is even an A/C compressor in place but it is with certainty that the 95 HP, 2.2 liter, inline six-cylinder engine has not turned a revolution in a very long time. And it's probably the same case for the parts car's powerplants too. All three cars feature a four-speed manual transmission though the subject car has a column shift as opposed to a floor-mounted lever. Of interest is the instrument panel display which indicates which gear is engaged – the clutch pedal appears to be missing, however.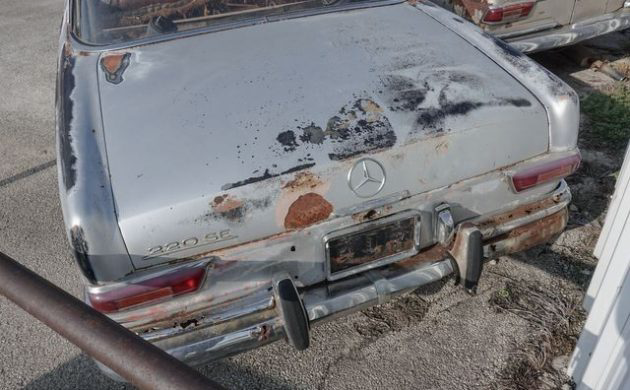 This troika looks like trouble cubed to me, anyone could accurately display that bumper sticker that proclaims, "My other car is a piece of …. too" – you can fill in the blank. There is a significant number of very detailed images included with the listing, be sure to check them out, they're hard to ignore and the seller isn't attempting to hide a thing. There are three different dropbox URL's listed, one for each car. Maybe there is salvation here with one of these three but I'm not seeing it, how about you?