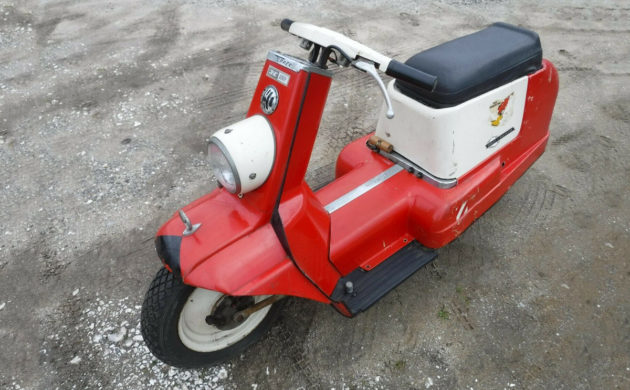 For those of us who like our two-wheel vehicles on the small and unusual side, we give you this 1965 Harley-Davidson Topper. I have wanted one of these for a few years now but unlike Jamie and his Buick wagon, I'll probably try to hold off as far as bidding on this one goes. It can be found here on eBay in Headland, Alabama which is only around 25 miles north of the Florida border. There is a single bid of $2,499 and no reserve so it'll sell to the high bidder.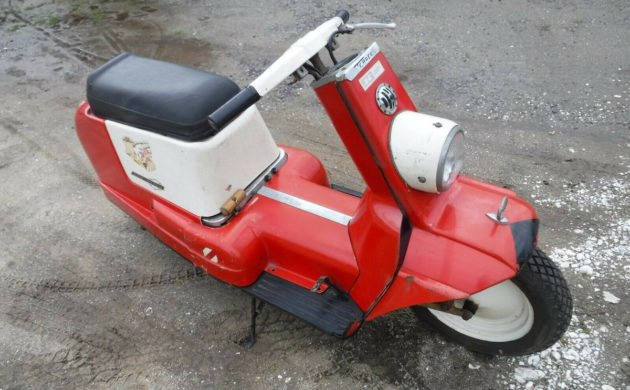 Most of my oddball scooters and motorcycles are Japanese. I have two American made battery-powered things – scooters, minibikes, whatever you'd call them, Aurenthetic Chargers made in California in the early to mid-1970s. I need to get an American-made gas-powered scooter like this Topper someday. I have seen decent ones sell in the $3,000-$4,000 range so I'm a little surprised at the bid price on this one. As you can tell from the photos, it's far from being perfect, it would have to have a full restoration in my world. But, if a person can just get it working and not care about some unusual stickers and paint here and there, it could be a good deal.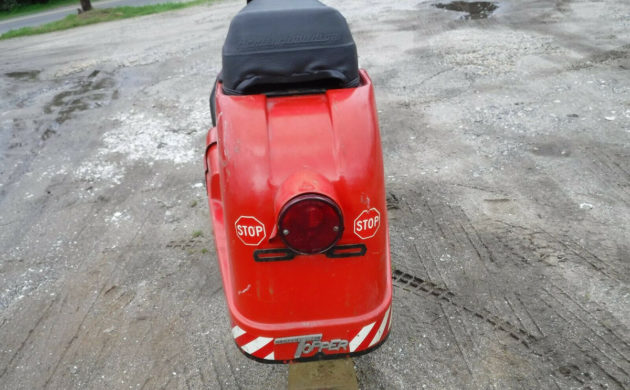 The Topper was made by Harley-Davidson, as in, the actual Harley-Davidson. As in Milwaukee, Wisconsin, home of brats, beer, and Brewers baseball. How can you beat that combo? This wasn't an Aermacchi scooter which Harley rebadged over several years, but the Topper was made in the Harley factory in Milwaukee, not in Italy. It was Harley's only true scooter and they're just damn cool. I need one, maybe this one. Dang you and your Buick wagon, Jamie!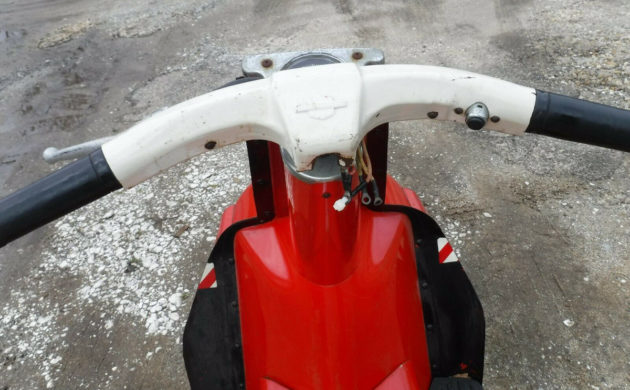 One bad thing: the ignition switch is missing, but the seller got it to start by working their magic on the wires, I'm assuming the ones sticking out in the photo above. One good thing: it started and ran! But, then it died, probably from old gas in the system, and how many of us can say that about ourselves? Once everything is cleaned out, add a new plug and fluid change, new ignition, etc, I'm sure that it'll run like a top, or a Topper. The seller appears to know a thing or two about motorcycles, they have quite a few bike-related auctions going. Although the mind-blowing Barber Motorsports Museum is 3.5-hours north of where this Topper is located, I would bet that the seller has been there many times. Heck, I have been there many times and I'm from Minnesota!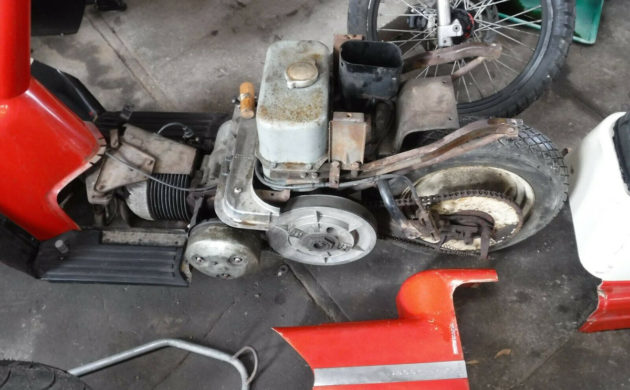 Harley-Davidson purchased 60% of the Tomahawk Boat Company in the early-1960s and their fiberglass division gave the company a good reason to produce lightweight scooters such as the Topper and also fiberglass golf carts. Neither were long-lasting products but the Topper was made until 1965, so this is a final year model. The engine is a horizontal single-cylinder, 165 cc, two-stoke, 9-hp, high-compression engine. I'm sure that most Barn Finds readers could get this one humming in no time. The question is: would you ride it in public? You know I would.