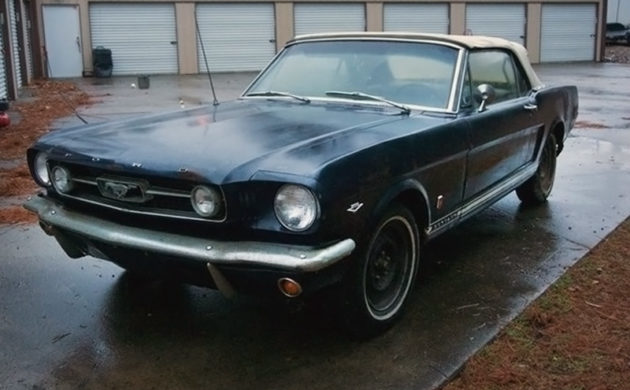 As a barn find – and I don't mean when some sellers mention that just to have the words "barn finds" on someone's car search – this 1966 Ford Mustang GT Convertible A-Code 4-speed was really found in a barn. As in, this one right here. The seller has it listed here as a Barn Finds Classified and they're asking $14,950. It's located in beautiful Cape Girardeau, Missouri, a town that I drive through several times a year on my travels. Let's check it out.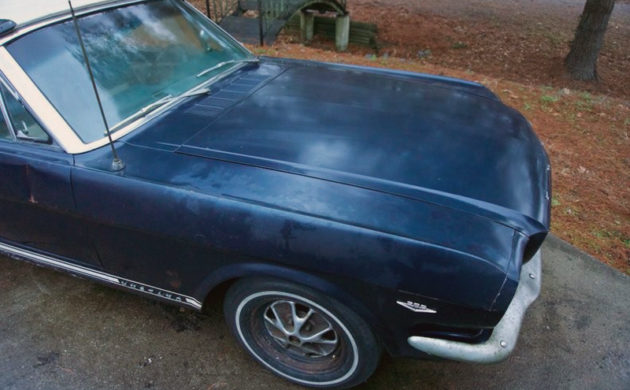 I can't imagine the feeling of coming across a car like this Mustang just languishing in a barn, pole building, or garage. I would probably be looking for the hidden camera, as in a Candid Camera moment, for those of you old enough to remember that show. We all know that I'm strange, but the photo above is my favorite of the 73 photos (no lie) that the seller has provided. The faded blue paint, white Mustang rocker stripes, that fantastic wheel cover on a thin whitewall tire, and that 289 V badge. Very cool.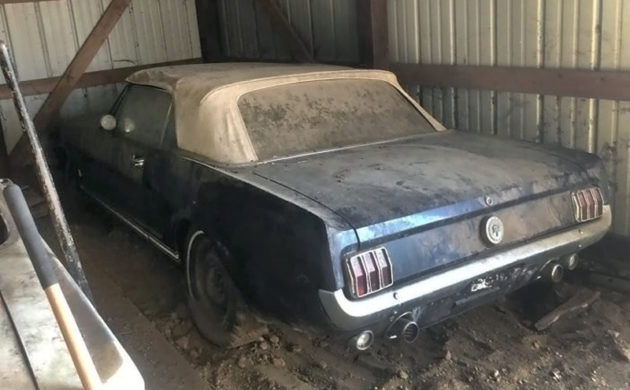 Here's what they came upon in that barn. This is a first-generation Mustang, of course, and the last year of the original design that debuted at the New York World's Fair in 1964. The GT Equipment Package gave this Mustang disc brakes, those rocker stripes, and grille-mounted foglights.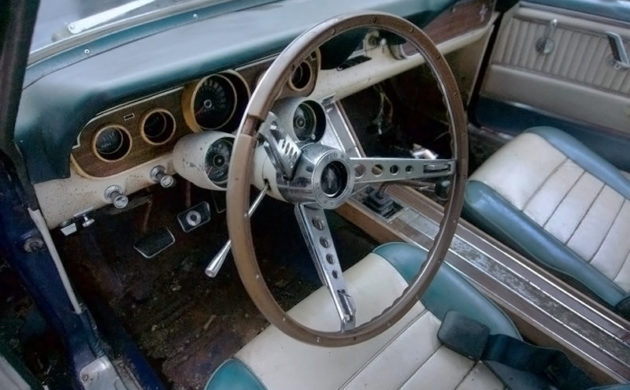 You can see that being parked on that dirt floor for who knows how many years, or decades, has taken its toll on the lower parts of this car. The floors are in bad condition and they mention rust on the lower parts of the body panels and the underside photos show a similar scary story. But, the seats look good in the front and mostly good in the back. For a comparison, Hagerty is at $25,000 for a #4 fair condition car and $34,300 for a #3 good condition car.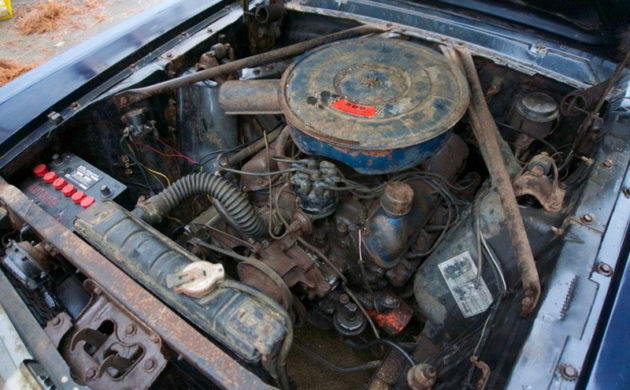 The A-Code part of this car's history comes from the 5th digit in the VIN, which is, of course, an A. It was basically the middle child engine option for the 289 cubic-inch V8 and it had 225 hp. There was a C-Code with a two-barrel carb and 200 hp and also a K-Code with 271 hp. The seller says that this engine turns over freely and if a person had some experience welding, this would be one grade-A project. Have any of you owned a similar car?
Have something to sell? List it here on Barn Finds!