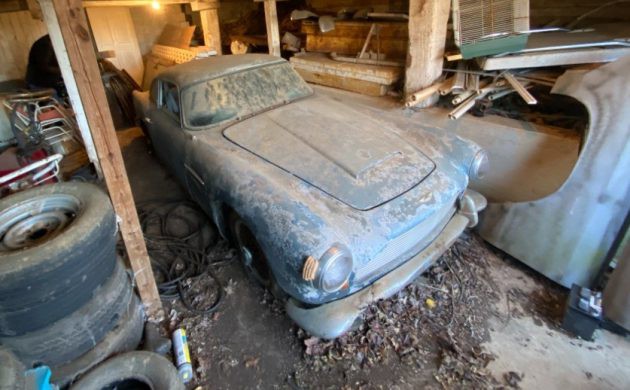 Say what you will, but Gulling Motorcars does come up with some pretty great finds. It seems like it'd be near impossible anymore to continue pulling exotics like this 1962 Aston Martin DB4 out of old farm structures, but as they've proven yet again, these cars are still out there. This one has a great story, too, as the Aston belonged to a worker who was gifted the car after helping his boss sort out some mechanical issues on another vehicle. Unfortunately, he never had the opportunity to restore the car as planned and it remained in his barn for 30 years. Find it here on Gullwing Motorcars website with no price listed.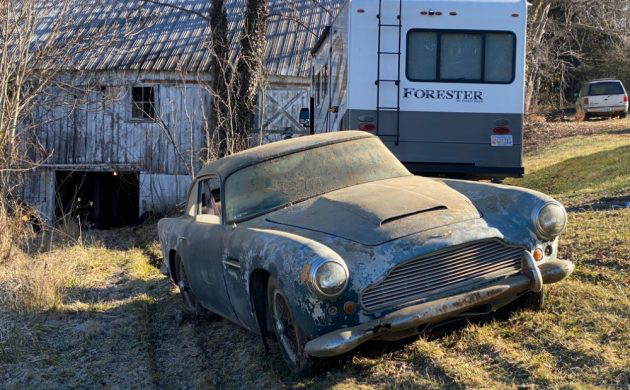 The DB4 is perhaps one of the most iconic Aston Martins ever built, and a sought-after classic among British car fans and general connoisseurs alike. To find one sitting locked away on a farm in the United States is seemingly the stuff of pure fantasy, but as this barn find shows, it's clearly still possible. In restored condition, values are sky-high and despite seeming like a giveaway vehicle when the previous owner was gifted it from his boss, it's been a coveted collector's item for decades. The first owner evidently bought the Aston overseas or found the car in the hands of a service member who brought it home, as it's a right-hand drive example. While it looks solid coming out of the barn, you do have to wonder if being stored in the lower section of the structure subjected it to flooding on occasion.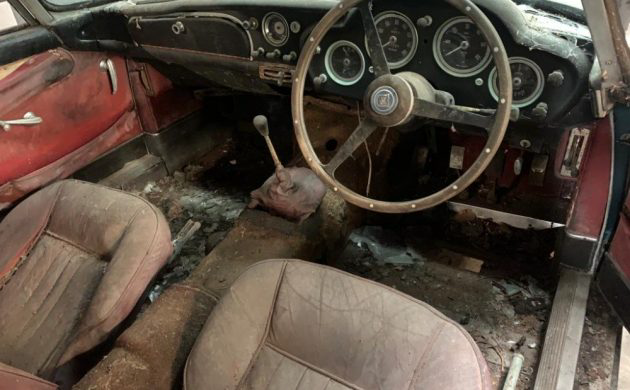 The color combo was originally blue over red, with traces of both shades still visible in places. The DB4 is obviously a restoration project all the way through, but it's still surprisingly complete. No reason was given as to why the employee who received the Aston felt compelled to lock it in a barn for years, as the listing indicates it was in that owner's care for 40 years and spent 30+ years in the barn – so one would assume it was driven for a short period and then parked. Potentially, the boss saw the Aston was becoming a tired, vintage sports car with needs and let it go with the understanding that it would need some mechanical attention in the coming years. In addition to the RHD steering, there's still a "GB" – for Great Britain – placard on the right-rear tail section.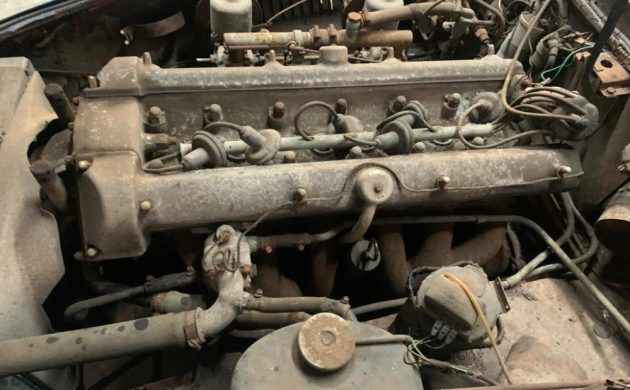 The DB4 came equipped with a DOHC inline-six good for a very robust 240 b.h.p. at 5000 RPMs and 240 lbs-ft at 4200 RPM. The seller maintains this is the numbers-matching unit, which makes this incredible barn find all the more desirable. In "Good" condition, Hagerty claims a 1962 DB4 is worth $475,000, rising to $778,000 for a Concours example. This one will not be cheap – especially with this seller – but if you want a DB4 you can restore back to pristine condition, where are you going to find another one? And given the RHD steering makes it appealing to a British customer, it wouldn't surprise me to see this DB4 head to a new home in its birthplace.