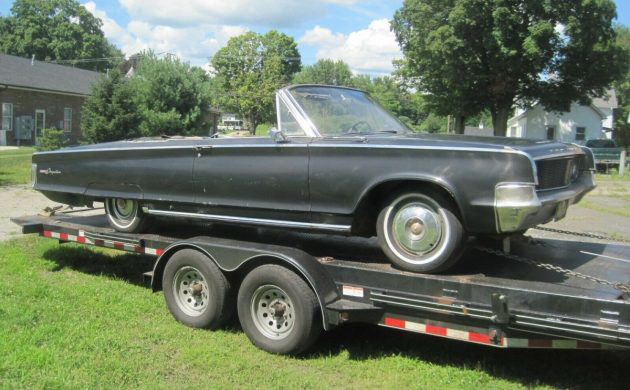 It isn't clear why this 1965 Chrysler Newport Convertible was parked, but it appears that it has been sitting idle for at least 15-years. It doesn't appear that this was a car that had seen a lot of use during its life. The odometer is showing 30,000 miles, and the owner does state that this mileage is genuine. It will require a full restoration, but it appears that it possesses strong bones. It is also virtually complete and comes with a stash of additional parts. The Newport is located in Northampton, Massachusetts, and has been listed for sale here on eBay. Bidding has reached a mere $2,075 in what is a No Reserve auction.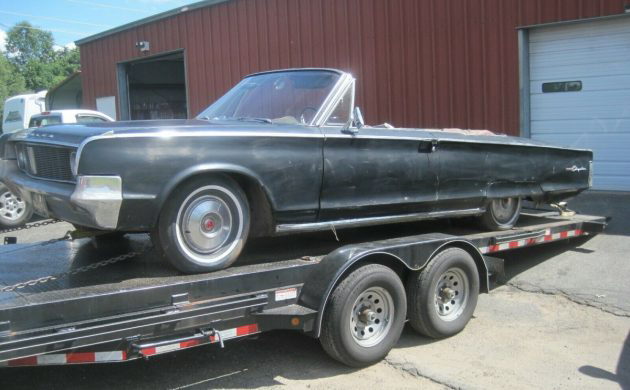 The Chrysler's Black paint is looking tired after all of these years, and it also isn't original. The tag indicates that this is a car that started its life wearing Regal Gold, so it has undergone a color change at some point. Below that paint, the news appears to be quite promising. The owner describes the floors as being crispy, but that they are intact. The photos that he supplies would seem to verify this, and I believe that the buyer won't be facing any major metalwork with the floors or frame. The panels themselves look quite good, although there are a few rust spots visible in the lower region. The rockers are said to require work, while it appears that the same is true of the lower rear quarter panel on the driver's side. That seems to be the full extent of the rust, although several external chrome items are showing some visible corrosion. The rest of the trim appears to be okay, while there are no apparent problems with the glass. The frame for the power top is present, although the top itself is pretty shredded. That will need to be replaced, but sourcing these is pretty easy. Prices generally start at around $350, and they will rise according to the type of material and rear window that the buyer wants.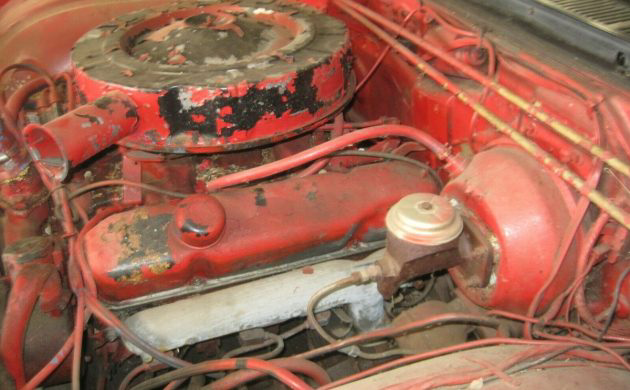 Under the hood of the Newport is a 383ci V8, backed by a 3-speed TorqueFlite transmission. The vehicle also features power steering and power brakes. This is the entry-level 383, which means that in its prime, there would have been 270hp at the driver's disposal. The first thing that I noticed when I saw this photo was the vast expanses of red paint. That isn't original, and the workmanship is pretty average. The owner states that the Chrysler ran when it was parked, but that this was at least 15-years-ago. The engine does turn freely, but no attempt has been made to coax it back to life. This probably isn't a bad thing, because it will require a thorough check before risking hitting the starter. Also, the fuel is almost certainly going to be well past its best. That means that the system will require a full flush before things progress too far. These are a robust old engine, so I wouldn't be surprised if it coughed into life with little effort and that fresh fuel. Looking around the engine bay does reveal the single item that is missing from the Chrysler. The radiator is gone, but otherwise, this car is complete. The owner states that there is a pile of additional parts sitting in the trunk that will be included in the sale. Frustratingly, he doesn't tell us what these parts are.
The owner of the Newport is pretty candid about the fact that the interior of the vehicle will need to be refurbished. The photos that he supplies aren't the greatest, but they seem to support this claim. If the Chrysler has been sitting in a barn for 15-years, it would appear that it has done so without the benefit of a top protecting the interior. That means that there has been nothing to stop dust and dirt from entering the vehicle or preventing vermin from calling this car home. The original Black and Gold seat upholstery looks tired, as does the dash pad. We get brief glimpses of some items such as the rear seat trims and door trims, and they show some promise. Before I got too carried away ordering parts, I would be inclined to give everything a thorough clean first. I suspect that there might be some parts that could be salvaged. I would also be undertaking a careful inspection for any signs of rodent damage. If the car is going to be dismantled for restoration, that is an excellent opportunity to check to make sure that Stuart Little and his friends haven't been munching on the wiring. Since an interior restoration is going to almost certainly require the replacement of the seat covers, seat foam, and the carpet, rodent damage in these areas shouldn't be a problem.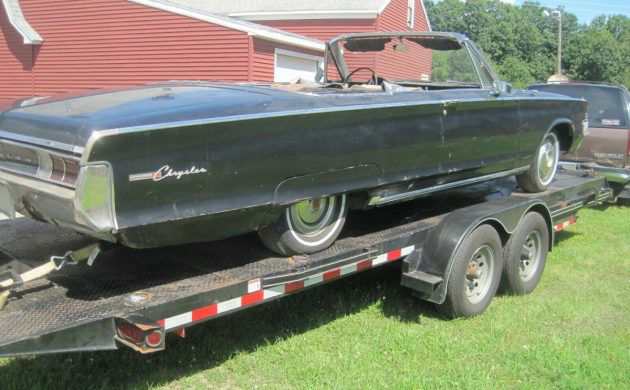 In his listing, the owner of this 1965 Newport Convertible quotes the NADA valuations as a guide, and it seems that this is one time when NADA isn't far off the mark. It is possible to find some very respectable examples of the '65 Convertible for around $15,000, but it takes an exceptional car to push beyond the $20,000 mark. That means that these are not what you would call a "big ticket" classic. It also means that a bit of thought and careful planning would need to go into the vehicle's restoration. It would be very easy to get carried away with this project and then discover once it is complete that the cost of the restoration has been far higher than the car's potential value. I have seen quite a few people over-capitalize on a restoration, and they don't feel the real pain of this mistake until they choose to sell their pride and joy. However, this does appear to be a sound classic that could potentially be restored in a home workshop. Labor costs can be a killer in any restoration because they can accumulate pretty quickly and quietly. If those can be minimized, then that is a huge bonus. That means that as a DIY project in a home workshop, this might be worth serious consideration.