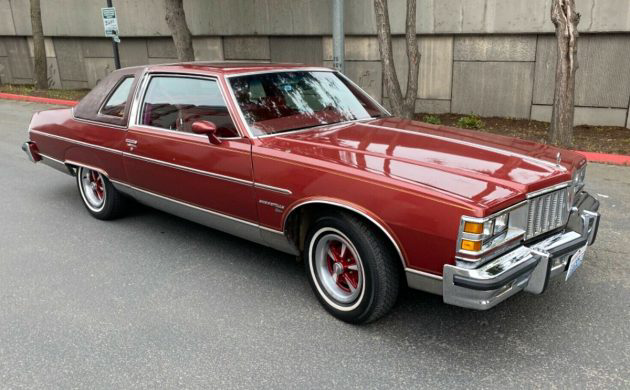 Having shrunk in length by over a foot from the previous generation General Motors B-body cars, you would think that'd be it, how small can they get? Well, the next-generation cars would shrink yet another 15″, that's how small. This nice, right-sized 1979 Pontiac Bonneville Brougham Coupe can be found listed here on eBay in Lynnwood, Washington and the current bid price is $9,100. Thanks to Larry D. for sending in this tip!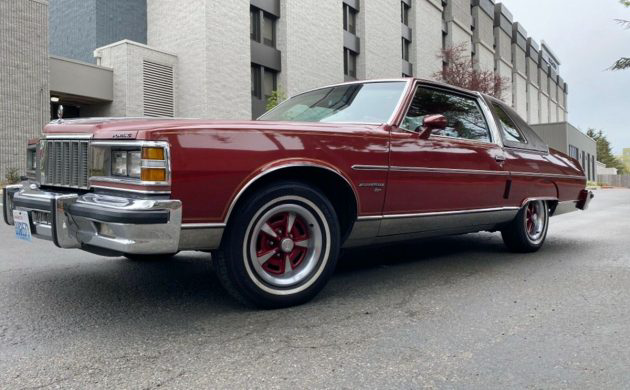 What a great-looking car. The sixth generation of the Bonneville was made for the 1977 through 1981 model years and General Motors' downsizing didn't just involve Bonnevilles and Catalinas, the smaller cars were also Chevrolet Impalas and Caprices, Oldsmobile 88s, and Buick LeSabres. Although they were much shorter, four inches narrower, and 800 pounds lighter, they generally had more interior room. Win-win. This Bonneville has only 32,146 miles on it, that's pretty incredible after over four decades.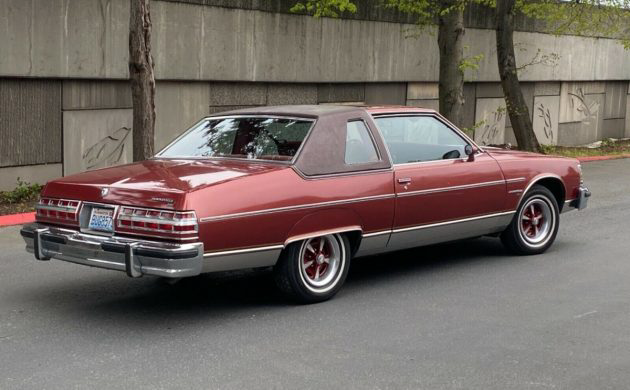 I love the look of the two-door Brougham Coupe with that giant c-pillar and landau vinyl roof and opera windows. The only things missing are the opera lights. Lee Iacocca must have been so disappointed in Pontiac. The wheels are hard to beat for me as a factory wheel and this one has a sunroof. The Bonneville was also available as a four-door sedan, of course, and for the first time in seven years, a Safari wagon with woodgrain sides was available with room for either six or nine passengers.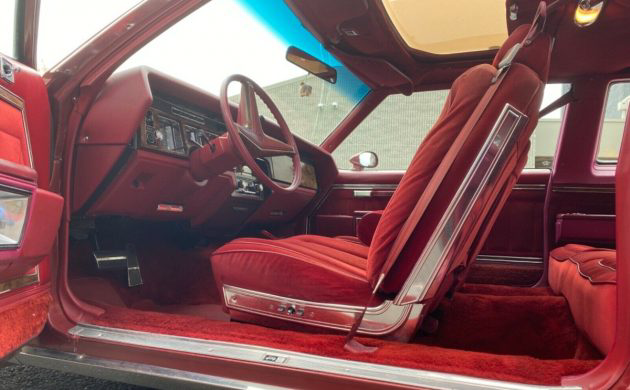 The seller's description of this beautiful car is in ALL-CAPS, ITALICIZED, and IN BOLD PRINT and they don't use any punctuation at all other than dual exclamation points one time, so it's incredibly hard to read the description. I've read through it several times and my mind ends up wandering to that one episode of Gilligan's Island where they find seeds that help them to read each others' minds, which in that case could be very embarrassing.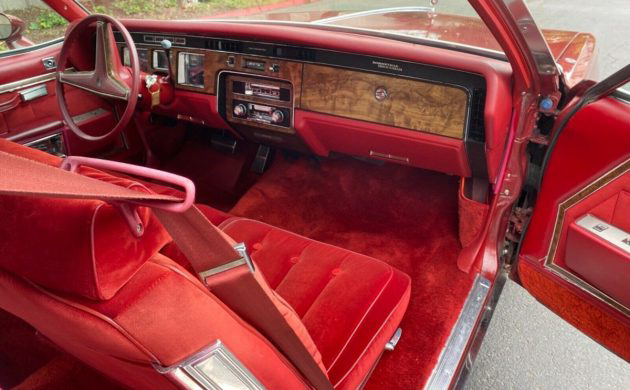 I was trying to find information as to the rust condition, yea or nay. As far as I can tell from the photos, it's nay, but there is a photo showing the edge of the passenger door that looks like something has been gooped on there (technical term), doesn't it? Is that a factory sealant of some sort? The underside looks fantastic so I doubt if there's any rust on this car other than normal surface rust. The interior, as you can see, appears to be in outstanding condition, as does the trunk. They do mention that the headliner is sagging a bit in the rear of the interior.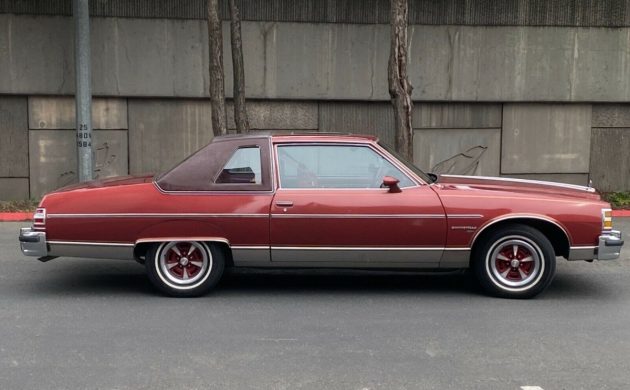 Since this appears to be a dealer or a "buyer-and-seller" from their username, I really expected to see at least one engine photo, but there isn't one. They do provide a great, detailed video here on YouTube. Kudos to them for adding such a nice video and they point out a few minor flaws in the body – a few chips, and small dings. I was hoping that they'd pop the hood on the video but we don't get to see it at all. The engine is Pontiac's smaller V8 for this year, the 4.9L 301.6 cubic-inch V8 according to the VIN. It has 150 horsepower and 240 ft-lb of torque. This looks like a really nice driver-quality Bonneville with just enough nicks and dings in it so you wouldn't be afraid to actually drive it and park it in a public parking lot. Any thoughts on this one? What's it going to sell for, $12,000? More?