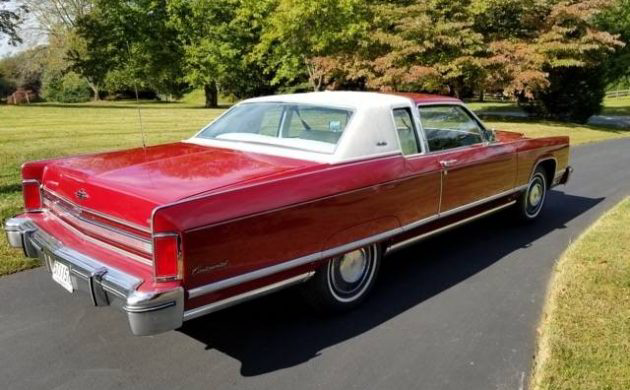 For some individuals, their ultimate motoring experiences will be lived from behind the wheel of a classic muscle car. For others, a sports car is all that will fill the bill. However, there are some individuals who want their experience to be within the cosseted lap of luxury that can only be provided by cars like a Lincoln. It is those people who will look at this incredibly clean 1975 Continental Town Coupe and say to themselves, "that's the car for me." What this Lincoln also represents is a one-owner classic that has traveled a mere 34,000 miles. It is located in Chattanooga, Tennessee, and has been listed for sale here on Craigslist. The owner has set a sale price of $15,000 OBO for the Continental. I have to say thank you to Barn Finder Pat L for referring this classic to us.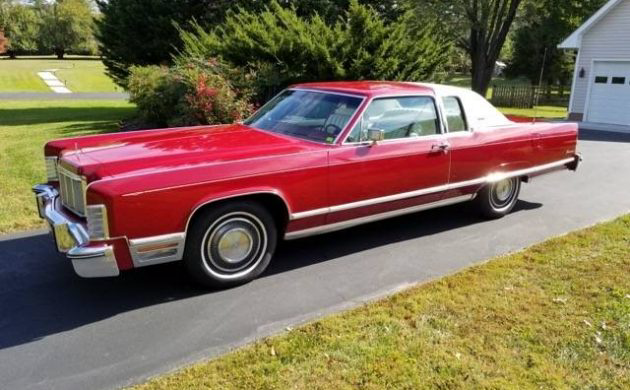 One thing that simply can't be argued is the fact that this is a car with presence. Finished in Dark Red with a White landau-style vinyl top, this is a car that is bound to attract attention. However, when you take a closer look, it isn't just the color that will catch people's eyes. The condition appears to be extremely good, with no signs of obvious dings, dents, chips, or scratches. There are no signs of any rust problems, while the trim, chrome, and glass, all look to be in good condition. I get the impression that you could take this Lincoln anywhere with pride, and that its condition would attract plenty of admiring comments from the general public.
The "red and white" theme from the exterior carries over to the vehicle's interior, and once again, the condition looks to be very impressive. The floors are finished in lavish red carpet, which continues through to cover every square inch of the trunk. The dash and plastic trim are color-matched to this, and all seem to be in good condition. The pillow-topped seats are finished in white leather, with the door trims matching. White upholstery, whether it is leather or vinyl, can begin to develop a bit of a yellow hue over time, but that doesn't appear to be a problem here. The color looks good, and there are no signs of any significant wear or tear. The leather still appears to be soft and supple, and in fact, I have my suspicions that no one has ever occupied the rear seat. The owner only identifies two flaws inside the Lincoln. The radio doesn't work, although the 8-track player functions properly. The visor vanity lights also don't function, but I don't really see that as signifying the end of the world. Naturally, luxury appointments abound inside the Lincoln. The owner finds themselves with air conditioning, power windows, a power front seat, power trunk release, a remote driver's mirror, cruise, a tilt wheel, and the previously mentioned 8-track player.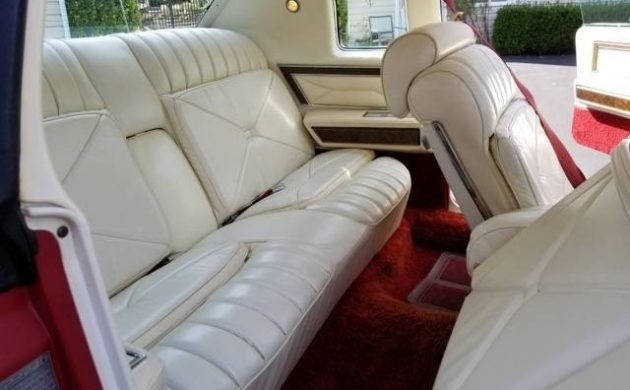 There are no engine photos, but we know that the Lincoln comes equipped with a 460ci V8, a 3-speed automatic transmission, along with power steering and power brakes. That 460 should be capable of producing 206hp, and with the Continental tipping the scales at a not-inconsiderable 5,423lbs, this is not a fast car. The journey down the ¼ mile should take somewhere in the region of 18.7 seconds, but it will be completed in comfort and splendid isolation. The owner says that the Lincoln has a genuine 34,000 miles showing on its odometer, and with the wide assortment of documentation that he holds, it is quite possible that he will be able to verify this. He does say that the carburetor has been changed due to some age issues with the original. The engine now sports an Edelbrock, although the original is included in the sale. The owner states that every mechanical aspect of the vehicle has been thoroughly checked, and that it is ready for a new owner to drive and enjoy.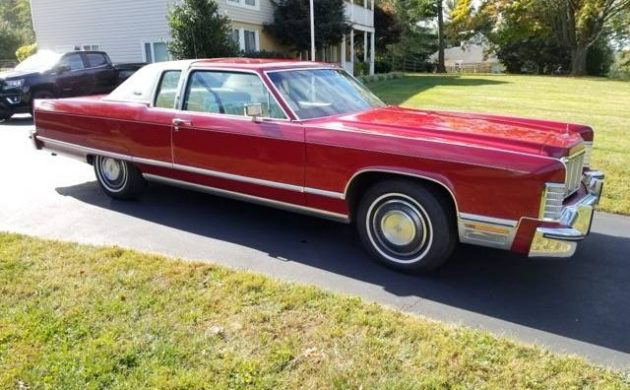 The condition of this 1975 Lincoln Continental Town Coupe appears to be very impressive, and aside from a couple of very minor interior issues, it would seem to need nothing. At the asking price, it really does represent a lot of car for your dollar. It is worth noting that 1975 Continental Town Coupes in average to good condition have been selling at about the asking price for this one recently. The condition of this car would seem to be better than average. However, the owner appears be a bit flexible on the price, so it might be worth asking the question. You never know your luck.