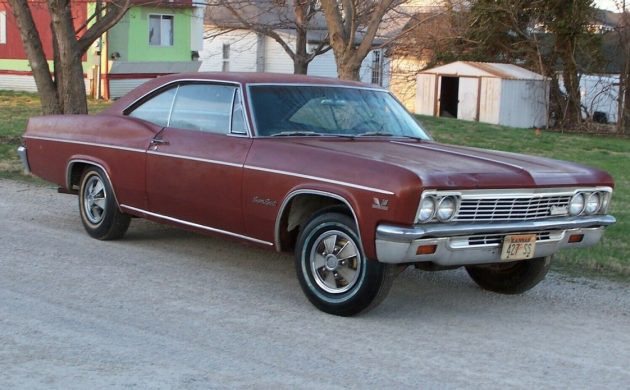 Semantics are important and descriptions matter. Take this 1966 Impala SS, the listing claims it as a true SS 427 car. Well, it's really an Impala SS with a 427 engine, as an Impala SS427 was specifically known as RPO Z24 and was available from '67 to '69. It matters from a perspective of collectibility and value. But there is more here to that story too. Let's take a closer look at this Everest, Kansas domiciled Chevy, it's available here on eBay for a current bid of  $7,600, reserve not yet met. Thanks to Larry D for this tip!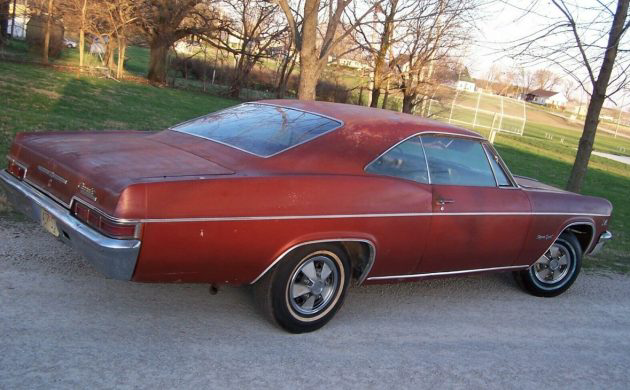 So, how do you know what you really have in a case like this car? Well, the VIN authenticates is as a '66 Impala SS, with a V8 engine, produced in St. Louis, MO, and the trim tag places the assembly date as being the second week of February. So, how about the engine? That's a bit harder to figure. The obvious determination is made by decoding the engine's alpha code and verify that the engine's sequence number matches the VIN's sequence number. The VIN, however, will not define the born-with engine, that change didn't happen until model year 1972. The build-sheet can lend some assistance on this front too.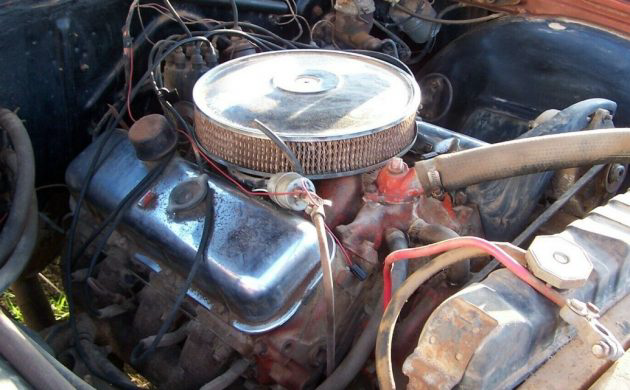 The seller claims, "1966 IMPALA TRUE SS 427 CAR" and then adds, "ENGINE NOT LOCKED UP…..TOOK PICTURE OF STAMP CODES ON BLOCK, THINK ITS 454 BIG BLOCK". OK, so it's a youstabee? It used to have a 427 engine but does no longer? Is it an original 427 car? Absent the build sheet, we'll have to take the seller's word for it. But wait, interestingly, the engine's Alpha code, as revealed by the supplied image, is "IH" which is a '66-'68 427 CI V8 engine coupled to a manual transmission, and the seller, later in the listing, acknowledges as much! Owing to the uniqueness of the harmonic balancer for the externally balanced 454 engine, and how it would line up with a pre '69 pulley system, I doubt that this car harbors a 454 ci motor. A 454 would have a triple alpha code and this engine's cylinder heads look like the pre '69 variety. It is a non-runner, though, as it's disclosed that the carburetor is MIA. The concerning thing is the fact that the manual transmission, in this case, a four-speed, is in the trunk along with the shifter, clutch, and bell housing. Why? Good question.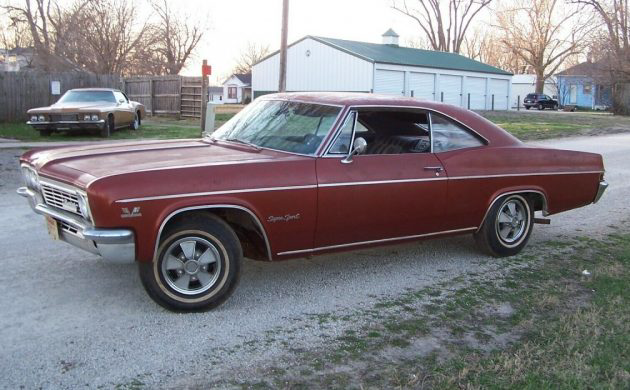 I know from personal experience, a '66 Impala can be a real rust bucket. This example, however, seems to have escaped that fate, for the most part. Other than the trunk pan and the lower quarters, the body of this Impala appears to be pretty sound. There are a few minor body contusions and the front bumper, like mine, has been pushed up and in a bit. The Aztec Brown (Code M) finish shows to be original and is pretty worn but that's to be expected after the passage of 55 years. The Chevrolet mag-style wheel covers are a nice touch but they're not included in the sale.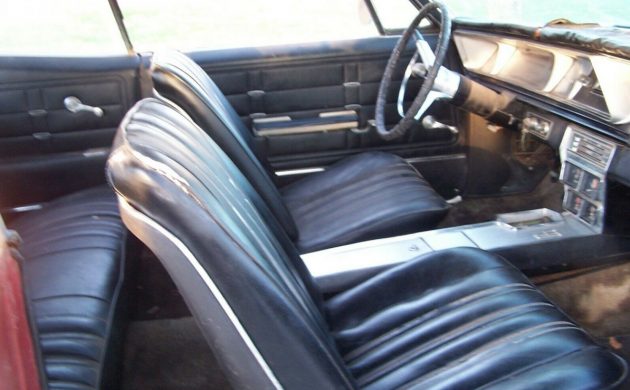 The interior is a typical Impala SS black vinyl, bucket seat interior with a center console. This Impala has the optional gauge package which includes amps, engine temperature, oil pressure, and vacuum. The seats are starting to split and the carpet has seen better days, but it's all easily repairable as replacement "everything" is available for a '66 Impala from multiple sources.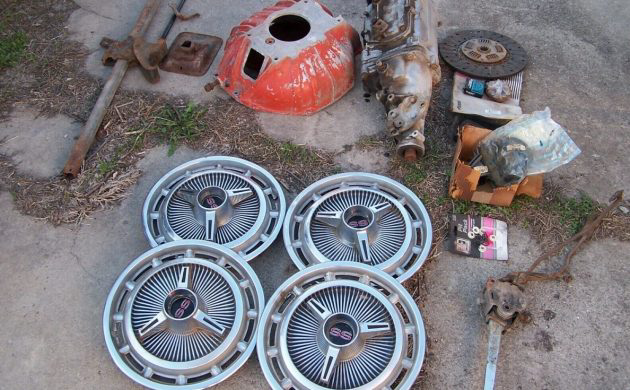 This Chevy appears to be a  flip owing to the lack of knowledge around the engine's specifics but then, so are many of the cars that are found under similar circumstances. While the engine appears, both physically and via code to be a 427, it's not the original engine. Nevertheless, a big-block, '66 Impala SS models with a four-speed manual transmission can bring sound value so this is a Chevy with potential. Now if I only knew why the transmission was in the trunk…