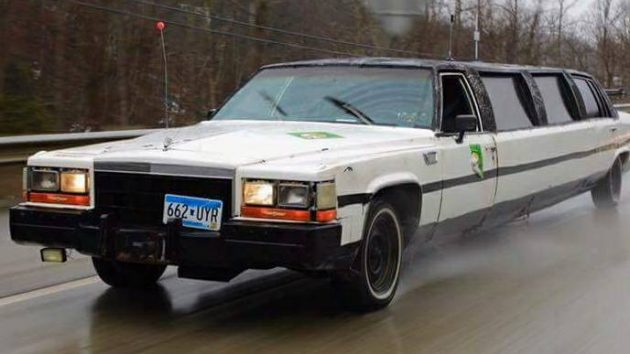 "Why oh why aren't there any cheap cars anymore?!" "Ohhhh, I wish I could think of a way to start a cheap business.."..  Well, look no further, grasshoppers, here's your next ride and your next business venture: this 1986 Cadillac Limo, or Lemo, as the seller calls it. This sweet honey of a deal is on craigslist in Rochester, Minnesota (hey, isn't that where the Mayo Clinic is located? I wonder if they have a psychiatric ward?) with a price of.. are you sitting down? $500! Yes, $500 is all that it'll take to drive this one home, and as you can see it is drivable, even in the rain. Thanks to Eric Hare for sending in this submission!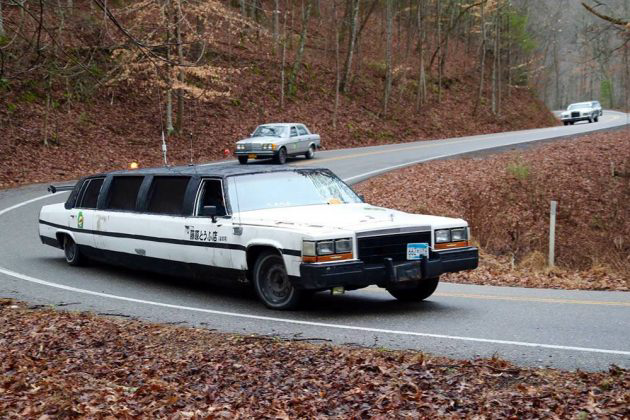 You know you want to tweak this car, tv-reality-show-wise, although by seeing the way it handles I don't know what there is left to do on it, really. No coilovers needed here, this thing corners like a 2012 Noble M600 and it's $329,500 cheaper! There are no interior photos but I'm guessing that you don't want to see the inside of this car, who knows what's been in there or if it can be hosed out enough to actually sit down inside. The seller says that the "back of the limo is stripped out of everything but the carpet and seats to prevent the spread of whatever was lurking in the mold." This is no pedestrian Caddy limo, though, this thing recently won "1st place in the 24 Hours of LeMons Rally, Retreat from Moscow." Boom, baby! Shut up and take my $500, interior or no interior!
This limo/Lemo "currently has an Olds 307 bolted on to a TH200 transmission. The engine though not a power house worked great during the rally." What more can a person ask for? There are a few slight issues with this otherwise gem of a car, "the floor pans beneath both front seats are rotted out. Well they're not just rotted it out, they are just plain missing." Floors? We ain't got no floors. We don't need no floors. I don't have to show you any stinkin' floors! Also, the "transmission is missing 1st gear. Oddly enough we never used the Lemo without first gear so we suspect that 1st gear is optional." And, last but not least, "2.5 of the doors work. I say 2.5 because the driver side door has to been opened from the inside." This will be the cheapest eye-catching ride that you've ever gotten!