There's no feeling quite like opening a barn and finding a classic car that is in excellent condition under a layer of dust. That's what this 1964 Ford Thunderbird Landau represents, and it has now been transformed into a turn-key classic for its next lucky owner. It has just come onto the market, and with the bidding sitting surprisingly low, it could potentially represent a bargain buy. Located in Spanish Fork, Utah, you will find the Thunderbird listed for sale here on eBay. Bidding has reached $5,600 in a No Reserve auction.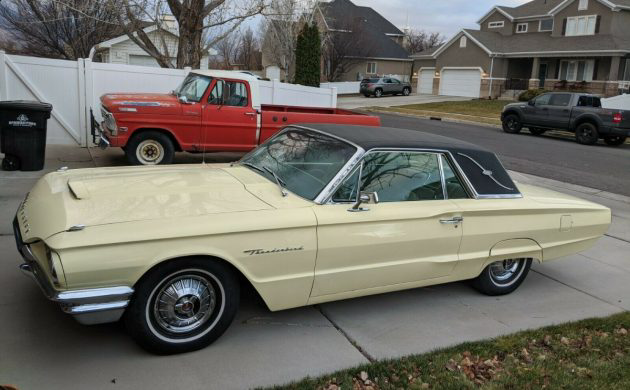 The Landau is finished in Phoenecian Yellow with a Black vinyl top, and its presentation is very tidy. The owner admits that it has received an older repaint before he found it hiding in a Utah barn, and this paint still holds an impressive shine. There are no significant defects in the finish, while the panels look straight and free from dings or dents. The vinyl top is in excellent condition, with no signs of lifting or bubbles. The owner describes the vehicle's condition as being good overall, and he doesn't mention any problems with rust. There are none visible in the supplied photos, and this gives us cause to be optimistic about the floors and frame. The chrome and hubcaps shine nicely for a driver-quality car, and the original tinted glass appears to be flawless.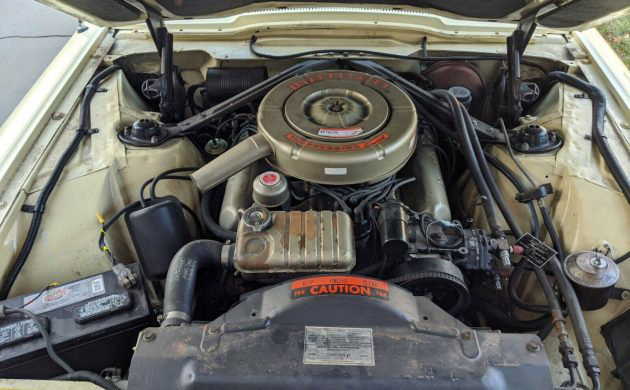 Powering the Thunderbird is a Z-Code 390ci V8, while a 3-speed automatic transmission, power steering, and power brakes are all within character for a classic that Ford was marketing as a personal luxury car. This V8 should be pumping out 300hp, and while the Landau weighs a not inconsiderable 4,729lbs, it should still be capable of covering the ¼ mile in 16.8 seconds. The T-Bird is a numbers-matching vehicle, and it appears that it is in sound mechanical health. Since the owner removed it from the barn, he has treated it to a Petronics electronic ignition, as well as a new coil, new plugs, new plug wires, and new tires. He has also replaced sundry other items, and the hard work and expense appear to have been worth it. The Thunderbird is said to drive nicely and is ready to be enjoyed by its buyer. The listing indicates that the Ford has 50,000 genuine miles on its odometer, and it seems that the owner has evidence to back this claim.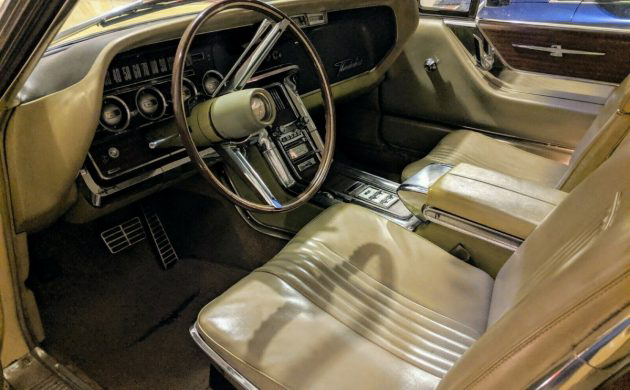 One area where the buyer may have the chance to do some tinkering is on the interior. There are no urgent problems, but there are a few that will need to be addressed at some point. One of these is an intermittent fault with some of the gauges. Sometimes, some of them fail to operate, which could indicate a faulty earth somewhere under the dash. The buyer might choose to tackle this one themselves, although it would probably be easier to hand the task to an auto electrician. There also appears to be an issue with the heater and air conditioning. For some reason, the heater doesn't blow hot, while the A/C doesn't blow cold. That one is a bit of a mystery that deserves investigation. Looking beyond those flaws and the interior presents well. There are no rips or tears in the upholstery and no problems with the dash or pad. The foam on the bucket seats looks like it might be starting to collapse slightly, but it isn't bad at this stage. As well as air conditioning, this T-Bird has a few other luxury touches. These include power windows, power locks, a swing-away wheel, and a pushbutton AM radio.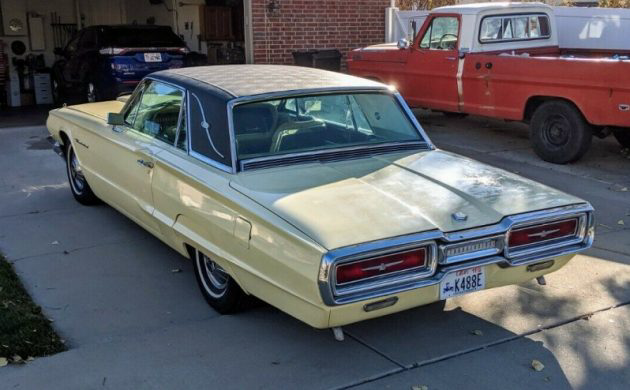 This 1964 Thunderbird Landau isn't perfect, but it has no immediate needs. I can see no reason why a buyer couldn't slip behind the wheel for a spot of classic motoring in the upcoming warmer weather. The 1964 model year was a banner one for Thunderbird sales. Ford managed to sell 92,465 cars, which rates as a considerable success in this car's market segment. Of that total, 22,715 were the Landau variant. The fact is that as nice as these cars are, they are not a "big-ticket" item in the classic market at present. Values have taken a significant hit over the past 12 months, dropping by a massive 20% over the first half of 2020. They are beginning to claw back some of that lost ground, but the progress has been slow. However, now could potentially be a good time to park a '64 Thunderbird in your garage with those values heading in the right direction. It's certainly food for thought.