I can't think of another company that has made such an incredible variety of vehicle types over the decades, and they basically just got started after WWII in 1946. We all know their cars and motorcycles, but they also make fantastic lawn care equipment, generators, and even a jet. I have never owned a Honda car (I know) but I have several Honda motorcycles, none of which is a 1971 Honda CT70 like this one listed here on eBay. It's located in Moscow, Pennsylvania and the current bid price is $3,500 with no end in sight and four solid days left on the auction. This will be one to watch, will it reach $5,000?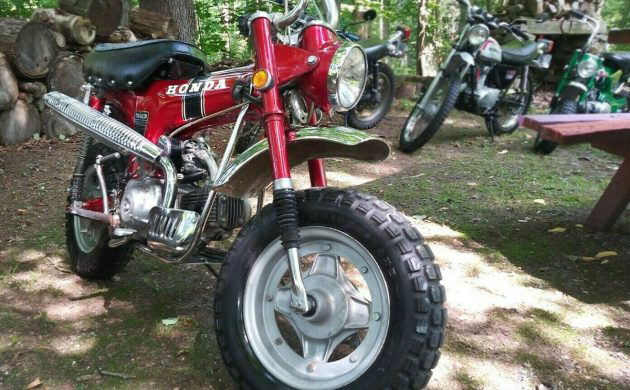 I can't believe that I haven't owned a Honda car let alone a Honda 50 or a Honda 70! What's wrong with me?! I bet that quite a few of you have owned a Honda CT70 similar to the beautiful, original, ultra-low-mile bike shown here. This one has a mere 528 miles on it which is pretty amazing, but also pretty sad that some kid didn't get to enjoy it very much. Or, better yet, some skinny old guy with a cheesy mustache (me)…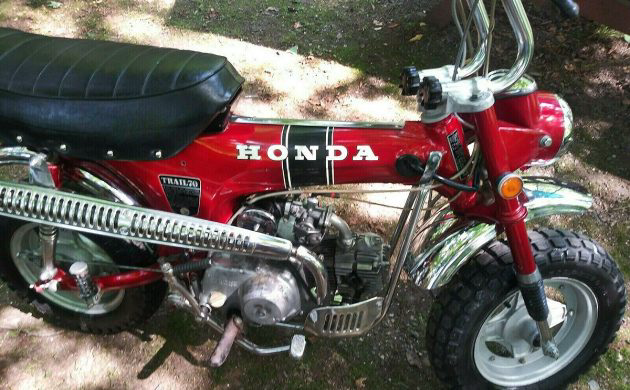 The CT70 or Mini Trail 70, came in bright, jewel-like colors that even had jewel-like names, like Emerald Green, Candy Topaz Orange, Candy Sapphire Blue, and Candy Ruby Red such as this bike is wearing. The seller says that the original owner used it for a while and then put it in storage under a tarp in 1972 after they got a Honda 90. It looks fantastic but there are some nicks and wear marks and things like that. But, the bid price is showing that original is king.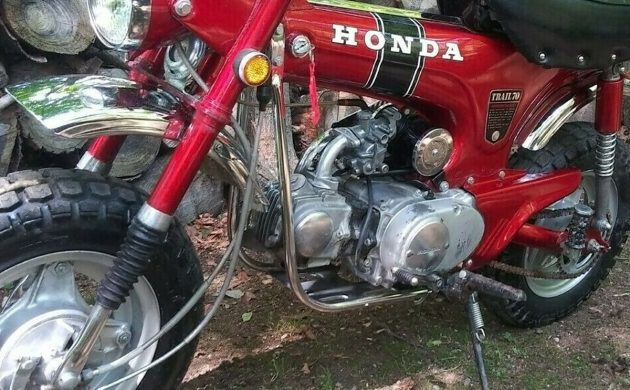 The engine is Honda's 72 CC overhead cam single-cylinder. It usually starts on the first kick and it idles smoothly and shifts and brakes as it should, according to the seller. When the seller got it they cleaned the gas tank, put in new gas, a new spark plug, and fuel lines and it started on the third kick after it had been sitting for almost 50 years! Have any of you owned a Honda CT70?