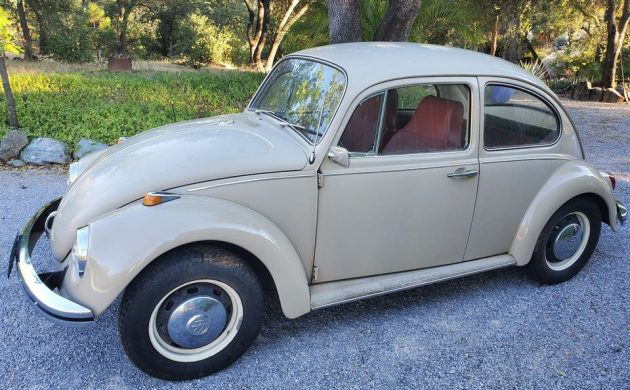 This 1968 Volkswagen Beetle is a black plate survivor that is in exceptional condition for its age. It is an unmolested classic with 52,000 genuine miles showing on its odometer, and it is ready to be enjoyed by a lucky new owner. The current owner has decided that the time has come to part with the humble "Herbie," so he has listed it for sale here on Facebook. It is located in Redding, California, and you could park it in your driveway for $11,500.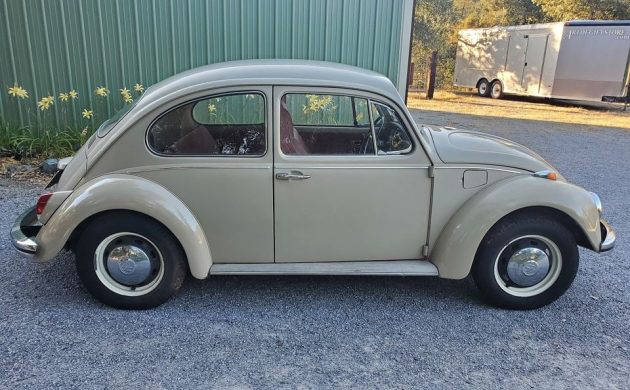 The seller is this Beetle's second owner, and he admits that the vehicle has received a repaint in its original Savannah Beige in the past. This remains in excellent condition, with no appreciable marks or flaws. The panels are as straight as an arrow, and a life spent in sunny California means that it has managed to remain rust-free. The chrome and trim are as impressive as the rest of the exterior, while there are no visible flaws with the glass. It is great to see that the car's two owners have resisted the urge to fit bigger wheels and tires. This was a common upgrade, particularly during the late 1970s and into the 1980s. It can give the Beetle a tough and purposeful appearance, but retaining the original wheels and hubcaps will have helped this one in the value stakes. That is particularly relevant when you consider the asking price for this one.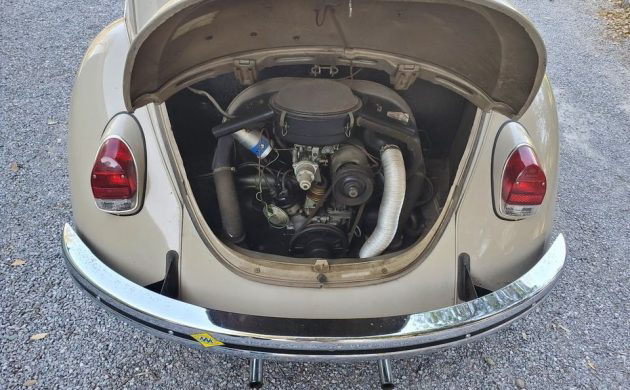 Powering the VW is a 1,493cc air-cooled flat-four engine that pumps out 53hp. Those little ponies find their way to the rear wheels via a 4-speed manual transaxle. The Beetle is not a barnstormer when it is pointed at a ¼ mile, but that sort of performance was never what the Beetle was about. The original design brief was for the car to have the ability to travel the German Autobahns at a constant 60mph for between two and three hours between stops. This the Beetle managed to achieve with aplomb. I guess that means that it wasn't a barnstormer, but t was an autobahn-stormer! Okay, I've also made better jokes than that. This VW is in mechanically sound condition, and the owner claims that it has a genuine 52,000 miles on the clock. I tend to treat such claims with a level of cynicism, but the owner holds complete service records and original documentation for the vehicle. That means that there should be enough evidence to verify the claim. The car has recently received new brakes and an oil change, and the owner says that the Beetle runs, drives, and stops perfectly.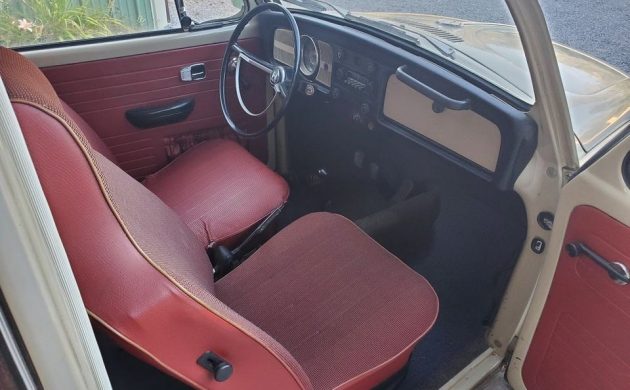 The Beetle was designed as affordable motoring for the masses. As such, it was also pretty utilitarian. That is a trait that changed little throughout the vehicle's production run and is clearly in evidence here. Apart from a pushbutton AM radio, there are no luxury features. However, not only is this interior original, but it is in excellent condition. The red leatherette upholstery is free from stains and tears, but readers will probably notice a color variation between the driver's seat and the remaining upholstery. Until recently, that seat had been fitted with a slip-cover. It wore that from day one, which means that the vinyl has never been exposed to UV rays. Some potential buyers might choose to address this inconsistency, but I wouldn't change it if I were to buy the car. This is part of this vehicle's story as an original survivor, and I believe that it should remain unchanged like an upholstered badge of honor. The rest of the interior is spotlessly clean, so slipping behind the wheel and hitting the open road isn't far away for the next owner.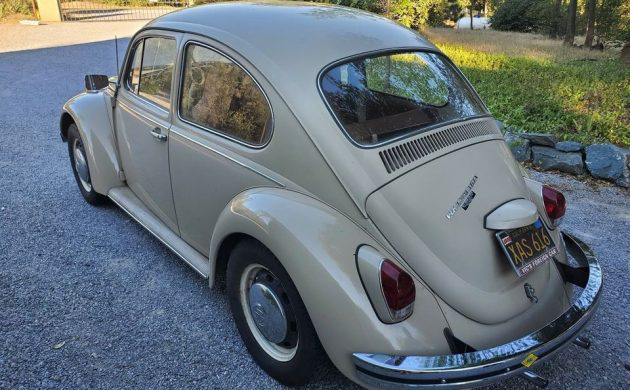 Maybe I'm showing my age a bit, but I can clearly remember when potential buyers could take their pick of decent pre-1970 Beetles for under $1,000. They have morphed from an affordable commuter vehicle for the financially challenged into something of a cult classic. They still remain affordable, but not to the same level that they were a few short years ago. That inevitably brings us to the question of value. It is also an area of any classic where it pays for potential buyers to do their homework. For example, if we rely on Hagerty alone, this Beetle should be worth around $26,000. Jump across to NADA, and that figure drops by a cool $10,000. However, if you do some research and consider recent sales results, the pricing on this Beetle is probably about where it should be if the mileage claim can be confirmed beyond doubt. It is worth noting that values are continuing to rise at a healthy rate, so if a classic Beetle is on your wish list, maybe now would be a good time to give this one a closer look.