Looking like a cross between a TV Tommy Ivo multi-engine dragster and Grandpa Munster's "Dragula" is this 1948 Ford dual-engine creation. It looks like it has been home-built but it's pretty well put together too – gotta love a sense of imagination and adventure. It's a Ford, sorta, but there is a bit more to it so let's investigate. This multi-motor marvel is located in Stewartstown, New Hampshire and is available here on craigslist for $10,000. Thanks to Ian C for this tip!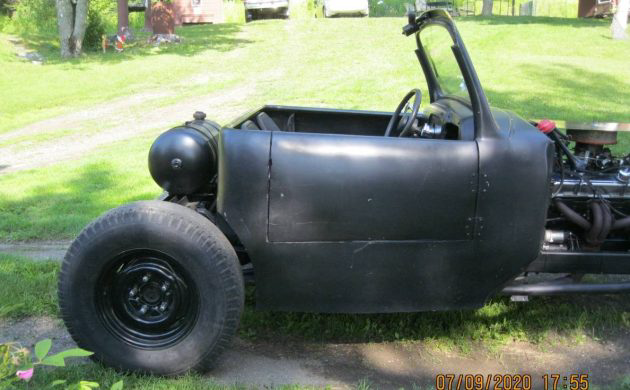 The seller tells us that the body of this creation is the cab from a '48 Ford pickup; honestly, I can't see it but I'll take his word for it. I'd like to know where the frame originated, however. One thought is that it could be the Ford pickup frame with the cab relocated to the rear portion – the seller, unfortunately, does not elaborate. This custom has the layout of an old school rail – a long frame, front-engine(s), and a truncated rear. Interestingly, there is only a single door, on the passenger side, for ingress and egress.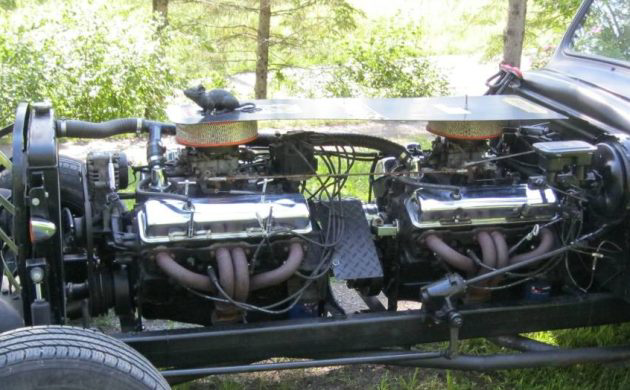 We're talking 610 C.I.'s of Chevrolet power here, a veritable V-16! Actually, it's a pair of 305 CI V8's coupled together, and the seller states, "Runs great, engines fire up at the same time". A couple of thoughts here, Chevy 305's are an unusual choice, they're not one of the Bowtie's greatest hits, not bad engines of course, but not a 350 either. Perhaps the motors were just available so the seller played the hand that he was dealt. I also wonder what happens when both engines crank together but only one actually fires. What I'd really like to know is how the engines are coupled together. Unfortunately, the seller doesn't divulge a thing on that front. The transmission is listed as a three-speed automatic so it's probably a GM Turbo-Hydramatic but it is coupled to a Ford 9" differential employing airbags for suspension action. The front suspension features a transverse-mounted leaf spring which is not in keeping with a '48 Ford F-1 so its origin is uncertain. There are front disc brakes in place though and that's a welcome addition.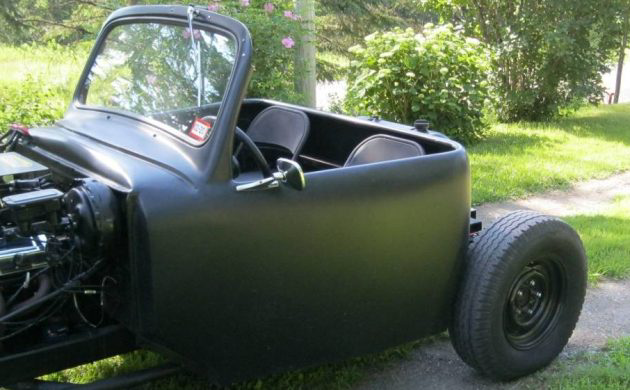 There's really no image of the interior but the one partial snapshot included shows folding seats, you know, like the ones that get out when your poker buddies come over – I'd imagine that they're really not attached to anything. I'm not sure I'd be comfortable with what looks like a fuel tank attached directly behind the back of my head. Oh, and that steering wheel looks like something out of a Chevy Lumina.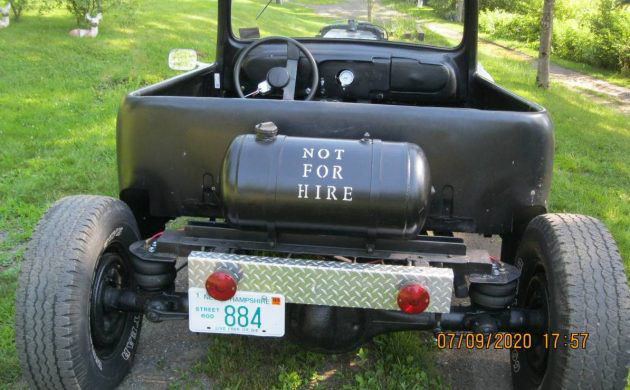 The seller adds, " Inspected by state police and approved for a Street Rod plate". I'm not sure what that means, some New Hampshire thing perhaps? And I'm further confused by the "Not for Hire" proclamation; hire it for what? The seller claims that this deal is "one of a kind", which is certainly easy to believe. The creativity here is appreciated but ten large seems like a lot of cabbage to lay out for something that's really a toy. But it is quite the curiosity item, right?