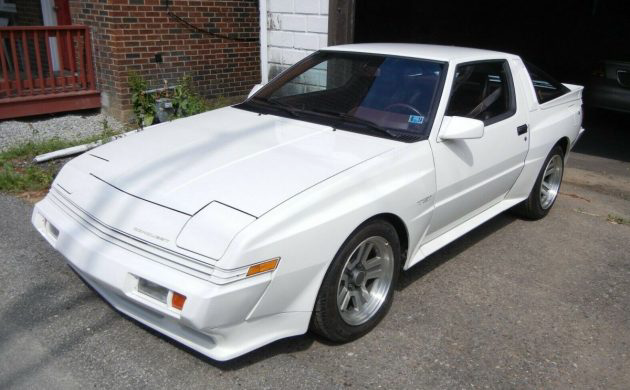 When the Chrysler Conquest, a badge-engineered version of the Mitsubishi Starion, was introduced in 1984, a well-known magazine editor opined if the name "Conquest" was really appropriate for an import. The Starion, itself, was introduced in '82 with the Plymouth/Dodge, and then Chrysler versions, following later. Whatever the wrapper, 1989, the year of this example, was the end of the road with a bit less than 2,000, Conquest/Starions finding new homes. Besides the rarity, and maybe best of all, this beautiful 1989 Chrysler Conquest TSI has seen just a paltry 6,500 miles of operation; time to do a deeper dive. You'll find this Conquest located in Monongahela, Pennsylvania, offered by the original owner here on eBay with a single bid of $25k.
The Conquest, and its Starion progenitor, reflected the '80s perfectly. The sharp-angled, swept-back design was reminiscent of all things Star Wars and was keeping in a similar styling theme with Toyota's 1982-1986 Supra, especially the wide-body version like this example. The blistered sides project a "serious business" vibe and the turbo-charged engine could back up to the look.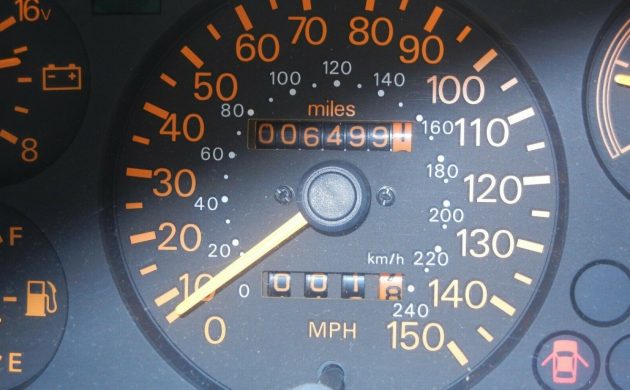 Speaking of the engine, there's also no accompanying image but it should be a 2.6 liter, SOHC, turbocharged and intercooler equipped, in-line four-cylinder engine that generates 188 net HP.  The seller states, "The car runs and drives very well. No issues".  I came within a hair's breadth of purchasing a new Starion in 1987 and I can tell you that the performance from the turbo-four was exhilarating. This example's motor feeds an automatic transmission vs. the five-speed manual that was the object of my attention, so I don't know how this Conquest fares in comparison but I imagine that it's a very strong runner. Couple the engine's torque and peak horsepower with the wide track and flat stance provided by this car's "Performance Handling Package" and you have quite the road car.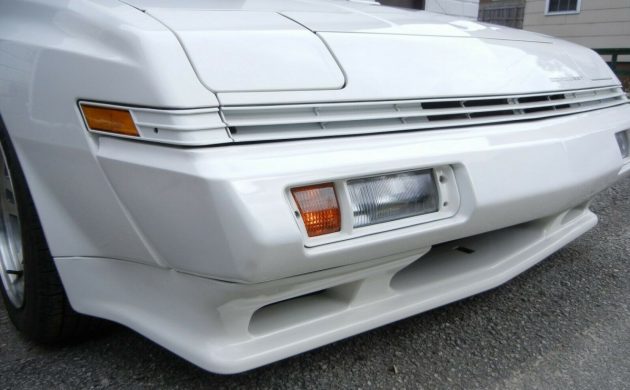 The exterior of this performance car appears as new and why not, in terms of mileage, it essentially is even if it is 31 years of age. It's lacking the "Darth Vader" bad-boy image that is portrayed by darker color versions but this Conquest wears white extremely well, an accomplishment many cars don't. Note the chin spoiler, it has avoided curbs and parking stops, that's a trick in itself. Additionally, all of the body fairings (rocker panels) and rear wrap-around spoiler line up perfectly. Top it all off with its deep finish and you have one fine looking car!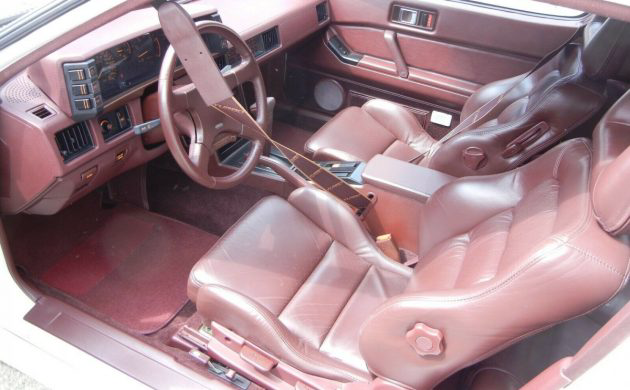 The interior is a sign of the times with its automatic seatbelts. There is no concern with this example but I always wondered what happens when they malfunction, and you know at some point, they will. It's a bit of a memory jolt to recall the length regulators were willing to go to to get front seat occupants to wear seatbelts. The seller claims that the interior is in perfect condition, it certainly appears as such. The burgundy leather upholstery is a perfect complement to the deep, white exterior. It appears to need nothing.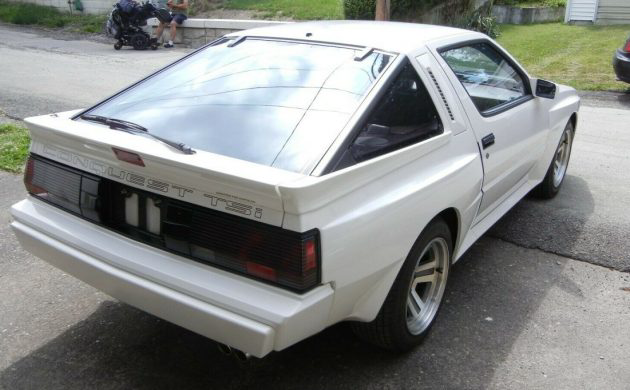 The seller advises that this Conquest is rolling on its non-dry-rotted, original Michelin tires. Unless you pull the tires off of the rims, you really won't know that. Regardless, the new owner should change them, 31 years is too long on tires. Included in the sale is another set of new, in the box, "SHP" wheels, a car cover, and a "bra" nose cover. The seller suggests, "This is a very collectible vehicle considering the condition and mileage. A car like this only becomes available once in a while, maybe a good opportunity to pull the trigger." We'll see about collectability, there is only one bid and two days still to go in the bidding action. This Conquest may be collectible, but to what point and at what price? Completely agree, a car like this doesn't come along very often, so if this is your thing, here's your chance. What do you think, any takers?