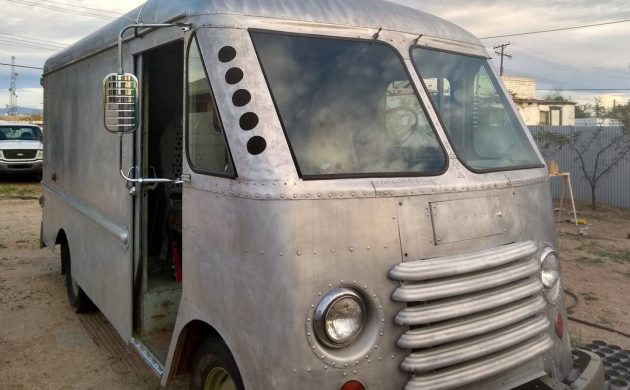 This 1958 Grumman-Olson delivery van is a rare aluminum-bodied work truck that was built under the Northrop-Grumman umbrella when new. The van was a revelation of sorts for a market that didn't exactly over-extend itself to seek out innovation when building the bread and milk vans of America, but that's just what Grumman-Olson did, as they knew the aluminum construction would yield weight savings and help avoid corrosion issues down the road. The seller claims this one did delivery duty for the Rainbo bread company before being retired, and it's listed here on craigslist for $13,500 in Tucson.
Thanks to Barn Finds reader Matt R. for the find. The seller has stripped away all paint to expose that beautiful aluminum bodywork with exposed rivets, a sharp look for almost any utility vehicle. This example is being sold as a blank canvas, according to the seller, ready for its conversion into a camper, mobile home, food truck, or whatever your heart desires. Much of the heavy lifting maintenance-wise has been performed by the seller, which is a relief considering this isn't exactly a vehicle you walk into your local NAPA store to get help with.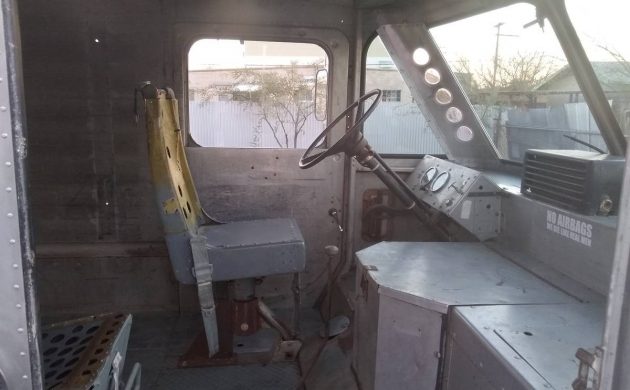 The seller notes the van comes with the optional heater and cooling is obviously provided by your nearest window. The seller has installed "…engineer's seats from a jetliner" with four point harnesses, an interesting choice but also fitting considering the truck's affiliation with the aircraft world through Northrop-Grumman. The interior is a bleak affair, but that's in fitting with most commercial vehicles of, well, practically any era. The seller notes the windshield glass is brand new and it sounds like a custom job, since he also mentions some non-factory aluminum work that was performed in order to fit the front glass.
The Ford-derived  223 inline-six and 3 speed-manual won't be zippy, but it should get the job done. The seller doesn't highlight any specific maintenance around the engine, other than noting that new brakes were installed. The Grumman-Olson is indeed a rare bird, and one that would be eye-catching parked at any number of local eateries, or used as a delivery vehicle to ensure your customers always see you coming. I'd leave the exterior as-is, other than possibly painting a business name on the side, and maybe sourcing some racier wheels to replace the standard eight-lug, heavy-duty steel rollers it currently rides on. How would you use a "blank canvas" like this?
Have something to sell? List it here on Barn Finds!