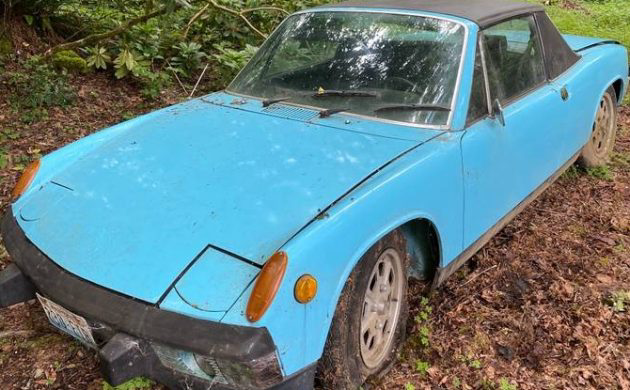 Despite the 2.0L engine being frozen, this 1973 Porsche 914 looks like a worthy candidate for restoration. It is said to be largely rust-free despite residing under a tarp, outside, since 1991, but this is yet another classic from Washington State where vintage cars and trucks seemingly never die. The 914 is also a desirable "Appearance Package" car, meaning it left the factory with chrome bumpers with overriders, center console with gauge package, leather-wrapped steering wheel and more. The 914 can be found here on craigslist in Snohomish, Washington, with an asking price of $3,850.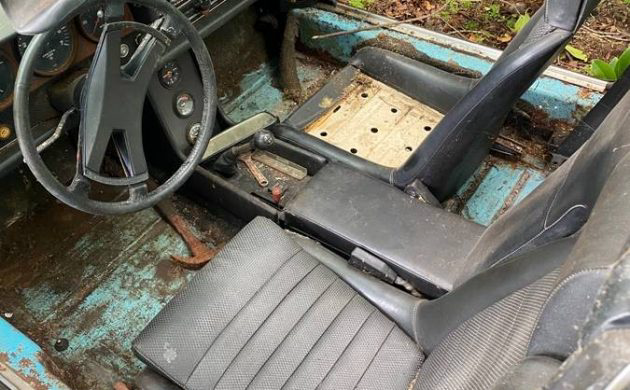 The pictures tell the tale that, despite years of poor storage conditions, the floors haven't perished. Perhaps a wise previous owner removing the carpeting helped ensure the metal underneath remained intact, but the rest of the cabin looks better than expected, too. You'll also see the center console, another feature of the Appearance Package, is still with the car, and the desirable center stack gauge cluster looks to be in nice condition despite outdoor storage sometimes causing gauge faces to get cloudy or rust. The seats are OK at best, with the passenger seat apparently missing its lower cushion. The seller calls the seats "excellent," so perhaps it's included. No cracks are noted in the dash.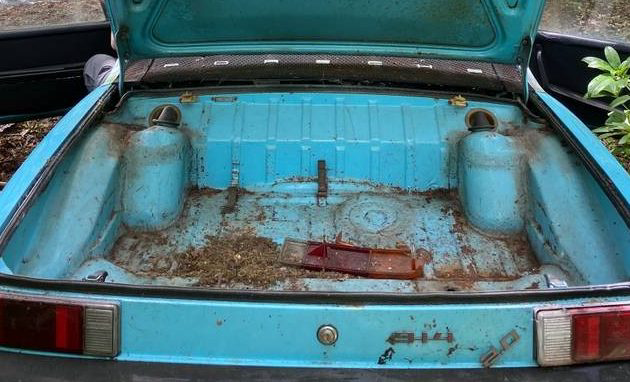 The rear storage compartment shows no ugly indications of rot-through, and the paint matches nicely with the outside, leading me to believe this color is original and that the exterior may even be the paint applied at the factory. Taillight lenses look to be in sound condition, and even the always-missing engine displacement badge is holding on for dear life. There appears to be a spare lens under the lid, and perhaps more goodies are hidden within. The Porsche script is still visible adjacent to the engine cover door, and overall, this 914 presents a largely complete example with none of the tell-tale signs of accident damage or wanton neglect, aside from being parked outdoors.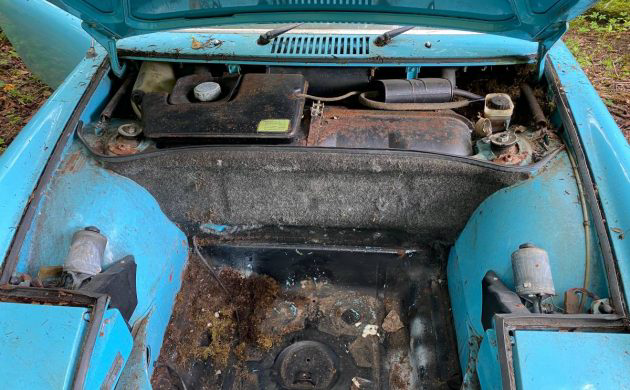 The front storage compartment doesn't look too bad, but it's definitely in need of a cleaning. There's a fair chance you'll find evidence of some rodent nests and other mouse hotels given the extended outdoor storage, and if that is the case, they hopefully haven't chewed through any wires. Surprisingly, even the weatherstripping that lines the front trunk is intact, and aside from the seller noting the fairly typical rust in the 914's "hell hole," there's not much to complain about for a car that's been left standing. The engine is frozen, but there's always a chance a determined mechanic can unstick it; regardless, finding a replacement 2.0L or swapping to a six- or eight-cylinder mill shouldn't prove too challenging to find. Would you preserve it or create a brutal restomod?