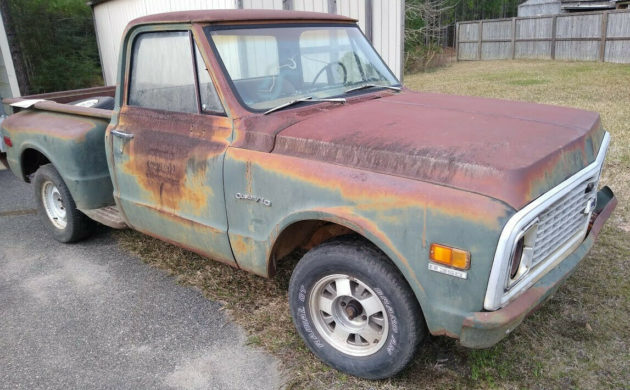 This 1972 Chevrolet C10 pickup is a former Army-owned service vehicle that comes with the desirable short wheelbase and stepside bed, along with its original 350 engine. The body presents a heavy dose of patina that some potential buyers will love, but I like it simply for preserving its past as a truck used on various military bases. The seller notes the front tires were flat so the original wheels were removed and thrown in the bed; aside from the later model front rollers, the truck appears to be in mostly stock condition and ready for rejuvenation. Find the Chevy here on eBay with bidding at $4K and no reserve.
But does it need rejuvenation? Some buyers might look at that weathered exterior and see a perfect finish to clear-coat and otherwise leave alone. The numbers-matching 350 is an easy engine to live with and will likely come back to life without too much heavy lifting (hey, I'm an optimist.) It's paired to an automatic transmission, and the seller notes that the radiator and battery were yanked at some point. Again, these are not major problems to solve, but it sounds like the seller isn't inclined to addressing them. He also notes the brakes don't work.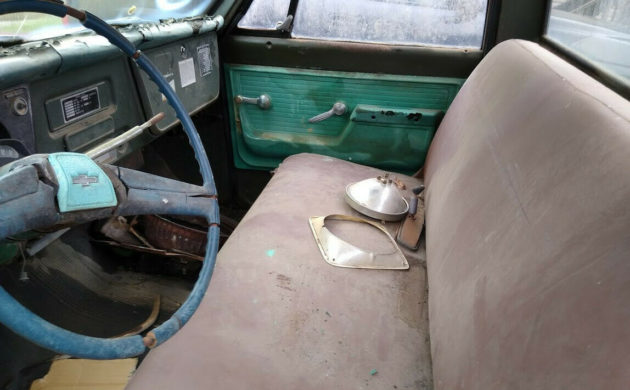 The interior will need restoration if you're seeking perfection, as the bench seat upholstery doesn't appear to match the door panels (or vice versa.) The steering wheel is tired and cracked, and the same goes for the dash. While the military history is cool, and will attract some bidders into the room, it also means the Chevy wasn't exactly coddled when it was new. In fact, I'd guess it was the exact opposite of coddled if the truck was used in any way like I saw fleet vehicles abused when I worked for a municipal bridge authority.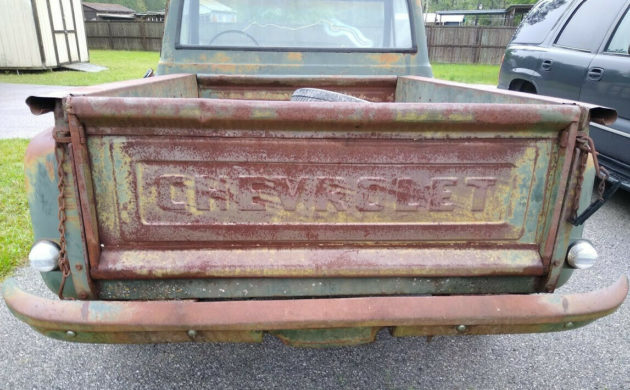 The bed gate has, surprisingly, remained with the truck, as these have been increasingly pillaged in recent years for home decor or high-end bench projects. This one looks reasonably solid and wears awesome patina, just like the rest of the truck. The seller notes that loads of original details pertaining to the Chevy's military history remain in place, like the Army glovebox tag and radio delete tag. Some hidden lettering likely referring to its base or military division can still be seen on the doors, per the seller, but more obvious are some bodywork needs: the cab floor and rocker panels need to be replaced, along with the bottom of the doors. Would you drive it or restore it?
Have something to sell? List it here on Barn Finds!