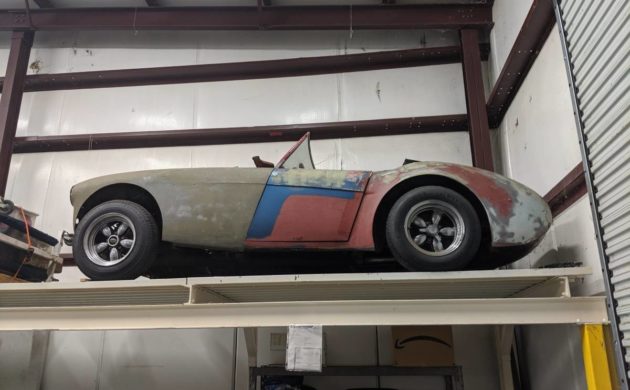 The seller of a collection of Austin Healey spares and parts is doing a bang-up job of making me question my life. You see, not only does he have an impressive stash of 100-4s for sale, but he mentions how you could buy the whole collection and do what he did: start a business and "…be free." Yes, that does sound good. Yes, I would like to have my own metal building filled with cars and parts that somehow pays me a respectable income. Yes, I'd like to be captain of the ship. I'm not sure if it's really as simple as he makes it out to be, but it sure looks like fun to earn a living playing with desirable cars and parts all day. Check out the listing here on craigslist which also includes some highly-prized finished examples, like a BN2 and a 100M BN2 LeMans.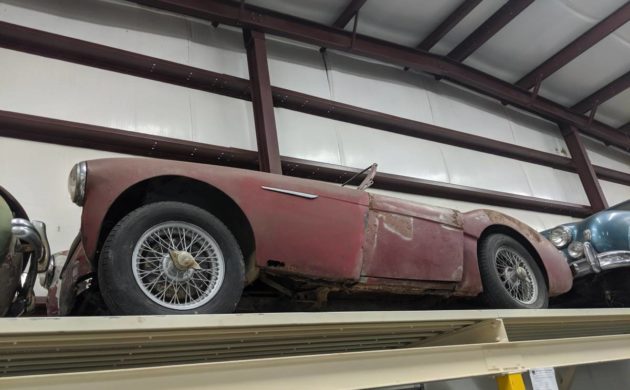 Thanks to Barn Finds reader Patrick S. for the find. The listing shows several 100-4 projects sitting on the rafters above the shop space, all of which appear to be restorable examples. The seller notes he has a total of seven for sale, starting at $19,500 each. All cars are said to have proper documentation and come from western states, which the seller claims is the contributing factor behind their non-rust-bucket condition – but don't let that sway you too much, as they still need total restoration. The listing photos are worth scrolling through to see the variety of Austin Healeys he has for sale, along with the massive stash of spare parts and body panels.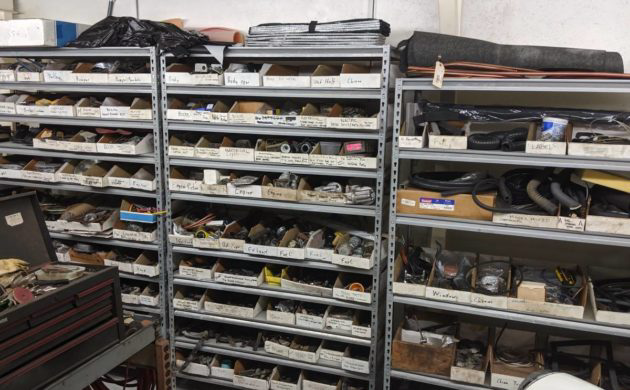 This is just one corner of the facility, which shows parts and body panels neatly arranged and certainly organized well enough that a newcomer could pick up where the seller left off. This is one of the few listings offered as a whole collection that makes sense to me, as the seller seems extremely organized. When we see those for sale ads that specify any potential buyer must take everything, it's often hugely unappealing solely because the collection appears to be in disarray, and potential buyers know they'd spend their first few months simply sorting out what they bought rather than making some cash off of their investment. To me, this business looks relatively turnkey, but it also depends on what sort of reputation the seller has in the Austin Healey community.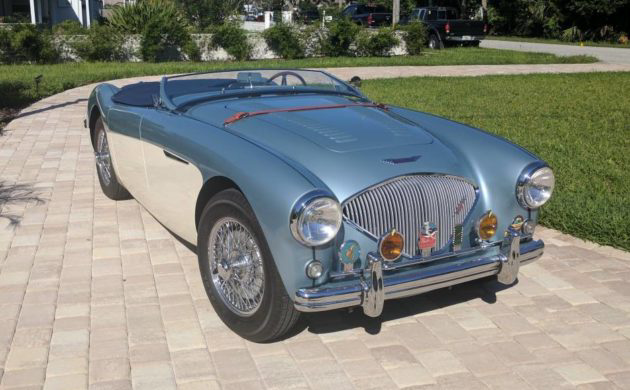 You really need to look at some of the other cars on offer, as they appear to be nicely restored examples. This is an Austin Healey 100M BN2 LeMans, which is perhaps one of the most prized cars in any Healey fanatic's collection. This one is offered at $195,000 and is described as being in new condition with all papers; the other cars include a largely rebuilt BN2 for $44,500 and a replica Porsche 911 RS built off of a 1973 911T, offered at $98,500 with newly refreshed air conditioning components. Overall, there's something for everyone in this listing, but the most appealing offer may be the ability to be your own boss and seemingly have plenty of cars and parts that collectors and enthusiasts would love to own. Would you buy a vehicle or the whole business?